Horizons Math Curriculum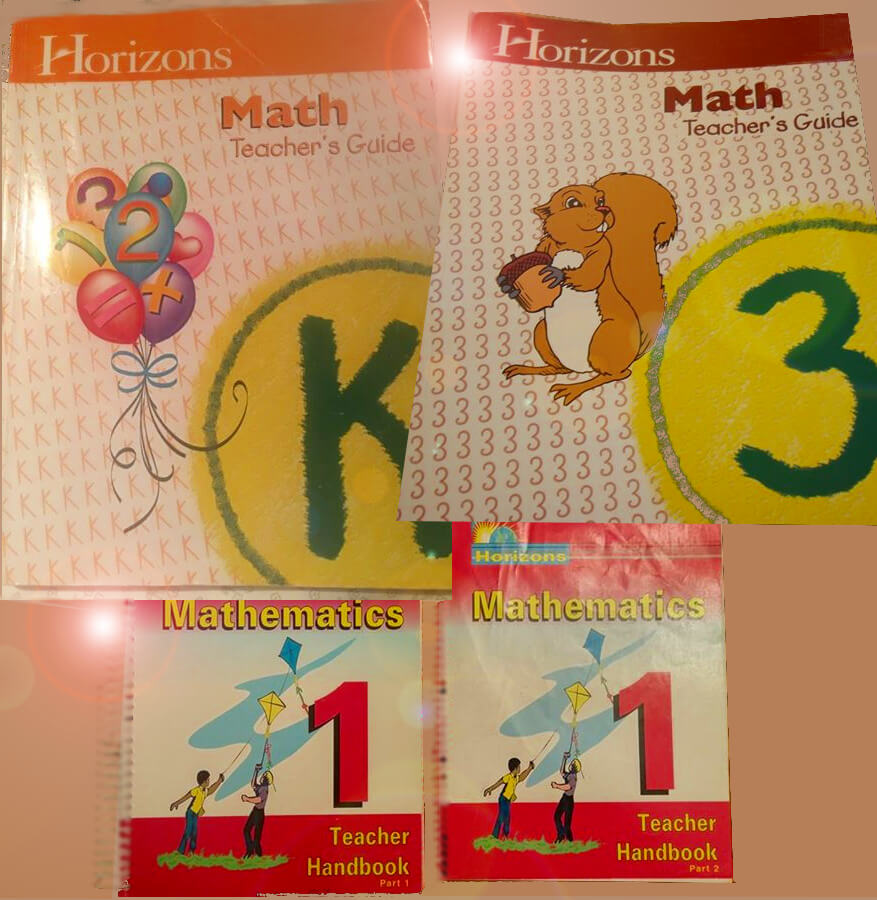 Many homeschools are familiar with Alpha Omega Publications (AOP) LIFEPAC curriculum. Horizons Mathematics is also published by AOP and is also a math curriculum for early grades. However, the two texts are starkly different in style, method, and format.
Horizons Math is for K-8 grades and follows a "traditional" approach and format. The teacher's manual/handbook is essential although there are student workbooks. The handbook provides lesson outlines, objectives, materials, games, and much more. This curriculum is for homeschool parents that truly want to "teach" lessons.
Don't confuse these lessons with public school. Lessons are purposeful and don't waste time.
An array of manipulatives are used most prominently in early grades, although they are present throughout the entire curricula. Dominoes, paper money, counting objects, sticks, flannel board and numbers, abacus, beads, and flash cards are some of the more popular manipulatives. Common (no purchase necessary) objects are also used that you can find around your home.
---
Horizons Math reviews
You can expect every lesson to include new information/concepts and review practice and exercises from previous lessons. Horizons Math curriculum continually practices learned concepts, classifying it as a "spiral-learning" curriculum.
You can expect every lesson to also include hands-on activities involving both the student and teacher. The hands-on learning usually takes place with the use of manipulatives via the trusty teacher's guide.
Do not hand your kids the student workbooks and ignore the teacher's handbook!
Horizons Math curriculum is a very academic program. At younger ages and grades it may prove to be too academic. Nevertheless, students that enjoy academics and love challenges will excel under this program.
Horizons Math test structure
Horizons Math provides quarterly tests and a final exams for 4-6 grades. Every grade besides K includes a test after every 10 lessons. Workbooks, worksheets, and tests all have answer keys located in the teacher handbook.
Horizons Math for homeschools
Horizons Math was designed with the homeschool and home educator in mind. The curriculum does not include very many activities that are well suited for a classroom setting. There are a few, but they can be easily modified or even ignored or substituted.
Teaching Horizons Mathematics
What is it like to teach from the Horizon curriculum?
If you are introducing a new concept, you will need to go over several examples until your child understands the new task. If you have to go through each problem in the current lesson, it will probably be helpful to back up and reinforce previous concepts.
Horizons Math K
An important heads up: Many homeschools have noticed that Horizons Math K contains a lot of work other programs don't cover until 1st/2nd grade. Sometimes Horizons K can be a little much for kindergarten. If your child doesn't seem to be "getting it," it might just be that he isn't quite there yet.
Homeschool reviews of Horizons Math
Forewarning everyone: Horizons expects you to use all the manipulatives to help with grasping concepts. So, be prepared to read and use the teacher's manual. I didn't use it with one child. However, manipulatives weren't really his thing. My other son really benefits from manipulatives and hands-on work, so I need to do a better job of using them and integrating them into our homeschool. If your kids don't do well with "the workbook method" this might not be the curriculum for you. Some kids will actually ask for workbooks, everyone is different.
I am a secular homeschooler and I have used Horizons for my children K-7th. The young grades might have some scripture, but older elementary shouldn't have very much. The only areas might be some of the word problems. They might have things like figuring out chairs needed in Sunday school. As far as math instruction goes, I'm not sure there's anything better. We use Teaching Textbooks for the high school subjects and Horizons was an excellent foundation. I wish they had high school math.

I have used Horizons Mathematics curriculum for three years in a row with my son, and we really love it. It works so well for him. He is a very logical person, likes things to make sense, and math (in general) comes pretty easily.

Our homeschool tried Horizons and I thought it was ok. However, it proved to be too colorful for my boys and they kept getting distracted.

All 3 of my kids love Horizons. We have done K, 1, 2, 3, 4, and 5!
How expensive is Horizons Math?
Normally, Horizons is very moderately priced on Amazon. Prices constantly change, so there is no way of knowing. However, you can also normally find it discounted through the homeschool co-op.
Buy Horizons Math
CLICK HERE to search Amazon for all other Horizon Math books.
Horizons Math placement test
Instructions for the Horizons Math Readiness Evaluation: click here
Leave your own review!
Help other homeschool families make the right curriculum decisions by taking a moment to leave a reivew. Any thoughtful insights, experiences, warnings, or specific praises are appreciated and will be published.
Save it or share it!