Free Online High Schools
Important Info & Complete State Listings
You may be curious about online high schools because they allow students to enroll in virtual classes. Or, because they eliminate the restricting and inflexible schedules that accompany public schools. Or, because online programs give parents the option to be more involved in their child's education.
There are many reasons why online schools might be more attractive than the brick-and-mortar alternative.
Across the country, there are many government-funded online high schools that offer a virtual alternative to school. We've compiled a list of the best tuition-free online high schools and organized them by state. Below the list of free online high schools you'll find useful information about online schooling, state requirements, funding, and more.
List of Free Online High Schools in the United States
There is not a maintained list of virtual public schools, so we spent hours compiling one. Below you will find a table with the most recently updated list. If you don't see your state, it means your state does not support online education. This does not mean you cannot attend a virtual academy, although a tuition-free virtual public school is not sponsored by your state. Private schools, charter schools, home school programs, or an individualized home education may be your best option if you need to pull your child from the public education system.
Searchable table of 170+ Schools
What are the differences between an online high school and public school?
Online high school:
Some schools may be hybrid, meaning that students spend some time in a physical class and other instruction is given online.
Some, or all, teaching and testing take place virtually
Students in complete online programs never visit a physical building
Although everything is digital, students do not spend all day in front of a computer, there are required:

Offline activities
Paper worksheets
Physical projects

Students can learn from any location as long as they have an internet connection
Students interact with a teacher is often one-on-one through various mediums:

Online platforms that mimic classrooms
Through email / over the phone / over video

Students usually receive an individualized education
Curriculum, textbooks, workbooks, and educational materials are often mailed directly to your residence
What is it like to attend an online high school?
For the most part, attending a virtual school is very similar to attending public school. Allegedly, students still spend over five hours each day doing "classroom work" before spending time on "homework."
The biggest difference is that students and families create a schedule that works best for them. This allows for incredible flexibility.
Common reasons why parents choose online schools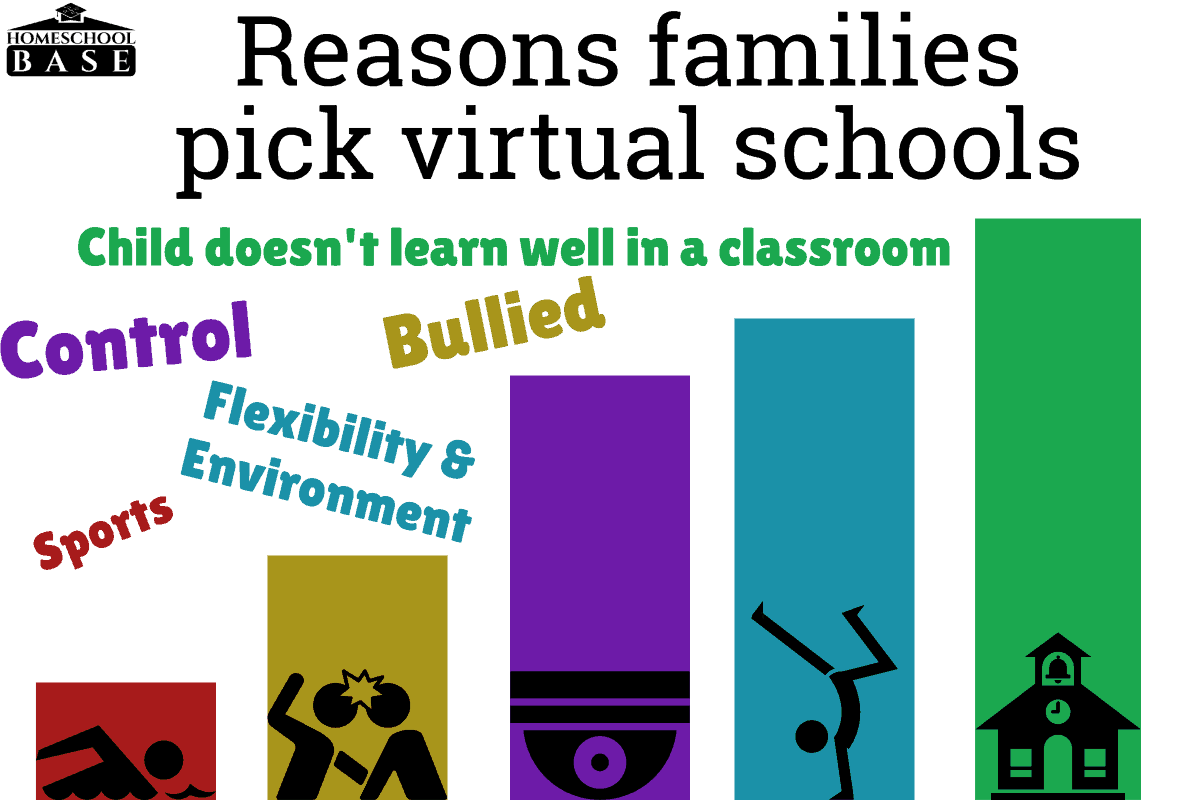 Connections Academy surveyed their parents and reported the following statistics:
51% of parents wanted greater flexibility
42% of parents wanted a change from their local school
32% wanted a safe/controlled learning environment
23% wanted to be more involved in their child's education
22% of children had serious health concerns
10% of children suffered from bullies
3+% were actively involved in sports or competitions
Public Virtual Schools vs Private Virtual Schools
Just like in public school classrooms, there are two broad categories of online high schools: public and private.
Online public high schools
Public schools and charter schools must be accredited and funded by the state. Therefore, they will only use state-approved teachers, offer state curriculum, stick to exact government education standards, and reward graduates with a diploma. There is never any required tuition, these schools are tax-payer funded. These schools serve students in grades kindergarten through twelve. Besides no interpersonal experience, online public high schools are really no different than public schools.
Online private high schools
Looking to escape from the government controlled education systems? Don't want a curriculum that is written by the state?
You'll want to consider an online private high school. Private institutions use their own requirements, standards, curriculum, and tuition. Because they are private, they are free from government control, but they are not free. Click here to view a list of the best private online high schools.
State Requirements
Lots of schools require their students to live in a local school district and the majority of programs require the student to be a state resident. Nevertheless, there are online schools that allow any student to enroll. Some states do not fund a K12 online program. This means students/parents will need to find an out-of-state school that meets their local state requirements and accepts out-of-state students.
What if I live in a state without public online schools and I can't afford a private program?
Have you considered homeschooling? Many parents seek out online schools because of a difficult or busy family schedule and may not have time to bear the full educational responsibility of homeschooling. Nevertheless, there are many affordable all-in-one homeschool curriculums and homes chool programs that make homeschooling much easier on a busy parent.