Easy Grammar Series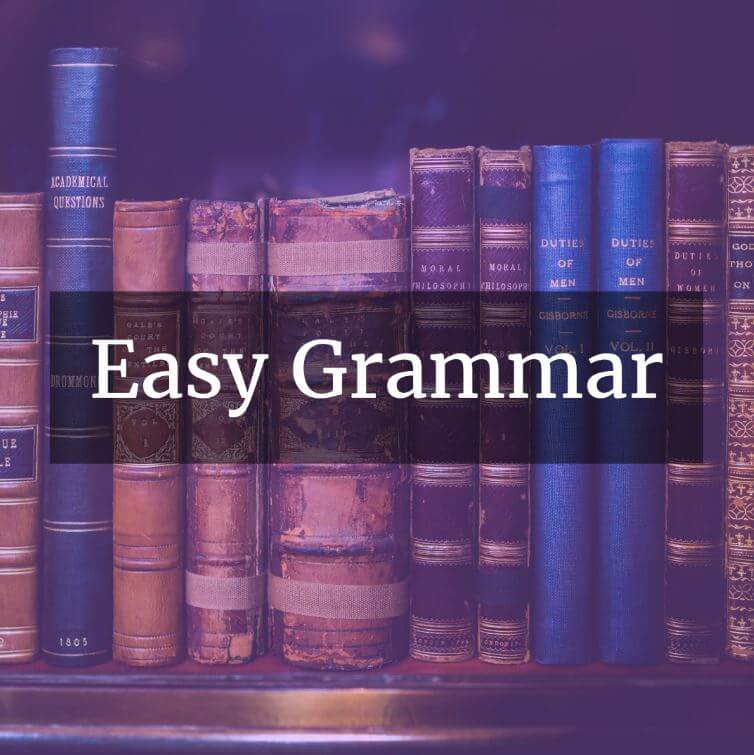 Easy Grammar Series -
Easy grammar helps students (and parents!) improve their grammar in just minutes each day. The Easy Grammar series produces both teaching & review books.

One of the ways that Easy Grammar helps students truly conceptualize grammar is by utilizing the prepositional approach. Students begin by learning a list of common prepositions. Next, students learn to idetify them and mark through prepositions and prepositional phrases. This allows students to see the core of each sentence.

Concepts are always presented in manageable bites with plenty of practice. Every grade/teaching book acts as a complete grammar course. Review books provide practice, workbook pages, and tests. The 'review books' are generally known as Daily Grams while the 'teaching books' are just called Easy Grammar.
---
This causes much confusion, but the very first book in the series, Easy Grammar: Grade 2, doubles as both a teaching and a reviewing book. Grade 2 is the first book in the series (correct, there is no Grade 1) and the only level where you can't pick either, or, both. Meaning, grades 3-12 have two purchasing components: teaching (Easy Grammar) or review (Daily Grams). Navigate to Daily Grams.
The original Easy Grammar for elementary grades covers grades 2-6 with an additional plus level/book. The plus book is a non-grade level text with wide application. The text is most often used for 7th grade, but middle schools, high schools, and colleges have all used it. Although the text is ideal for seventh grade, it has been used by numerous middle schools (junior highs), high schools, and even a few colleges. View a sample worksheet of the plus edition.
Easy Grammar review
We are only going to be mentioning the teaching series (Easy Grammar). If you ignore the weird book 2 anomaly, the six books in the Easy Grammar books are very similar. They aren't just similar in structure; they are very similar in content. It will not be necessary to buy every single one. There is simply too much overlap to make that our recommendation. It would be possible to buy the Easy Grammar books in an every-other-year cycle and simply buying the Daily Grams on even years. So, year 1, use the Easy Grammar + Daily Grams and then only buy a Daily Gram the following year. Then, repeat.
Easy Grammar grade 2
What makes Easy Grammar 2 unique is that it comes with scheduled daily lesson plans. Each parent structures their homeschool differently and Grade 2 can easily be used as a primary teaching resource or as a curriculum supplement. It is not recommended that parents let their children do these lessons on their own. Each lesson should be taught by the parent, regardless.
Daily lessons for Easy Grammar
What does a daily lesson look like? The average day includes 4-5 exercises. These can range anywhere from capitalization to parts-of-speech work to homonyms/antonyms. When a new topic is introduced, the lesson will explain the rule and provide examples. Each new concept/topic/rule will be accompanied by an explanation. Depending on the topic, some explanations are much longer and more in-depth than others.
Easy Grammar grade 3 and up
With each book the level of difficulty increases. However, the landscape stays the same. The approach is always repeated and you will likely notice some of the same information.
Each book follows this pattern:
A concise grammar instruction → examples → student practice → you're done. :)
In the younger texts, this is normally consolidated into one page. This way, lessons and practice are normally just one-page long. As the difficulty increases, the books will normally provide a full 1-2 pages of explanation before listing practice 'homework.'
Easy Grammar will teach children how to annotate parts of speech and how to recognize punctuation, capitalization, letter writing, phrases, clauses, types of sentences, fragments, and run-on sentences.
Easy Grammar teacher edition
The teacher's edition is exactly the same as the student's edition, but includes answer keys. This means you could exclusively use the teacher's manual and photo-copy, copy, or replicate the questions for your student. However, this would be tedious work and almost every homeschool just buys the student workbooks.
What makes Easy Grammar unique?
The "prepositional approach."
Unlike some grammar curriculums, Easy Grammar begins by introducing the preposition. By teaching prepositions before any other part-of-speech, Easy Grammar hopes to eliminate some common and much-dreaded confusions like mistaking the objects of a preposition as the subject.
Every grammar curriculum and workbook must choose how to diagram, annotate, or designate parts of speech (parts of the sentence). Easy Grammar does not diagram sentences. Instead, Easy Grammar uses notations such as circles, underlines, and double underlines to signify parts of the sentences.
Easy Grammar's strengths
Easy Grammar seems to do very well among students who struggle with grammar. The lessons and practice exercises are shorter than many of the alternatives. Easy Grammar received some criticism for making some of their practice sentences too short. On the one hand, this makes them "easier" and less complex than a sentence from a "great book." On the other hand, this allows students to successfully identify sentences and learn to recognize the grammatical patterns in all types of sentences.
Frequently Asked Questions
Should I use Easy Grammar Plus or Daily Grams for a 9th grader? It just depends on if they need to learn more grammar or just review what they know. Easy Grammar Plus would be for teaching the grammar & review but the Daily Grams are just for review and much shorter.
At this level, it is also an option for grammar not to be taught as its own unit, but be included in the rest of the English curriculum.
Easy Grammar Plus is a full grammar curriculum. If you think they are weak in grammar, this is the better option.
Both go together and is easy to implement. We use Daily grams because it was laid out for the 180 days and Easy Grammar was the main curriculum then. Teaching the prepositions first was key. You will be told to cross out all prepositions and prepositions phrases so that you can easily find the nouns, verbs, adverbs, etc. I taught it in a rhythmic song to my kids in one day and after that they took off with it. Have fun. When it says Easy Grammar take it literally.
How many exercises per lesson? Compared to most other grammar courses, there are fewer exercises per lesson.
Easy Grammar homeschool reviews
Easy Grammar is so good and painless.

We use it. I love it. We started when my kids were in 7th and 5th grade. When we started homeschooling, they had been in public school. Of course, public schools don't do much with grammar. Then we spent a few months using a program that didn't have enough structure. It wasn't filling in the gaps quickly enough, so we switched to Easy Grammar. After the first year I was amazed at how much they had learned. It really does work, has good clear explanations, isn't very expensive, and doesn't take a ton of time each day.

I have used only the "Plus" level. I love the approach of finding the prepositional phrases first. But I found that my students actually learned more from doing the Daily Grams together. We would do them (several kids on the same level), then I would have them do them at the board and explain each item to me and give the rule(s) that applied to each item. I love the Sentence Combining items, and showing the students that there are several ways to do them - all different, but all correct.

I love how all 180 lessons only take about 5 minutes to do!!! It includes everything I could want... punctuation, capitalization, etc.

I thought it had good coverage of topics, and my kids enjoyed that lessons were not laborious. It was one of their favorite subjects last year because of that - not that grammar as a subject was their favorite, but they felt the lessons were understandable and without fluff. 9th grade.

My daughter dreads grammar, but loves the fact that Easy Grammar is only a page a day. Very thorough. I swear she's learned more grammar this year (7th grade) than she has in the previous 6 years.

I like Analytical Grammar a little bit better only because it starts with nouns instead of prepositions.

I like the fact that it's one thing at a time and only one page a day.

We have used it in the past. My kids liked it, and they've always tested well in grammar.
Pricing Information
Leave your own review!
Help other homeschool families make the right curriculum decisions by taking a moment to leave a reivew. Any thoughtful insights, experiences, warnings, or specific praises are appreciated and will be published.
Save it or share it!