Saxon Math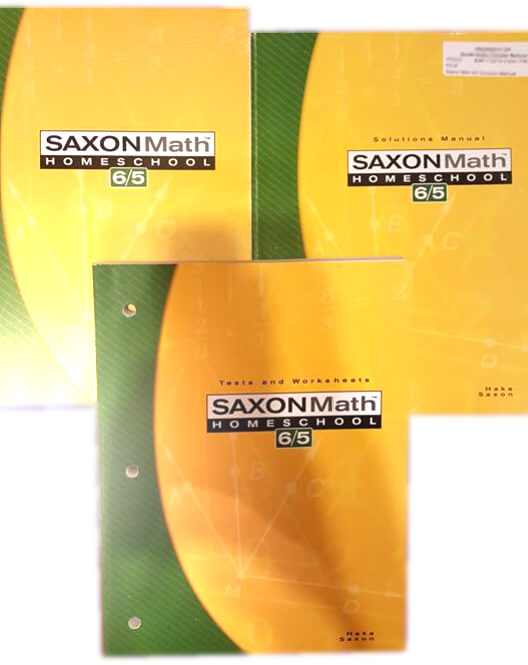 Saxon Math consistently receives high marks from homeschoolers as a complete math curriculum. Developed by
John Saxon
over 30 years ago, this curriculum is designed to teach students in incremental steps, allowing students the time and pace they need to understand each lesson. The lessons introduce a new concept each day, but every assignment (and every test) is a cumulative review of all material covered up to that point so there is constant practice. The material just keeps cycling through the daily assignments.
The designers of Saxon are committed to delivering a method that allows for long term mastery of concepts and a deeper understanding of the applications in the real world. Also, if parents are concerned about meeting the Common Core State Standards "requirements," they can be assured that the content and skills match and exceed the needs of these standards.
---
Saxon Homeschool Math
Quick curriculum specifications
K-3 uses manipulatives - teaches basic concepts, geometry, patterns, and time
Math 5/4-8/7 transitions to textbooks with algebraic and geometric reasoning
High school texts prepare students for college by teaching Algebra 1 up to Calculus
Saxon Math K-3
Saxon Math Homeschool is a comprehensive, research based program that is easy to teach, with very little parental instruction needed after Grade 3. For K-3 Math, Saxon provides a 'script' on what to say and do each lesson. To support homeschool parents, the program also includes teacher's manuals with solution keys and tests, and The Meeting Book that dictates the daily Meeting.
For grades K-3, the program does require the use of manipulatives, such as bear counters, MathLink Cubes, and tangrams. Saxon sells a manipulative kit with most of the necessary items but you'll still have a few extras to supplement. Parents can use these for all levels so this will be more of a onetime purchase. Parents who feel they can teach many of the K-3 concepts in a more natural way through conversation and interactions on a daily basis, may not feel the need for all the manipulatives.
Saxon Math Kindergarten
For Saxon Math Kindergarten, there is no book for students but relies on the teacher's manual and the Meeting Book. It is designed for parent involvement, with no real independent learning at this stage. The teacher's manual includes worksheets and activities to do with your student.
For K-3, the lesson begins with The Meeting, and then continues with The Lesson for the day. There is very little independent work at these levels so there will be parent-child interaction, with both written and oral work.
Saxon Math Intermediate
Once a student reaches the Math Intermediate series, the Math 54 and up, the homeschool kits include a non-consumable student text, an answer key or solutions manual and tests with answer keys. There are no teacher manuals at this level because the math concepts are explained clearly in the student textbook, lending itself well to independent study. The introduction of new concepts daily, along with the built in review, is evident in the upper grade coursework. The affirms the continued belief in the importance of incremental learning that was foundational in the K-3 program. Parents will be able to leave most of the 'learning' to their student at this point, but will need to check/grade work to ensure their student is grasping the concepts taught.
Saxon Math 54
For Math 54 and up, Saxon uses a two-digit grade level designation that can help you determine the appropriate grade level for your student... Normally the second of the two digits designates the grade level to use with for average to bright students. The first digit indicates the grade for students who might be a bit below average.
Translated: Saxon Math 65 would be used with average to bright 5th graders or for some 6th graders are lagging behind a bit.
The numbers and designations can be a bit confusing with some levels overlapping with others so it helps to really examine the content to ensure the right choice for your student. Also remember that Saxon offers free placement tests, available at their website.
Saxon Math for high school
Saxon provides a complete High School curriculum for the homeschool student, with their classic editions of Algebra 1 and 2 and Geometry. They actually offer two options for these subjects, one being a more integrated approach of these topics and the other teaching these topics in a more traditional approach that high schools take.
Pros and Cons of Saxon Math
Research from Saxon shows that students consistently score high on standardized tests, especially in the areas of computation and mathematical principles.
The one drawback mentioned by parents is actually one of Saxon's main strength: The endless repetition. The repetition that works wonderfully with some students might be frustrating and boring for those students who grasp math concepts more quickly. It's a trade off the parent will have to decide on and adjust if necessary.
Frequently Asked Questions About Saxon
Is Saxon Math Common Core aligned?
Saxon Math was not designed as Common Core material. The 1st, 2nd, and 3rd editions (from K-Calculus) are completely Common Core 'free.' The newest editions of Saxon adapted to align with Common Core.
Can I skip pre-algebra if they finished 8/7?
Well, 8/7 and Alg 1/2 are both Pre Algebra. Algebra 1/2 was written by J. Saxon and written for high schoolers who had either no Pre Alg or didn't do well. It moves at a faster pace than 8/7 and the language for the word problems is written for high schooler.
8/7 was written by Stephen Hake for Middle Schoolers who were ready for Pre Algebra.
If your student finishes 8/7 successfully, it isn't necessary for him/her to do both. You can decide what successful completion is, but 80%-85% is what I've read (for me it would be 85%-90%).
Another reason to do both might be if your student is younger (6th grade or earlier) when they reach 8/7.
Keep in mind that Hake taught middle schoolers and Saxon taught high schoolers. They both used the same methodology. This was back when teachers were actually ALLOWED to use their own methods and write curricula. [source].
In the end, it completely depends on the child. Many students can go straight into Algebra 1 in 8th grade.
Do I need to buy the teacher manual?
YES. All of the full curriculum lesson plans and lessons are in the manual. Without it, you'll have only worksheets.
I want more information about John Saxon.
Reference this article.
More Saxon Math reviews by homeschool moms
Our homeschool started out with Math-U-See and at 7th grade transitioned into Saxon. We (she) hasn't had any problems!

I love Saxon math. Yes, if you've never used it before, it does repeat A LOT of information. But the way it is layed out makes other concepts much easier to learn.

Works wonders for children who like the spiraling approach!

Too much spiraling, switched to Teaching Textbooks.
A Beka Math vs Saxon Math
This is a very common question that comes up time and time again on homeschool forums, Facebook groups, and in-person consultations. From one Facebook discussion:
Spiral/Traditional (Abeka) vs. Incremental/parts-to-whole (Saxon)...it depends upon the child's way of learning. My kids and I like a whole picture first and then break it down into parts. Saxon is the opposite of that.

Abeka was just too much for my son. With Saxon, he has learned math facts. Everyday, there is a fact sheet, which helps to reinforce. The teachers guide was a little hard to adjust to compared to Abeka, it is scripted out what to say and do. I hope this helps

My daughter has done Saxon Algebra 2 over 7th and 8th grade, and we have added in some Geometry workbook/texts from Amazon. There is more Geometry and Trig. than I expected over the course of Algebra 1 and 2, but I didn't feel like he covered what I covered in a full-year Geometry text. I'm hoping this will have him covered but it's kind of an experiment at this point

We absolutely love Saxon. It builds every day on the previous day and is never overwhelming. [source]
Buy Saxon Math // Pricing Information
Leave your own review!
Help other homeschool families make the right curriculum decisions by taking a moment to leave a reivew. Any thoughtful insights, experiences, warnings, or specific praises are appreciated and will be published.
Save it or share it!