ABC Mouse Reviews & Month Free Special Offer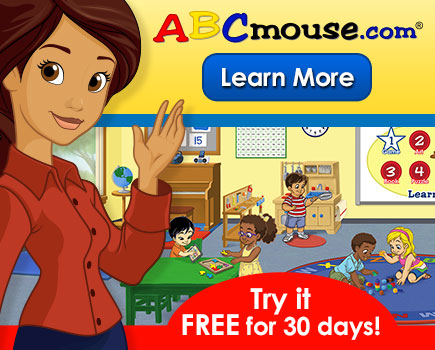 ABCMouse.com Early Learning Academy -
ABCmouse.com is the leading online early education curriculum for parents, preschools and kindergartens in the United States and Canada.

This award-winning curriculum has been created in close collaboration with early childhood education experts and offers over 8,500 books, games, songs, puzzles, and art activities. Each with specific learning objectives in the subjects of reading, mathematics, beginning science, social studies, art, and music, to go along with over 850 complete lessons across all subjects.
---
To date, more than 10 million children ages 2-8 have completed more than 2 billion learning activities on ABCmouse.com at home, in classrooms, libraries, and other community institutions!
ABCmouse.com has recently launched their comprehensive second-grade curriculum designed to address the learning needs and interests of second-grade students with the goal of preparing them for the critical transition to the third grade.
Get ABC Mouse free
If you've never used ABCMouse.com before, you can receive your first month for free. The free month includes all of the features, such as over 8,500 educational activities. Click here to sign up.
Special Offers for ABCMouse.com
Homeschool Base is excited to present the following discounted offers:
Get 2 Months of ABCmouse.com for only $5!
38% Off an Annual ABCmouse.com Membership! Receive 12-Months for Only $59.95!
First Month Free - ABCmouse.com Offers Over 8,500 Educational Activities
ABCMouse reviews by homeschool moms
My 5 year old boy loves it! Only thing that holds his attention at this point!

It is the perfect digital app for kids ages 2-7, full preschool and kindergarten curriculum!

When I needed our youngest to be educationally occupied so that I could do school with my other child, I put her on ABCmouse.com. She loved it and I liked the fact she was really learning. [source]

I use ABC mouse for my kindergartner but not as a curriculum but more as a reward after doing his actual work.

My son uses the free ABC mouse videos on you tube as extras to go along with our curriculum for that week. But, I don't feel that it is a complete learning curriculum; simply a supplement. My son loves the learning songs and they are helpful. Simply Charlotte Mason or My Father's World are the best, in my opinion. Enjoy the Kindergarten, it is meant to be fun and create a love for future learning.
Want a sneak peek inside? Here is one of the songs from ABCMouse.com.
Leave your own review!
Help other homeschool families make the right curriculum decisions by taking a moment to leave a reivew. Any thoughtful insights, experiences, warnings, or specific praises are appreciated and will be published.
Save it or share it!