Magoosh - Online Prep for the New SAT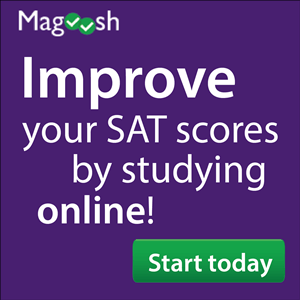 Magoosh is your best option for online SAT/ACT prep (
college preparatory tests
). Magoosh is 100% online. There are no DVDs or huge books to purchase. Their online platform works on both Macs and PCs, as long as you have internet. (Yes, it will work on your iPad/iPhone/Android).
Students learn strategies, formulas, and tips and the materials are explained concisely and clearly. Magoosh was designed with self-studiers and video-lovers in mind -- hello homeschoolers! This means Magoosh can be used at your own pace and every practice question has a video explanation of the answer!
---
7 Day Free Trial!
We're excited to offer a 7-day free trial for Magoosh SAT prep!
Over 140 video lessons
Over 400 practice questions
Study schedules
Magoosh SAT Prep Review
One of the best things about Magoosh is that anyone can sign-up and benefit from their online learning/test-prep. Lots of their users are first-time SAT test-takers. Be prepared for the first time you take the SAT, instead of facing the test like a deer in the headlights!
In fact, because of the way Magoosh's lessons are structured, we actually recommend using Magoosh first. The test-prep lessons start from the very beginning and teach students everything they need to know about the SAT.
Money back guarantee on satisfaction AND score improvement
This is one of our favorite things about this program. They offer a 7-Day Money Back Guarantee where you can email them and cancel for any reason, no strings attached.
More importantly, they also offer a score improvement guarantee. Taken directly from their website:
We guarantee after completing our premium program, you'll see a 100-point increase over your old scores, or we'll give you all of your money back.
Of course, this guarantee is the only "downside" to using Magoosh before taking the SAT.
Summary
Hundreds of practice questions created by test-prep experts with decades of experience
Score improvement guarantee
Step-by-step explanation and lesson videos
A premium subscription for the price of a few books
Leave your own review!
Help other homeschool families make the right curriculum decisions by taking a moment to leave a reivew. Any thoughtful insights, experiences, warnings, or specific praises are appreciated and will be published.
Save it or share it!