Abeka Homeschool Curriculum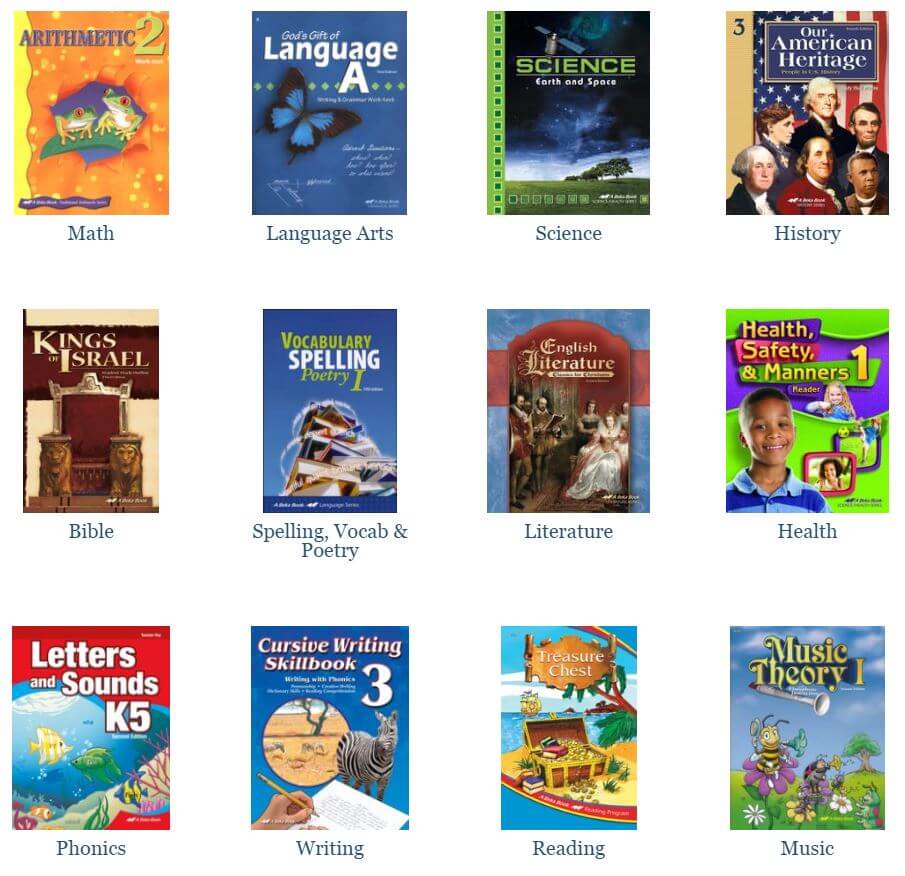 A Beka Book has been one of the largest publishers of Christian-based curriculum, homeschooling resources, and educational materials since the 1980's. The curriculum itself has been used, tested, and refined over 50+ years in the classrooms of
Pensacola Christian Academy
. Their materials are used around the world in homeschools, Christian schools, and private schools. Over 250,000 homeschooled students use Abeka every year.
A Beka, commonly written as "Abeka," offers a complete line of traditional Christian curriculum for pre-kindergarten through twelfth grade. They also produce supplemental educational materials. Recently, A Beka created A Beka Academy which utilizes online video streaming in conjunction with their textbooks.
---
Abeka Review
Giving a "review" of Abeka is difficult because of the volume of materials that Abeka has published. Therefore, this page isn't going to go into extreme depth or detail about one product, but rather focus on the big picture.
Abeka method and philosophy
All Abeka materials are written from a Christian, conservative, patriotic, biblical literalist, and young Earth creationist perspective.
Abeka's traditional Christian perspective is far more apparent in its science curriculum. The science curriculum portrays the Genesis creation narrative as a fact.
Abeka's patriotic, conservative, and Christian perspectives are very apparent in the history/literature/social studies/language arts curriculum.
Abeka loves repetition & memorization & assessments
Anyone who has used Abeka knows how much repetition and practice is incorporated. This is because Abeka maintains a very traditional approach with an emphasis on mastery. Their emphasis on mastery means your child will be doing a lot of repetition, drills, practice, and memorization.
This is Abeka's biggest strength and the biggest criticism. Parents either find that Abeka does too much seat work/testing, or they describe Abeka positively as having "challenging academics."
If you fall into the category of a homeschooler that probably doesn't want to do lots of quizzes, tests, exercises, etc. -- don't forget that it is 100% within your ability to change the amount of student assignments. When exercises seem too repetitive, many homeschoolers skip over them.
Abeka curriculum presentation
Abeka curriculum books are designed individually for each subject areas by grade level. For instance, first grade math, or sixth grade history, etc. Sometimes Abeka will include multiple subjects in one textbook. The grade will always be specific to one age.
A Beka books are known for being "textbooks." However, most A Beka books are colorful and visually appealing. This is especially nice because the amount of work involved can be considerably less exciting for children.
Abeka publishes most of their curriculum in paperback, making it inexpensive. Textbooks can easily be reused, but workbooks cannot. In recent years, Abeka has offered many of their resources and books online as digital copies. Unlike many online textbooks, their are filled with engaging and animated features like videos, text highlighting, notetaking, and links.
For the parent/teacher
One of the best things about Abeka are the crystal clear lesson plans and schedules. For the new homeschool parent or cautious homeschooler, the Abeka lesson plans will never leave you wondering where or how to start.
On the flip side.
Some parents will argue that Abeka is not "teacher friendly" because it is too scripted. The teacher's guides/manuals may have too much information to filter through. Sometimes it does seem that Abeka doesn't think you know how to teach your child how to add basic numbers or write individual letters.
Teacher editions and answer keys
Don't count on every A Beka book having a teacher curriculum book, teacher edition, and an answer key. These are the three types of teacher resources that Abeka produces to accompany their curriculum, but they are not all created for each curriculum.
Further complications may arise because the organization of the teacher materials is not uniform accross all courses.
Teacher editions and "teacher curriculum"
These books include:
The full student text
Lesson plans
Selected answers
Answer keys
There are two styles of answer keys. They will either be small booklets with the answers, or they will include an entire replica of the student workbook with answers.
Answer keys for the tests and quizzes are often published separately from the curriculum/textbook keys. This can be confusing and annoying.
But, do I actually need to buy the answer keys?
Realistically, yes. They are incredibly useful because of the amount of time you will save. Even in the early grades, checking student work is time consuming. Plus, we are all prone to making errors.
Abeka homeschool curriculum by subject
Let's do a quick overview of Abeka curriculum by subject.
Abeka math
The student books for Abeka math include concept instruction. Sometime (like in the early years) you will need the homeschool curriculum book for additional instruction/help.
For grades one through three, Abeka math is very colorful and includes demonstrations. During these years, Abeka utilizes math manipulatives and word problems with a required amount of one-on-one teaching. When a student progresses to elementary grades levels, Abeka textbooks will begin to focus on repetition and review. In high school, Abeka courses are no longer designed for "independent study." Abeka high school math should be "taught." For parents that are not comfortable in this role, the A Beka Academy offers video instruction.
Abeka language/reading
Abeka language is one of the most popular Abeka curriculas. Their reading program is heavily based on phonics and very challenging. During early levels, students will learn to read at a very young age. Because of this, many homeschool parents decide to start the curriculum at various ages depending on the child's level.
In later levels, the complete homeschool reading curriculum includes a lot of graded assignments. Middle school and high school level students read anthologies that include lots of classic literature.
Abeka history
Compared to most curriculum, the Abeka history program is very subjective. As stated earlier, the Abeka perspective is always conservative, Protestant, and patriotic.
Early history books are light, but as the level increases so does the depth and volume of the materials.
Abeka science
Plenty of secular homeschoolers have used different Abeka texts. However, science is not one of them. Christians that do not beleive in a literal biblical interpretation of Genesis will also usually look for a different textbook.
Abeka always emphasizes, includes, and supports traditional Biblical truths and belief in God as Creator.
Just like the history curriculum, the early science textbooks will lack substance. The "meat" and depth of the textbooks increases with time. By the time a student reaches high school, the Abeka science books are extremely well done.
The required involvement and "difficulty" for parents increases at high school level. For instance, the Chemistry and Physics textbooks are not (generally) easy to use. The Biology textbook is very popular. It will require homeschoolers to take initiative on labs and activities.
Abeka health
In grades 4-6, Abeka splits "health" from their science texts as its own separate book.
Conclusion
Without a doubt, Abeka resources do an excellent job of covering each subject. In most cases, they require almost no prep time for the parent or teacher.
You can find Abeka Homeschool on Facebook.
Buy Abeka books
Click here to see a full listing of A Beka Book Homeschool Curriculum. ChristianBook.com allows you to easily sort by grade for all A Beka curriculum.
Homeschool Reviews of Abeka
Ease of use, wonderful breakdown of materials, and in depth reviews of materials covere
Leave your own review!
Help other homeschool families make the right curriculum decisions by taking a moment to leave a reivew. Any thoughtful insights, experiences, warnings, or specific praises are appreciated and will be published.
Save it or share it!