Ron Paul Curriculum Review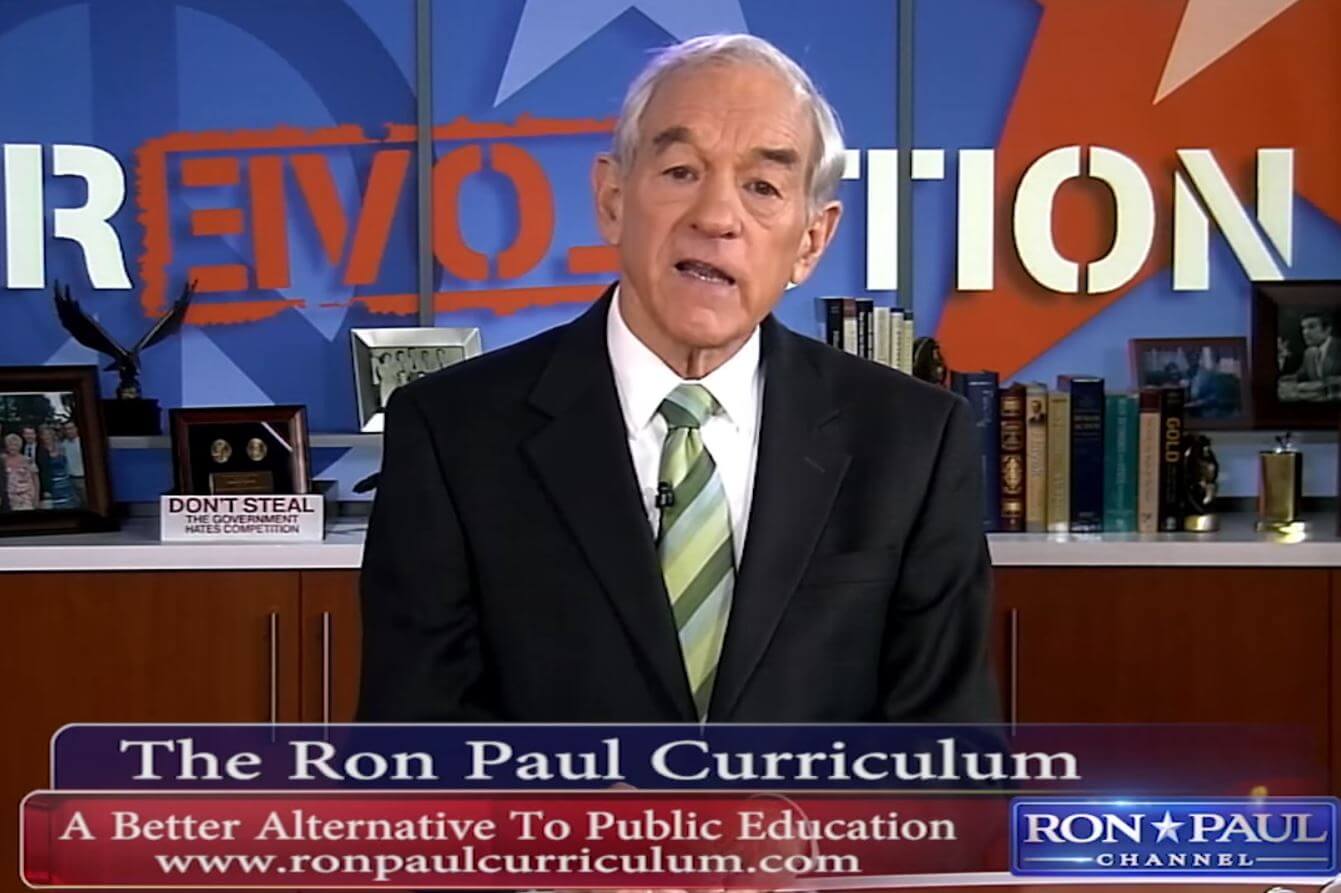 Ron Paul Curriculum -
Ron Paul, the former U.S. Representative for Texas, created the Ron Paul Curriculum within days of retiring. The Ron Paul Curriculum is self-taught online program with video lectures, readings, and regular writing assignments. The curriculum was designed to transform your students into critical thinkers, analytical writers, proficient note takers, and most important of all, life-long learners.

The curriculum has no agenda and is purposefully not "accredited" by any state. Ron Paul has always been, proudly, extremely anti-Common Core.

The curriculum's philosophy is very libertarian. If you are at all familiar with Ron Paul, you won't be surprised to learn that students are also given the chance to learn about the constitution, the principles of liberty, sound economics, personal finances & home business, public speaking, and much more.
---
Ron Paul Curriculum Review
Update (11/1/2021): Ron Paul Curriculum is moving to a new platform. The "Ron Paul Curriculum" is now rebranded as the "Ron Paul Online Curriculum." A new online learning platform/portal was reconstructed from the ground up, and these significant changes are now available on the new website.
The new learning platform features a brand new user-friendly learning interface and updates! After taking with Jo Dee Soles, they aim to have everyone moved over to the new site by the end of the year (2021). If your family has an existing membership, it will gradually move to the new platform.
An introduction to the curriculum, by Ron Paul:
10 Reasons to choose Ron Paul Curriculum
100% money-back guarantee
In fourth grade, students begin mastering effective writing
No textbooks required and it is more affordable than almost any other curriculum ($1.37 a day)
No busywork and a heavy emphasis on critical thinking
Self-taught curriculum with student help discussion forums for each subject
High school level classes are generally taught by college professors
Daily video lessons that aren't published anywhere else on the web
Students read original sources in history and government courses
The enrollment fee covers the entire family
Actually try the curriculum with 40 free lessons!
Reasons to use Ron Paul Curriculum for online high school
Three high school learning tracts to choose from
Includes more instruction in Western civilization, Western literature, and American literature than traditional curriculum
95 percent renewal rate
No single parent (or two) can be an expert in every field of study covered in high school - Ron Paul Curriculum courses are usually taught by instructors with PhDs in that specific field of study
No more daily lesson plans, ever.
Full year courses for starting a home business and managing personal finance
Warnings before buying this curriculum
This program has received strong criticism due to the way Gary North conducted himself on the help/support/discussion boards. For a full student testimonial, read this blog post.
If your child or children are not self-disciplined and are not interested in self-learning, it will be very difficult for them to thrive with this curriculum. The Ron Paul Curriculum is self-taught.
Parents should also know that the video instructors are not available for contact. The curriculum includes student discussion forums, but the lecturers are not full-time employees. If you need a homeschool program with full online support, head over to our home school programs page.
What this program is NOT
This is not a neo-conservative or fundamentalist curriculum. However, curriculum could be classified as a libertarian curriculum and it is economically conservative.
This program is endorsed by Ron Paul, but not actively created by him. Gary North is the Director of Curriculum Development.
Ron Paul Homeschool Curriculum
Why did Ron Paul create his own homeschool curriculum? Ron Paul has always been a strong supporter of homeschooling. On April 8, Ron Paul wrote the following:
A common feature of authoritarian regimes is the criminalization of alternatives to government-controlled education. Dictators recognize the danger that free thought poses to their rule, and few things promote the thinking of "unapproved" thoughts like an education controlled by parents instead of the state. That is why the National Socialist (Nazi) government of Germany outlawed homeschooling in 1938.

Every American who values liberty should support the homeschoolers' cause. If the government can usurp parental authority over something as fundamental as the education of their children, there is almost no area of parenthood off limits to government interference.

I believe so strongly in the homeschooling movement that I have just announced my own curriculum for homeschooling families. Please visit this revolutionary new project at http://www.ronpaulonlinecurriculum.com.
What does Ron Paul know about the education system? "Watch Ron Paul destroy everyone on education," below:
Ron Paul opposes the public education system because it is an "unconstitutional dismal failure."
Ron Paul Curriculum Cost
The curriculum is extremely affordable, priced at only $1.37 a day, $250 a year, for the entire family. Learn more at http://www.ronpaulonlinecurriculum.com/.
Leave your own review!
Help other homeschool families make the right curriculum decisions by taking a moment to leave a reivew. Any thoughtful insights, experiences, warnings, or specific praises are appreciated and will be published.
Save it or share it!