My Father's World: Homeschool Curriculum Review & Information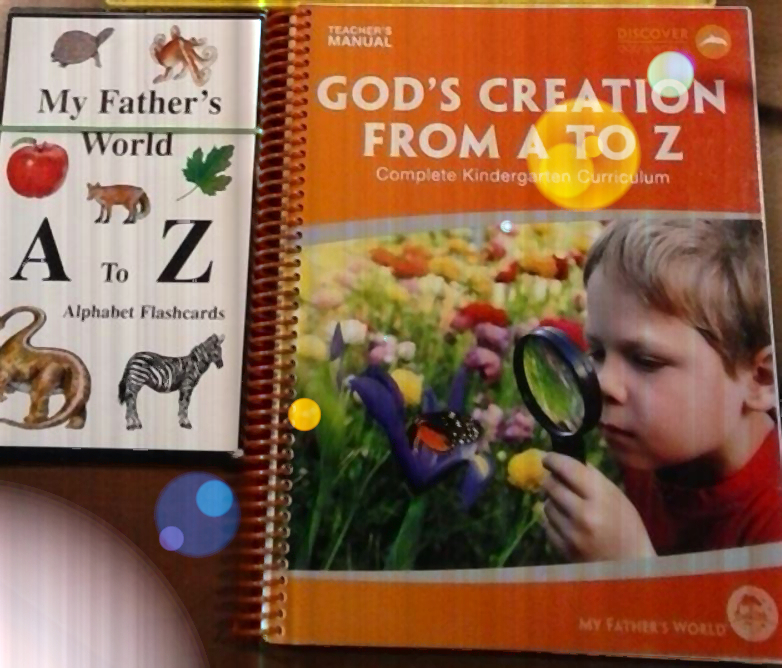 My Father's World is a complete grade-level curriculum for preschool through eighth grade and offers almost-complete curriculum through twelfth grade. My Father's World is inspired by several homeschool methods including unit study, Charlotte Mason, and classical. My Father's World is a Christian curriculum and offers a strong Protestant biblical base with missionary emphasis. This influence is present in all levels. (The curriculum requires a Bible for every level.)
For each level, two package choices are available: basic and deluxe. All essential aspects are included in the basic package, while the deluxe packages includes extra resources for art, music, and more.
My Father's World gives homeschools a lot of flexibility in the way they arrange their week. My Father's World is most commonly paired with Sonlight curriculum. One popular option is to use My Father's World for elementary and then jump to Sonlight for 7th grade and up.
---
My Father's World homeschool curriculum reviews
We love MFW and have been using it for 3 years now. Everything is laid out really well in the teachers manual in my opinion. One reason we chose MFW over others is there seemed to be less prep work for me to do which is great since we have younger kiddos too.

We love MFW. We are on our second year using it after a year of Abeka and a half year of ACE. It is not as intense as Abeka and more thorough than ACE. I love the family cycle. It cuts my work load in half and the older one helps the younger and they are working together a lot which is nice.

First year homeschooling and very happy with our choice to do MFW Kindergarten. I used to teach and I love how this curriculum is laid out. We supplement with math and some social studies. And sight words. We bought the basic package. Very happy with it!

We love MFW! I love the way it is laid out. Each day there is a check list (love that I don't have to worry about forgetting something). We have used K (using it for the 2nd time now), 1st, adventures, ECC, and CTG. Right now I have a K and two in the family cycle doing Creation to Greeks.

Picking out a curriculum really depends on how you want to teach and how your child responds. For instance, my son really fought against Abeka, so we stopped using it. MFW felt disjointed and I didn't care for the fact I had to keep flipping back to the calendar to make sure I didn't miss anything. I loved Heart of Dakota when we first started it, but got tired of reading just a few pages out of several books at a time. We are now working with IEW PAL and we're liking it.

We love My Father's World because it is very hands on and heavily literature based. My son loves reading with me and begs me to do more then one days lesson in a day. So we do most days and get through about 2 lessons done in 60-80 minutes. So when we do one day it is much quicker. He just turned 5 when we started it as well.
How does My Father's World compare to Abeka?
Abeka is much more busy work intense. My Father's World is not. If you like Abeka overall, but it is way too intense for your homeschool, MFW is a great alternative.
From a homeschool parent that has used both:
Our first year we used Abeka and it was like pulling teeth for my 6yo son to sit and do worksheets. The next year we switched to MFW and loved it. I had 2 in the family cycle and 1 in Kindergarten. It is a gentle approch but my 5yo son was reading half way through K and the best part he was excited to do school everyday. I would not skip K.
Abeka has always been to me like school. So if you haven't gotten into the mindset yet that homeschooling is not school then Abeka might be a better option. But if your child likes hands on activities, and you want to be a "relaxed homeschooler," MFW is the way to go.
Another valuble review insight:
I'm not a big fan of textbooks, so I would definitely not pick A Beka. My daughter does MFW and it seems like a lot of work, to me. I like the cheap little set of books by Ruth Beechick called The Three R's on Amazon. Not curriculum, but tells you how to incorporate these subjects into everyday life.
A Peak Into My Father's World Homeschool Curriculum (1850 To Modern Times)
This is a helpful video that provides a review plus a look inside one specific curriculum.
Is MFW on social media?
MFW is not active on social media. However, these appear to be their 'official' profiles: Twitter
Curriculum samples of My Father's World
My Father's World provides a large number of curriculum samples. You can view a list of all of their samples, manuals, etc. on this page.
Some of the most popular samples are:
Used My Father's World curriculum
Used curriculum can sometimes be found on Amazon, eBay, or through Facebook curriculum sale groups.
Pricing Information
Leave your own review!
Help other homeschool families make the right curriculum decisions by taking a moment to leave a reivew. Any thoughtful insights, experiences, warnings, or specific praises are appreciated and will be published.
Save it or share it!