Review: Time4Learning Curriculum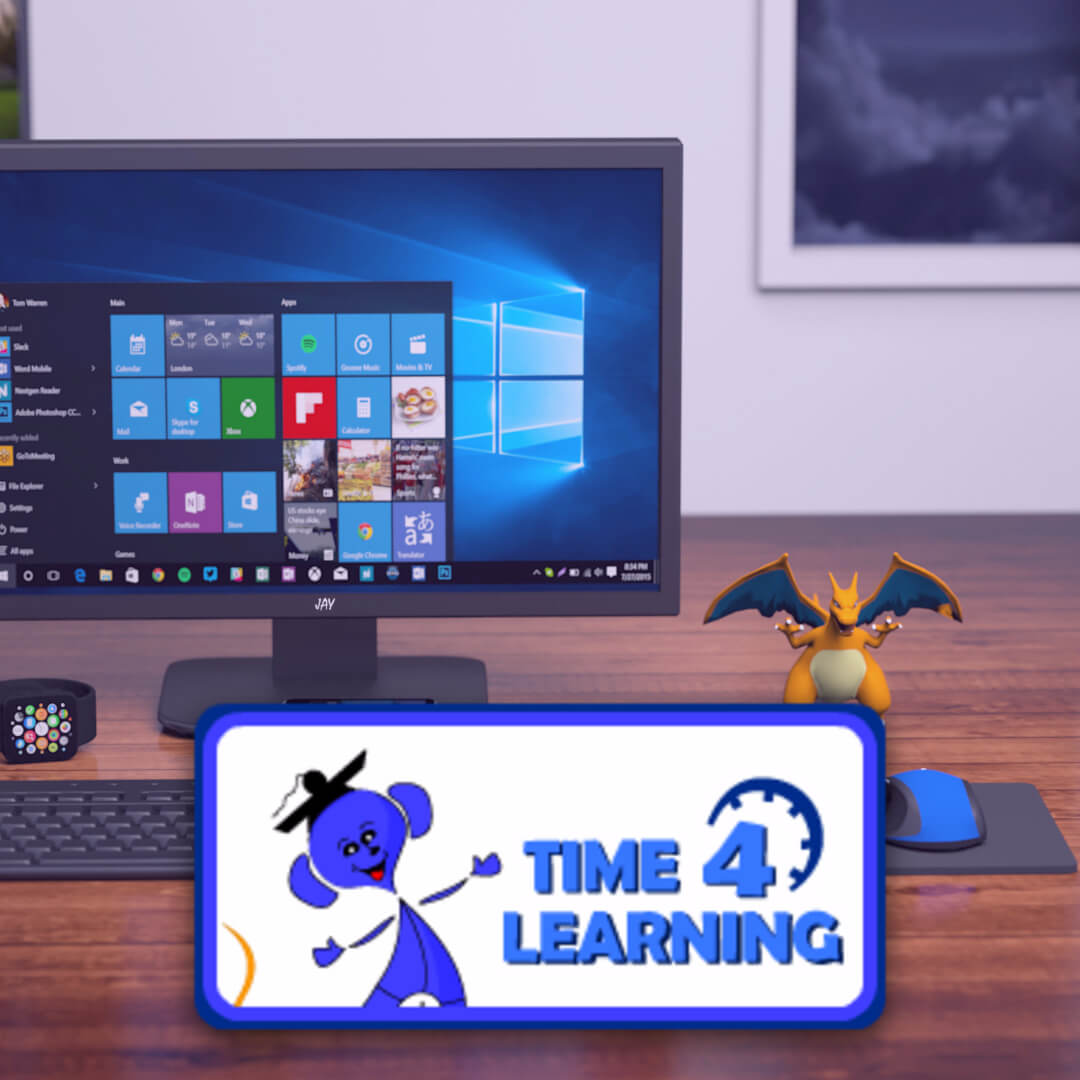 Time4Learning is one of the most well known names in home education. But Time4Learning isn't just for homeschool families. It can be used for after school and summer school. Time4Learning can be used as a core curriculum or alongside other curricula.
Because Time4Learning is a complete curriculum, they offer lessons in Math, Language Arts, Science and Social Studies. The lessons for math and language will align with state standards. Standards/requirements for science and social studies varry from state to state.
---
Time 4 Learning Homeschool Curriculum Review
There are many reasons why homeschoolers and home educators love Time4Learning. What follows are some of the most popular reasons why parents choose Time4Learning:
Easily Affordable
Academic Freedom
Flexibility
Self Paced
Saves You Time
Simple Parent Tools
Students like Time4Learning for many reasons that include:
Ease of Use
Fun Learning Experience
An Engaging Format
Builds Confidence
Focus on Learning
Gain Independence
Time4learning reviews
The following are homeschooler reviews and comments about Time4Learning.
T4L is VERY babyish- 4th & 6th graders were bored to tears in the 1st week....it lacks a lot of depth, the math skips important concepts and is CC based....the animations are annoying and distract from lessons and cannot be shut off....a better and more age appropriate alternative would be something like Acellus.....I havent used it personally bc my kids do better with books than online, but many people habe done well with it and enjoyed it...

I have a Kindergartner and he loves it! I actually have to limit him to an hour or he'd be on it all day.

I use t4l because of the price but it is common core aligned. I have looked at monarch but couldn't afford it. If I remember right it's CC free.

I am finding that many of the other resources I am looking at and now using, aren't nearly as extensive as FLVS. I decided to give Time4Learning a try and signed up for the intro plan of 4 courses. He has started with biology. I was going to move his second semester US History off FLVS and onto T4L but I notice that while FLVS has one course for US History, T4L does it in two courses. Has anyone found the T4L curriculum too easy. I also bought him the FIX IT curriculum and honestly I couldn't figure out all the edit symbols. I also have the Easy Grammar 180 Lessos and I like that, but I am upset that he has no clue about many of the grammar concepts. He was put into intensive reading most of his school years and I don't think he learned anything. Maddening! I could use some help. He really needs basic grammar training and videos would really help. He's a smart IT kid and this is his path, but without proper grammar skills his ability to write effectively may hold him back.

My son is in 5th grade and is a visual learner. It is a great fit for him. He likes the interactive learning and looks forward to his school work every day. I love that Time4learning does all of the record keeping of reports and grades for me...I just need to print. I also like the long term planner that calculate exactly how much schoolwork needs to get done in a week in order to finish the curriculum by our end date goal...and I plan the weekly assignments into what gets done daily.

Time4Learning can be used to supplement but is not solid enough for core curriculum, in my experience. This is especially true if you need something that follows a standard path by grade level or school standards.

Time4Learning is definitely just a supplement. My kids wanted to like it but just don't like the way things are presented.

We like it for the young years... for 3rd and over not so much.

We used it until a few months ago. It was great up until 4th and 5th grade level. The history and science are the equivalent of reading a text book online.

We have used Time4Learning, but my 14 year old son tells me he didn't get grammar until we did analytical grammar.

My son is now in 7th and I'll be blunt. We watched several of the videos together during a free trial on Acellus and were both disgusted. In each one he pointed out several errors and found the instructors distracting. Instead of a single source for an online curriculum, we've pieced together resources like BrainPop, IXL, Khan Academy (not just for math!), Code .org, Prodigy, and Outschool (for one-off type classes). Once we found some basic framework for the grade level expectations, it wasn't too difficult to get a few workbooks, find a couple online games/resources/apps, and then toss some Netflix or Amazon documentaries into the mix to round everything out.

This is our 5th year, and we really enjoy it! I've let my kids do it by themselves and check in on them, but the last 2 yrs we've been doing it together. I hook it up to the tv and we sit all comfortable on the couch. It takes about 1.5-3hrs per child pending on what we are learning about and subject. I love that they give a lesson on how to do something, then a review, and sometimes another and then a quiz (or quizzing in one of the reviews) so that if it's a concept you grasp you can easily skip to the quiz. We also starting doing that this year and not checking off EVERY. SINGLE. ACTIVITY! Much smoother! I love that it's not all animated or all reading. We will rent movies, look up stuff on the internet, go on field trips (in person or virtual), etc if they are more interested in what's available, it's also a jumping off point sometimes giving ideas for things to learn about. We use life as our school and unschool but use T4L to make sure they're keeping some sort of pace and I'm not missing on teaching them important things. We take about 3 months to finish a grade, knock it out so we aren't feeling the "school" of it but more learning!

My favorite thing is that it keeps records for me and I don't have to do anything! I also love that it's cheap and we can start or put it on dormant at any time and it only takes a couple clicks!

My other top thing is that we can do it anywhere we have Internet, my husband gets called away for work and we usually join him and all I have to do is bring the iPad (and mifi if the hotel doesn't have wifi). Really my only complaint is that sometimes (math) they have wrong answers but it's not very often. You can email T4L with the information and they send it to the developer. (I've also contacted the developer).

My 8 year old uses time4learning. It has been a big help with having a new baby and a 3 year old.

T4L is ok for Kindergarten/1st grade but I wouldnt use it much beyond 2nd grade...we used it for our 1st yr homeschooling for 4th & 6th grades...it is a train wreck for kids older than 2nd...keep in mind it teaches math through the use of common core tactics -if u want this, thats fine, but if you dont, it is difficult to switch back once they have learned this way ...cant speak so much for the younger grades with t4l, but in the older grades kids get bored very easily and the animations tend to get annoying & hinder learning bc they cant be shut off....honestly we hated it but I think its prob ok for 1st grade as long as you use lots of other things with it....

We have used T4L and ABC mouse. Neither worked for us as a whole curriculum - but both work nicely as supplements.

We started it a couple months ago using 6th-8th grade levels. I really like some things about it, how it teaches and reinforces key ideas. It is definitely secular though. The math is helping my kids who have had trouble with math. However it is also frustrating to one who hates listening to a bunch of yada yada talk and explanations that go over her head. And she can't press pause. This doesn't happen with every lesson. Some are very easy and then out of nowhere there will be a whopping hard one that is even hard for me. Its almost like they revamped to add in common core stuff here and there and just added it instead of changing everything. The lesson they did a few days ago took me a while to figure out because I had never seen it before and missed the explanation. It was hard and this is the 6th gr level. We had to figure out how to make an algebraic formula to figure out what the say, 100th, number in a sequence would be. 6th grade!!! I never even did that in high school . and then the next lesson was very simple algebra x+3= 10 type stuff which is very doable. But all together, I think it is a good program. I am trying to figure out if they are going to learn much writing because I haven't seen any yet.

My kids found it boring and slightly condescending in the younger years.
Time4Learning algebra reviews
I use T4L 6th gr math and find it to be ahead of Teaching Textbooks, teaching things other programs don't. We just did some hard stuff yesterday that I have never done before. It was figuring out an algebraic equation to find the, say, 100th number in a sequence.

The Math moves pretty quickly so one of my sons (11th) has had to supplement with Life of Fred and Khan but my other son (9th) is flying through them without problems.
Time4learning vs. Acellus
Acellus by far. All three that were in both hated t4l by the time they stopped but are happy with Acellus. Sometimes they have a teacher they don't like but they just have to finish that class to past them lol the administrative side is easier.

Acellus is not childish. Mine are now in 6th grade and we're making fun of the animation in Time4learning. They enjoyed it when they were in K and 1st as a supplement for their curriculum

Acellus. We did Time4learning and we didn't like it. T4L was too babyish for my oldest. They also didn't have a complete Social Studies and Science option. Acellus is complete and we're loving it. My daughter had her first unit review today with Acellus and she did amazing!

We have used them both not a huge fan of either. Time 4 learning to much animation, very distracting and did not feel it was complete. Acellus we liked at first but got boring and if you do get distracted and miss something you cannot rewind the video and watch that part again, you have to complete the video, go through the question portion get the answers wrong for it to go back by itself. We currently are using Moby Max and so far Love it.
Time 4 Learning informational video
Leave your own review!
Help other homeschool families make the right curriculum decisions by taking a moment to leave a reivew. Any thoughtful insights, experiences, warnings, or specific praises are appreciated and will be published.
Save it or share it!