Top 10 Educational Websites of 2017 - Online Schools & Academies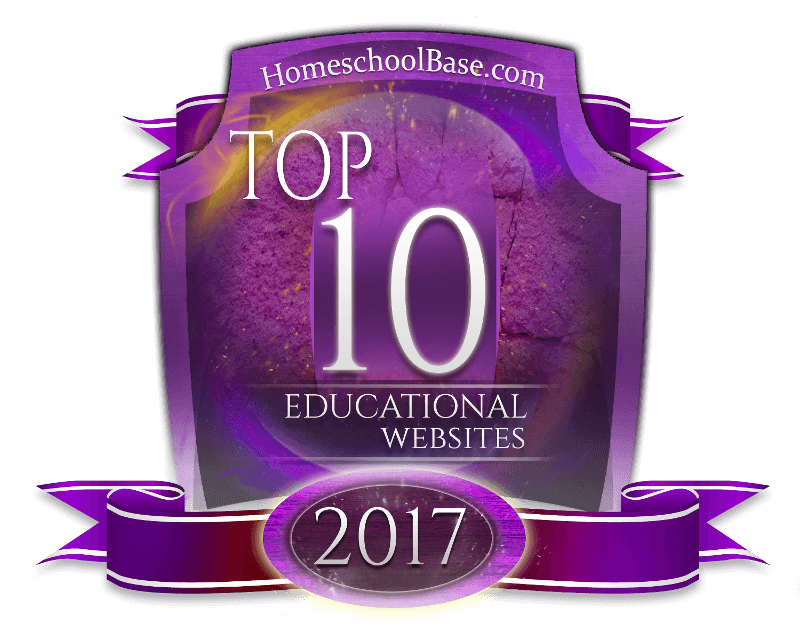 Our TOP 10 Educational Websites are all recommended by multiple teachers, home educators, and homeschool parents through various feedback channels. All sites have received our Purple Stamp of Approval that honors exemplary websites/apps that offer quality, innovative, unique, cost-effective, or significant value to teachers, educators, and homeschooling families. None of these websites paid to be on this list. We hope you enjoy browsing through our list and discovering new sites that can improve your homeschool in the upcoming year. 
Forest Trail Academy
Forest Trail Academy is well known for its accolades and academic excellence. It is registered as a private school with the Florida Department of Education and offers a self-paced, student-centered method. Because of this personalized learning emphasis,Forest Trail Academy has also been an alternative education choice for competitive athletes, students in need of extra attention, and students with unique circumstances. Each student receives the assistance of a Student Adviser who evaluates the student's educational, career, and personal goals in order to create a unique need-based learning path. A key belief of Forest Trail Academy is that all students can become life-long learners.
VLA Homeschool
VLA Homeschool offers accredited courses that allow a student an entire calendar year from the date of enrollment to complete the course. A year license allows students the ability to take an unlimited amount of courses within that year. VLA Homeschool allows freedom and flexibility so that courses will always be able to fit into a family's schedule.
Bridgeway Academy
Founded in 1989, Bridgeway Homeschool Academy filled the growing demand for an accredited and flexible homeschool. Over two decades later, more than 24,000 K-12 students have trusted Bridgeway to deliver high quality, customized homeschool programs. This is accomplished by understanding a child's unique learning style then building a personalized education path to create a transformative lifelong love of learning. The Academy is Christian-based in values serving both secular and Christian homeschooling families, worldwide. Speak to a homeschooling expert today to see how your child can benefit from education customized to them, 800.863.1474.
eLearning
Nancy Toups, a traditional school teacher, founded eLearning in 1999 after realizing that even with her best efforts, some students fell behind in class or were bored and difficult to reach. eLearning offers flexible, online learning delivered in self­-directed formats or can be used with the support of experienced educational coaches. 18 years strong, eLearning has remained innovative by optimizing their tools and support. Specifically, our homeschoolers praise eLearning's a la carte services.
Tech Trep
Tech Trep is easily the most unique site to make the top 2017 list. Tech Trep believes that America was founded on the principles of entrepreneurship and innovation, but that these skills aren't taught frequently enough or give the focus needed in today's world. They personalize their catalog of technology/entrepreneurship education to each child. Tech Trep offers hands-on learning experiences that are 100% online and self-paced. Learning is collaborative and available anytime.
Edmentum
Many homeschool families are familiar with Plato Courseware - a standards-based online program - and Study Island. In 2012, PLATO Learning evolved into Edmentum. A new identity was required after experiencing an explosion of success in different learning technologies. Edmentum partners with educators to give them the support and resources needed to make any teaching experience a positive one.  They can help with student needs from pre-kindergarten to adult learner; with remediation to acceration; with diagnostics to special needs. Use Edmentum's interactive map to learn more about their solutions for your state. They want to be your most trusted partner by providing you with tools and support to make it easier to individualize learning for every student.
Whitmore School
Whitmore School is classified as a private school, accredited by AdvancED, and holds the title of "the world's first online high school." Parents with children enrolled in Whitmore School appreciate that there are four different high school diploma programs: diploma, diploma plus, NCAA diploma, and adult education diploma. This allows unique options for students who plan to go to college, want to focus on athletics, or intend to join the workforce.
The Keystone School
The Keystone School offers flexible education programs for high school, middle school and elementary students that help each student achieve their unique dreams and goals. Accommodating to students with a range of needs, from those who simply need an individual class to those who wish to study full-time, the Keystone School offers more than 170 courses from credit recovery to world languages and AP.  You can enroll your student at any time as the Keystone School is not limited to a strict academic calendar.
George Washington University Online High School
GWUOHS is an online college preparatory academy for motivated students in grades 6-12 who are willing to be challenged to become the best students and persons they can be. The school is designed for academically talented and motivated students who also want to make a contribution to a global society.
NFC Academy
NFC Academy offers a fully online program for grades 3-12. The NFC Academy was designed to meet homeschool needs. It is a college prep program so this program is preparing your child for the years beyond graduation. The teacher can be the parent or an experienced teacher from the Academy itself. Enrollment is flexible and everything is based on your own, personal start date. The academy is affiliated with the North Florida Baptist Church.
---
Interested in online homeschooling? You might be interested in reading more about home school programs.
Media Contact: [email protected]
Last modified: March 12, 2017