Best Backyard Swing Sets - The Ultimate Buyer's Guide
A comprehensive guide to backyard entertainment without the time-consuming homework

Upgrading your backyard with a stellar swing set is fun, but the research that accompanies the process isn't. Want a comprehensive understanding of the backyard entertainment market without the homework?
No problem! We've done it for you. Just sit back, relax, and enjoy our ultimate swing set buyers guide.
Quick Navigation
If you're in a rush, jump to a specific part of our guide:
Swing Set Buyer's Guide: What to look for
Buying a swing set can and should be a fun process, but there are serious components to it as well. Because as enjoyable as it may be to have one in your backyard, there are serious matters of safety to consider. Since it is safe to assume that your family will be enjoying your new swing set regularly for years to come, you will want to make sure to purchase one that is built to last and keep your loved ones safe and happy. To ensure that happens, we have compiled a list of things to look for when purchasing a swing set.
1. Material:
Of course, you want to know what the product is made of. If you are in the market for a wood swing set, you will want to make sure that you chose one made with the most durable wood that falls within your price range. For a quick point of reference, here is what to consider about three of the most common woods used to make sets today.
For Value:
If the price is among your top concerns, you may consider going the route of the cedar set. Built with material that is durable, and naturally resistant to rot and decay, you can rest soundly knowing that you aren't trading safety for a bargain with most cedar wood sets.
For Beauty:
Since this swing set is going to be taking up space in your yard for the foreseeable future, it might as well be easy on the eyes, right? For a material that is as visibly appealing as it is sturdy, you will want to consider redwood. Like cedar, it is also naturally resistant to rot and decay, and even fungi and insect damage as well. A redwood swing set will last a long time and look great.
For Durability:
If sturdiness is your most important consideration, look no further than pine wood. Pinewood is naturally resistant to warping and decay, so it will withstand harsh weather and extended play with ease. You can count on a Pinewood set to keep your family safe and entertained for decades. Premium Preserved Pine is the longest lasting wood available. Without any maintenance, it will outlast both Cedar and Redwood.
Metal:
When looking at metal sets, you will want to consider the steel gauge. Pipe's between 16-18 gauge are industry standards, but the lower the number, the sturdier the material.
2. Weight Limit:
Unfortunately, not all sets are built to accommodate mom and dad. Remember to consider both the weight that each individual seat can hold, as well as the weight capacity for the entire structure.
3. Features: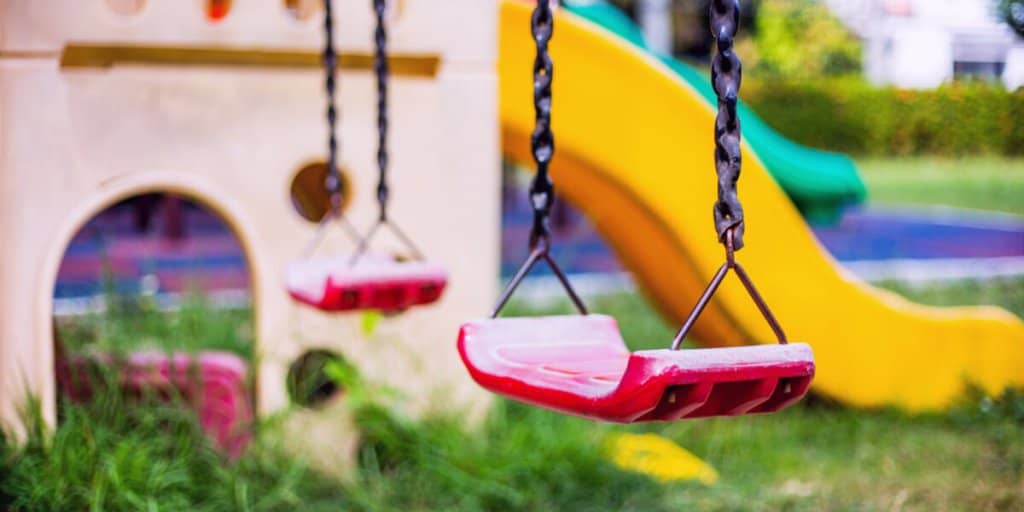 Don't forget that many swing sets come with a wide variety of features. From slides to forts, to rock climbing walls and monkey bars, there is a lot of fun to be had with a swing set. A little bit later, we will look at a variety of swing sets with numerous options so you can get a good idea of what's available and what will be the best for your family.
4. Size:
Do you have a big family? Keep in mind, when the neighbor kids see the new swing set, they are going to want to come over. What size you decide upon will ultimately depend on your budget, as well as how much space you have in your yard. Rest assured though, that quality sets come in many shapes and sizes.
5. Price:
Hey, we all have budgets. Whatever yours is, there is a swing set out there for your family. Swing sets can range widely from $100-4,000, so truly there are endless options. Extra loot will buy you more bells and whistles, but now that you understand what materials to look for, you will never need to worry about trading safety for a bargain.
That said, it is only fair to warn you that it will be hard to find a set under $1000 guaranteed to soundly withstand the elements for decades to come. Generally speaking, a quality swing set is going to cost around $1,500.
Best Swing Sets Examined:
Now that you have a good understanding of what to look out for as you set out to purchase your swing set, let's look at some of the awesome options available. Compiled below are a list of our top picks with a wide variety of features and price ranges.
The Best Cheap Swing Set
To start, a more basic set. Hey, there is nothing wrong with that. The Flexible Flyer lacks premium features, but is offered at the relatively affordable price of around $180. In this case, your money buys you a six-foot slide, three swings hanging from a steel frame, and a see-saw.
As we have discussed, sets that are offered at a price that seems too good to be true usually are. Remember that cheaper sets aren't known for having a long lifespan, but nothing lasts forever, and in the case of this swing set you might not need the extra years anyway. Built more for smaller children, this set isn't necessarily meant to accommodate the frames of your kids as they grow older, so you don't need to worry about the set aging with them. Let's look at the pros and cons of this product so you can decide for yourself.
Pros:
Easy Assembly: The Flexible Flyer is noted as being relatively easy to assemble, and most users have no trouble doing the job themselves. The more intricate the set, the more necessary professional installation becomes, which is another thing to consider for those on a budget.
Weather Resistant: Naturally, this is something that we expect from a swing set, but given this unit's price, it's not necessarily something that you would take for granted.
Price: We've covered this one already, of course, but I do think that it is this set's biggest selling point. If you are willing to sacrifice features and longevity, the price might be enough to make this unit the one for you.
Cons
Very Limited Weight Capacity: The Flexible Flyer is most certainly for little kids. The maximum weight capacity of each seat is a measly 105 lbs. which means that mom, dad, and most children over the age of ten should stay off to avoid safety concerns. The unit itself has a total weight capacity of 605 lbs., meaning that only a few children can safely utilize it at once.
Barebones Features: You're definitely getting what you pay for with this set. Your children will probably enjoy the slide and swings that come with this unit, but the fact of the matter is that other similar products are rife with bells and whistles that you might find yourself wishing you had.
It Won't Last Forever: Even if you continue to have young children or grandchildren to play on the Flyer when your first generation grows out of it, they might not get the chance to use it. The fatal flaw of lower end swing sets is their limited lifespans.
The tradeoffs with this unit are pretty obvious. Of course, it all depends on what you're looking for. If all you need is a simple, straightforward swing set that your children can enjoy for a few years, this still might be the one for you.
The Best Affordable Swing Set
This is what we would call a mid-priced swing set. You will need to check Amazon for the latest price, but at the time of publication, there was no denying the difference in cost between this unit, and the Flexible Flyer. There is also no denying the extra features that your extra dollars will buy. Let's again take a look at some pros and cons to illustrate the difference.
Pros:
Bells and Whistles: With three swings, monkey bars, a slide, and a double decker fort, it's safe to say that there is no shortage of things to do with the Discovery Prarie Ridge playset. The top of the swing set's fort component serves as a cool place to rest beneath the shade of the canopy, while down below there is a bench to enjoy snacks, as well as a sandbox for…well whatever it is that kids do in sandboxes.
Weight Capacity: The weight capacity of this unit is still admittedly not toppling industry standards, but at 665 to the Flyers 605, it can safely accommodate at least one more child.
Weather Resistant: As you might recall, we earlier discussed that cedar is naturally resistant to rot and weather damage. While I maintain that resiliency to weather should be a given for things that will be spending all their time outside, that isn't always the case, so it's worth mentioning. If your set suffers some wear and tear from mother nature, you will be covered for five years under the manufacturer's warranty. A lot of premium sets offer a ten-year warranty, which given the nature of wood, is preferable, but with the price, you might find the compromise worth it.
Cons:
Material: We mentioned earlier that cedar is more of an entry level wood. Unfortunately, this particular unit is especially known for using lower grade cedar that is known to crack and splinter.
Mixed User Reviews: Anytime you are making a big purchase, it's not a bad idea to see what people who already own the product think, right? Most vendor websites offer a comment and review section, and Amazon has a notably utilized one.
Unfortunately, reviews for this product are mixed. In particular, the quality of wood seems inconsistent, meaning some owners experience cracking and splitting within days or weeks of purchase. Keep in mind that defects do happen with even the best of products, but the frequency with which this issue is reported does lead one to question the integrity of the components.
Again, we see obvious compromises that budget sets mandate. Clearly, this product has enough entertainment value to keep your family engaged for a long time, but if you want to be sure that the set you buy will last, you may want to consider shelling out a little bit more. The next two sets that we look at will demonstrate what's available on the slightly higher end of the price spectrum.
The Best Midrange Swing Set
The Gorilla Nantucket certainly represents a hike in price from the previous two examples, but as we take a closer look at this cedar set with a redwood finish, the reason why will become apparent. Let's go over some more pros and cons.
Pros:
Even More Features: Do you see the pattern? Generally speaking, more money is going to buy you more features, and the Gorilla is no exception. This play set comes with the same bells and whistles as the last one, but also includes bonuses, like a rock climbing wall, and windows and shutters in the upper part of the fort that will further foster your children's imaginations.
Materials: This set is made of cedar with a redwood finish. Unlike the last swing set we looked at the cedar used in the Gorilla is not receiving quality complaints, and the redwood finish will keep this resilient wood looking good for the duration of its long lifespan.
Warranty: Gorilla also offers a ten-year warranty on all the wood components, so you can count on this swing set enhancing your backyard for many years to come.
Cons:
Actually, there really aren't any! While unfortunately, this set might not be friendly to every budget, those that can afford it can count on a high-quality product built to last.
#1 Best Best Backyard Swing Set
Mountaineer Swing Set with Wood Roof Canopy by Gorilla Playsets
The final set that we will be looking at is another Gorilla unit. In general, Gorilla does make some choice products, so if neither of these two quite catch your eye, I would still recommend looking at some of their other models.
This particular cedar wood set is as beautiful as it is resilient and tricked out with loads of options to keep your family happy and occupied. Check Amazon for the most recent price, but historically, this unit is above two-thousand dollars. It won't come cheap, but for those who put features and longevity at a premium, it is worth the cost.
Since, like the last unit we looked at, this model does not have many cons, we won't bother with the bullet points. For most people, the biggest con is going to be the sticker price, and the pros are fairly self-apparent.
With two slides instead of one, a larger rock climbing wall and fort area, and the addition of climbable ropes, this model upgrades and expands upon the features of the Nantucket model. With dimensions of 174 x 240 x 132, to the Nantucket's dimensions of, 156 x 192 x 127.2 inches, it is also significantly larger, giving more kids the opportunity for safe play. The eight hundred dollar price hike is not insignificant, but you might find it worthwhile to splurge when you consider all the upgrades.
Final Thoughts:
Hopefully, this guide will simplify the process of enhancing your backyard. With all that there is to consider, it might be weeks, or even months before you decide on the perfect set for your family. At the end of the day, only you can decide what that is, but regardless of your decision, refer back to this guide to make the most of your money. Buy a set built to last, and keep your family safe!
From Our Home to Yours
See more
Reviews