Picking out the Best Vacuum for Hardwood Floors
3 Generations & 80 Years of Vacuum Expertise
When we first started hunting for a new vacuum, we immediately realized we needed expert advice in order to make the right decision. That's when we turned to Nicole Karnes. Her family has operated Karnes Sweeper Company since 1939. Their family-owned vacuum cleaner sales and repair businesses is one of the oldest in the entire country. Nicole herself has twenty-four years of experience with sales, repair, and testing vacuum cleaners.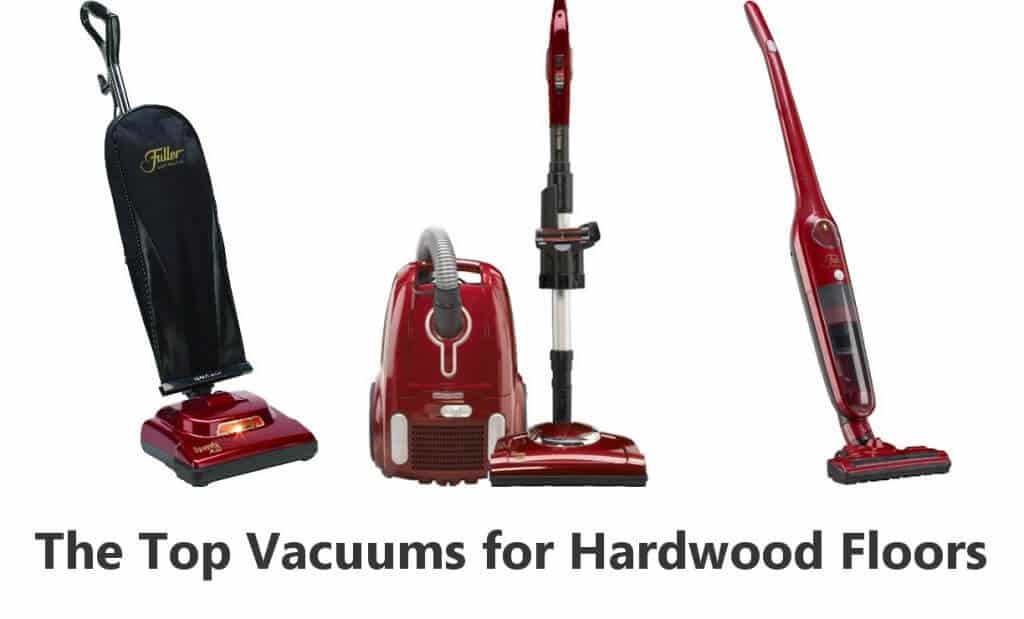 As many households across the United States are switching to the convenience of hardwood and linoleum flooring, many are finding themselves in a predicament. I bet your vacuum is not working as well as it did on your carpet right? Not picking up the dirt or maybe it is spitting it everywhere?
My friends, this is exactly what I am here for. After working in the vacuum repair and sales business for the past twenty-four years, I have impeccable qualifications to help you make an informed decision about choosing a new vacuum cleaner for you home.
Top 3 Best Hardwood Floor Vacuums
I'm going to start with my top 3 favorites before moving on to specific purposes and servicing.
Below are three of the best wood floor vacuum units on the market today. These vacuums are from one of the most trusted companies in the market – Fuller Brush – that has all their vacuums made right here in the United States.
Best light weight vacuum
The Fuller Brush Speedy Maid is an
eight-pound
wonder! Its self-adjusting brush roll make it perfect for going from carpet to hardwood. This little baby can even lay flat to get under all those hard to reach places, like the bed, coffee table, or end table. HEPA filtration allows it to catch more of the dust in your home than ever before!
PRO –
30ft Cord
Carries the "Gold Seal of Approval" from the Carpet and Rug Institute
Wood Core Brush Roll (They last longer than plastic)
HEPA Filtration
CON –
Bristles on brush are man-made (they may scratch your floors)
Dirt flows through motor (if you pick up something you really shouldn't you may break the fan)
Speedy Maid Summary
All in all, the Speedy Maid is one of the best lighter weight vacuums on the market today. Personally, we used it to vacuum a friend's carpet after she had cleaned it with a powdered whitening solution and it vacuumed up EVERYTHING. There was absolutely no trace of the solution once we were done vacuuming with the Speedy Maid!
Best hardwood canister vacuum
The Fuller Brush Home Maid Power Team Canister is wonder that will make your home sparkle and shine. With powerful, adjustable suction you can go from vacuuming your floors to cleaning the most delicate of curtains. The power head allows you to get a great, deep clean on any floor with its soft, natural brush roll bristles.
As an added bonus, the Home Made comes with on-board tools and a telescoping power wand that allows you to get into those tall corners full of cobwebs and down into the couch cushions where all the crumbs are.
PRO –
Adjustable Suction (gentle for curtains and powerful for floors)
On-board tool set and telescoping wand
23ft Cord
Brush roll has natural fibers (Horse Hair)
CON –
Canister is 11 pounds – 16 pounds with hose and power nozzle attached
You would have to drag the canister while you vacuum
Canister Summary
The Home Maid is a great little canister that can clean up all the big messes. The best part of this canister is that anything you pick up goes directly into the bag, so you have no worries about clogging up your motor. The power nozzle and on-board tools will allow you to switch from cleanup to cleanup with only a snap!

Best cordless vacuum for hardwood floors
The Fuller Brush Quick Maid Cordless Broom is a cleanup wonder. With its lightweight, ergonomic design you can easily go from hard floors, to carpets, to area rugs in a snap!
The best part about the Quick Maid? Its battery operated! With no icky cord to unwind and drag along with you the Fuller Brush Quick Maid truly is a "grab and go" vacuum.
PRO –
Battery Operated
Only weighs 4.4 pounds
Swivel head (For easy maneuverability)
Bare floor squeegee (to catch more crumbs)
CON –
Battery only last 22 minutes
Smaller sized dirt cup (may have to empty several times if cleaning a large house)
Cordless Summary
With its ergonomic design and lightweight design, the Fuller Brush Quick Maid Cordless Broom would be great for any household with hard floors. It will clean up your messes lickedy-split with its excellent suction, swivel head, and squeegee. It surely is a hard floors dream!

But which one is the best?
Overall, it would come down to what you, personally, prefer. There are upright people, and there are canister people. (Hence why we are showing one of each option) The main thing you should keep in mind is asking yourself what would be better for you. If you need something lighter weight, just to clean your floors with, then we would definitely recommend the Speedy Maid.
The best vacuum for hardwood and carpet
The Speedy Maid not only cleans hardwood floors, but, it does an excellent job at cleaning carpets as well. Thanks to its self-adjusting head it can dig down into your carpet for a very deep and thorough cleaning. So if you have both in your home (carpet and hardwood) then this little baby is the way to go!
The most versatile option
However, if you are wanting a vacuum that is more versatile (to clean your car, corners of your home, furniture, curtains, etc.) then you would need to go with the Home Maid. It has the ability to not only clean your floors (again, both hardwood and carpet) but to clean so much more in your home that we cannot list it all here. The tools on-board are an added bonus! It means that you could clean a lot with just one vacuum than having both an upright and a canister.
Basic hardwood or linoleum floors
If you have only hard floors in your home, or simply have a small living space, then the Quick Maid would be the best way to go. It is designed specifically for hardwood flooring (or linoleum) and will be able to give it the best cleaning possible. Our only suggestion would be to purchase an extra battery upon purchase, because if you have a large home, 22 minutes worth of battery life may not cover it all.
Once you receive your new upright or canister vacuum cleaner, there is one thing that you must always remember to do…
Keep Your Vacuum Cleaner Serviced
In order to keep your new vacuum cleaner running in tip-top condition, you need to be sure to keep it serviced. By that, we mean to keep an eye on certain pieces of your vacuum.
Be sure to check your:
Belt
Bag
Filters
Brush Roll
Checking your vacuum's BELT
Beginning with your belt, consult the instruction manual to your vacuum to see how to remove the bottom plate to check the belt. After removing the bottom plate, check your belt to see if it is tight. If it is not, and it looks stretched, then it needs replaced. Doing so will help insure that your brush roll is turning properly to maximize cleaning.
It is suggested that you change your vacuum belt every ninety days because even though you are not constantly using your vacuum, the belt is still sitting there stretched out.
Checking your vacuum's BAG
Before vacuuming any kind of new flooring (be it hardwood, linoleum, or carpet) make sure to always check your bag to make sure it is not full. Full bags can lead to less suction and, if not changed, clogs throughout your entire system. Ignoring vacuum bags have led to overheating and melting of the housing.
A fresh bag will allow you maximum suction and make sure that you get all the little cruddies from your floors.
On the flip side, if you have the amazing Fuller Brush Quick Maid Cordless Broom you need to make sure your keep your dirt cup emptied out. Letting your dirt cup fill up could lead to fine dust getting into your motor – which may lead to the possibility of poor suction and overheating.
Clean your FILTERS
No matter what vacuum you purchase, it is going to have some kind of filter within it. (Either Regular or HEPA) Whether it be a filter in your dirt cup or a filter on the front or side of the vacuum, at some point, they will need to be cleaned. This is due to fine dust clogging the pores of the filters. (Which will happen in any household)
Washable filters
Most filters now are washable. (Be sure to double check your instruction manual) Washable filters can simply be cleaned with soap and water – BUT – be sure to let the filters dry COMPLETELY before reinstalling it in the vacuum.
Putting in a wet or damp filter will lead to quicker clogging of said filter or even mold growth.
Checking your vacuum's BRUSH ROLL
Finally, check your brush roll. Specifically take a look at the bristles on it. Do they look worn? Are they little nubs? Are some missing? If the answer is "yes" to any of these questions then you need to purchase a replacement brush roll.
Horse hair
We highly suggest that when you replace your brush to make sure the bristles are made of horse hair and are not man-made. (Nylon) Horse hair last longer because it has more durability than the man-made bristles normally found on brush rolls.
Man-made bristles
Note: Man-made bristles will scratch your hardwood and linoleum flooring. This is why we suggest your replacement brush roll have horse hair bristles – so that your floor will be protected. (Horse hair does not scratch.)
Vacuum maintenance & care summary
The main thing you need to remember is that in order for them to stay running in good condition, you need to keep them maintained. As mentioned previously:
Check your bag often, don't let it get too full. Doing so could lead to filtration problems.
Check your belt, if it is stretched, replace it. The brush roll will not turn correctly if it is not tight.
Check your filters, if they're dirty, clean them. Let them dry completely before reuse.
If you do these things then you are sure to have a vacuum that will last you for many, many years to come. Who knows? Maybe your grandchildren will inherit your amazing little Speedy Maid!
Frequently Asked Questions
Will these vacuums work for pet hair?
All of them will easily handle pet hair. Nevertheless, from a personal standpoint, I would go with the Speedy Maid or Canister because the fur would be contained in the bag upon throwing away.
Best vacuum for tile floor
All of them will work on tile. Just like the pet hair question, they will work on any floor so long as they are maintained. Maintenance is key, hence the detailed explanations about belts, bags, filters, and brush rolls.
From Our Home to Yours
See more
Lifestyle
,
Reviews