Top 10 Educational Websites of 2017 - History, Music, Art, Foreign Language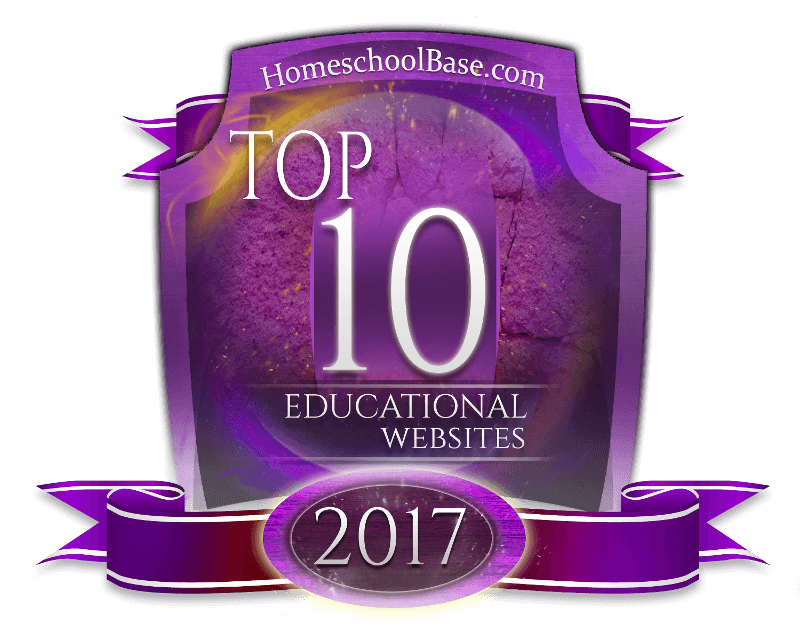 Our TOP 10 Educational Websites are all recommended by multiple teachers, home educators, and homeschool parents through various feedback channels. All sites have received our Purple Stamp of Approval that honors exemplary websites/apps that offer quality, innovative, unique, cost-effective, or significant value to teachers, educators, and homeschooling families. None of these websites paid to be on this list. We hope you enjoy browsing through our list and discovering new sites that can improve your homeschool in the upcoming year. 
Foreign Language
Duolingo
Best foreign language of 2017
Duolingo is decidedly the best free online language program. Home educators found Duolingo to be as effective as paid software, like Rosetta Stone, and on-par with in-class or co-op language instruction. Duolingo is more than just language lessons; it acts as the internet's most effective crowd-sourced translation tool. While learning a language, Duolingo gives users real-world translation practice problems. Users vote on the best translations.There's no reason not to try Duolingo this year.
Games for Language
Our homeschoolers think that Games for Language is the best free language games website online. It's easy, it's fun, it's effective, and there is never an up-sell or upgrades to buy. Games for Language simply created a free website where students play, learn, and practice.
Language Transfer
Educators who have used Language Transfer say it is the best free website for learning unique foreign languages. Language Transfer has complete courses in Swahili, Greek, Spanish, and German. There are also introductions to Arabic and Turkish along with more 'common' languages like Italian and French (French is currently in development). Language Transfer is self-described as, "a labour of love, creating the most effective but kind, exciting yet reassuring, simple yet profound language courses out there... for free!"
Memrise
Memrise is the most recommended mobile vocab learning solution by home educators. Although Memrise offers both free and paid language learning options, the quality, selection, and quantity of the free level is excellent. Memrise is most appropriate for students in middle school through adult learners, but it does have levels suitable for beginners and advanced.
Middlebury Interactive
Middlebury Interactive offers a immersive approach to language learning for all grades. This is the best recommended option for home educators who were looking for K-12 full semester courses that are structured and online. Like many online options, all levels are self-paced so that students can speed ahead or slow down as needed. With Middlebury, students can learn foreign language independently.
PetraLingua
Out of all paid foreign language curriculum, PetraLingua is the most recommended for children by homeschool families for 2017. The most applauded feature was the amount of genuine interactivity that is incorporated into the curriculum. PetraLingua is designed for children ages 3-10 and offers online language courses, bright and engaging learning DVDs, foreign language learning songs, and fun workbooks. PetraLingua addresses one of the biggest challenges facing home educators who are not familiar with a foreign language -- actually getting started and making language learning fun without being overwhelming.
Rocket Languages
Over 1 million people use Rocket Languages award-winning language learning courses. The features that homeschool families mentioned most frequently were the lifetime access, free upgrades, and integrated culture lessons. With a 60 day money-back guarantee, there is no risk in exploring whether Rocket Languages is a good fit for your homeschool.
Music
Hoffman Academy
Homeschoolers praised Hoffman Academy for their 160 step-by-step, free video piano lessons. Hoffman Academy is designed for beginners with no previous musical experience. Lessons are kept to a manageable length, between 5 and 15 minutes.
Honorable Mention - Theory Time
This is not the first time that Theory Time has been recognized by home educators.In the past, Theory Time has received high praise for their selection of products for all levels and genres of music education.
Art
Art for Kids Hub
Homeschool parents praise Rob Jensen from Art for Kids Hub as a terrific educator who can simplify art and give their children the motivation to complete their projects. Even educators and parents who are creative, crafty, or artistically gifted find teaching art to be difficult. Art for Kids Hub has free lessons and affordable paid members only content.
Honorable mention - Artventure
Many educators and parents also vouched for Artventure's online kids art classes. Artventure has over 240 lessons at the time of publication.
History
American Heritage Education Foundation
The American Heritage Education Foundation is a non-profit, non-partisan organization dedicated to the research, understanding, and teaching of America's philosophical and Judeo-Christian heritage. They seek to promote constructive citizenship and Freedom, Unity, Progress, and Responsibility among students and citizens. The website is recommended by home educators, in part because they provide original,free K - college level patriotic social studies, history and western civilization supplemental lesson plans and textbooks.
Honorable Mention - Odin's Castle
Odin's Castle is a teacher designed archive of history, mythology, and historical resources. An enormous amount of research and work went into this project. The homeschool families that have used Odin's Castle are outspoken in their praise. If your student or child is interested in mythology or ancient history, check out this free resource.
Media Contact: [email protected]
Last modified: January 2, 2017