Top 10 Educational Websites of 2017 - Reading, Literature, Writing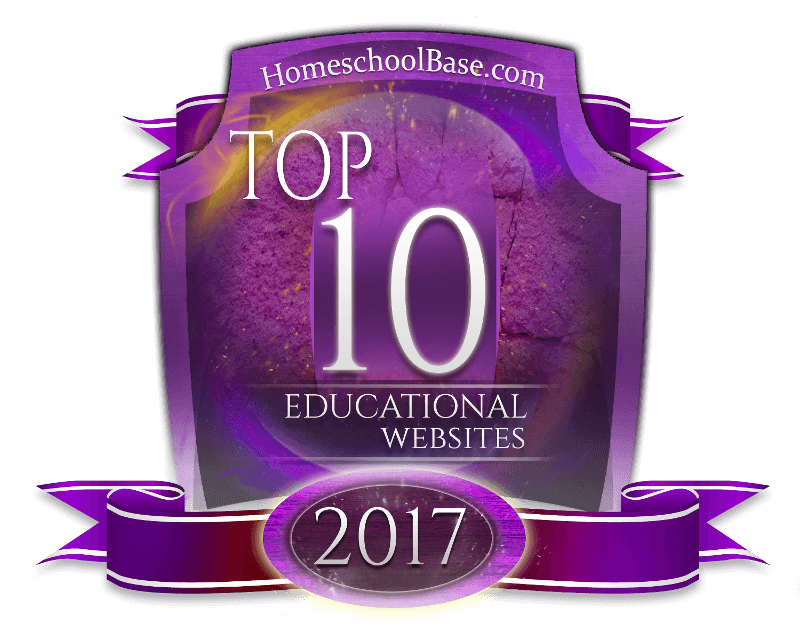 Our TOP 10 Educational Websites are all recommended by multiple teachers, home educators, and homeschool parents through various feedback channels. All sites have received our Purple Stamp of Approval that honors exemplary websites/apps that offer quality, innovative, unique, cost-effective, or significant value to teachers, educators, and homeschooling families. None of these websites paid to be on this list. We hope you enjoy browsing through our list and discovering new sites that can improve your homeschool in the upcoming year. 
Analytical Grammar
Analytical Grammar was the most recommended website for teaching grammar (by our home educators) and is the only grammar-focused site to earn a spot on the top 2017 list. You might need Analytical Grammar if you: spend too much time on grammar, constantly re-teach the same things, get stuck on the same topic for weeks on end, or you're simply not getting desirable results.
Brave Writer
Brave Writer is unlike any other writing program. Our educators claim Brave Writer is a lifestyle. Brave Writer values, "hearing one another and being kind to what is shared." Brave Writer is built around self-expression and focusing on what the writer has to say. Teaching self-expression is often extremely difficult and frustrating, but it shouldn't be! Brave Writer was the #1 most recommended writing program for homeschool families for 2017. Watch this video to learn more about the Brave Writer program.
Epic!
One homeschool described Epic! to us as, "just like Spotify, except for books." Epic is a children's library of over 20,000 books. Age groups are divided into 5 & Under, 6-10, and 9-12. Additionally, they offer a collection of children's audio books.
After extensive conversations with several homeschool families, Epic learned that they were most interested in a true "no commitment" time period to try out Epic!. So, exclusive for homeschoolers, they created a two week free trial that does not require a credit card to access Epic!. For all other parents accounts, the free month requires a credit card first to access Epic!. But it gets better! When homeschooling families let them know that a yearly discount would be attractive, they decided to make a special offer. After the 14 day free trial, homeschoolers receive a yearly discount of Epic! for $44.99 which is not normally available for other parent accounts.
One more thing, when homeschooling parents are at the end of their 14 day free trial and decide to purchase Epic!, after purchasing, they are still given an extra month free (i.e., the free trial that is given to all other parents). Get your free 14-day Epic! trial today!
Excellence in Literature
Educators use Excellence in Literature to teach classical literature. The website contains, "classic literature study guides for grades 8-12, plus context resources, including art, music, poetry, author biographies, critical essays, and more." Author Janice Campbell is an extremely talented educator and featured speaker at four Great Homeschool Conventions in 2017. Janice also runs Everyday Education, a wonderful resource website for Charlotte Mason/Classical homeschooling, and her blog, Doing What Matters.
Handwriting/Keyboarding Without Tears
Millions of people all over the world use Handwriting Without Tears, so it was no surprise that our homeschool parents had high praise for the handwriting and keyboarding programs.  HWTears.com is the only handwriting program and the only keyboarding program to receive an honor and endorsement. Keyboarding Without Tears is designed for grades K-5 and a free demo can be accessed here.
Institute for Excellence in Writing
Educators and parents recommend the Institute for Excellence in Writing as one of the most valuable resource websites and publisher of writing and phonics curriculum.  Their approach to writing lays a solid  foundation for students and naturally builds a self confidence and love for writing. Plus, they offer a no risk, money-back guarantee on all their products. To learn more, visit the IEW where to begin page.
Lindamood-Bell Learning Processes
Homeschool families believe in Lindamood-Bell. The Lindamood-Bell Learning Process offers fully research-validated programs that develop the skills necessary for reading and comprehension for all ages and stages of learning. The program is designed to work with all students, regardless of abilities or struggles, including dyslexia, ADHD, and autism.
Tales2go
Tales2go surrounds students with the ability to listen to over 6,000 audio books, all containing sophisticated words. The opportunity to hear a more extensive vocabulary enables students to read and think more complex thoughts. For some students, the process of decoding and stringing sentences together does not come easily. Tales2go is universally recognized by educators as an effective tool to build fluency and motivation. It is beneficial for both struggling students and students that are ready to move to another level. Our homeschool families were familiar with Tales2go because of the discounted rates that were offered to groups and co-ops. To learn more, visit the Tales2go Group Page.
Time4Writing & VocabularySpellingCity
When homeschool families tell us they recommend Time4Writing, they often endorse one of Time4Learning's partner websites, VocabularySpellingCity.com. Both award-winning websites have a considerable homeschool user base. Time4Writing sells 15 satisfaction guaranteed 8-week courses for elementary, middle, and high school-aged students. The feedback we gathered suggests that Vocabulary Spelling City is often used as an excellent resource companion with any writing curriculum. The site's mission is to offer efficient game-based study of literacy skills using any word list. This site is used by school systems, parents, and home educators alike.
Write Shop
Countless homeschoolers include WriteShop in their language curriculum. Writing can be one of the most difficult subjects to teach. One reason that our homeschoolers have had so much success with WriteShop is because it teaches children how to write and teaches parents/educators the best way to teach writing. They have created unique products for all ages.
Media Contact: press@homeschoolbase.com
Last modified: January 6, 2017