Top 10 Educational Websites of 2017 for Math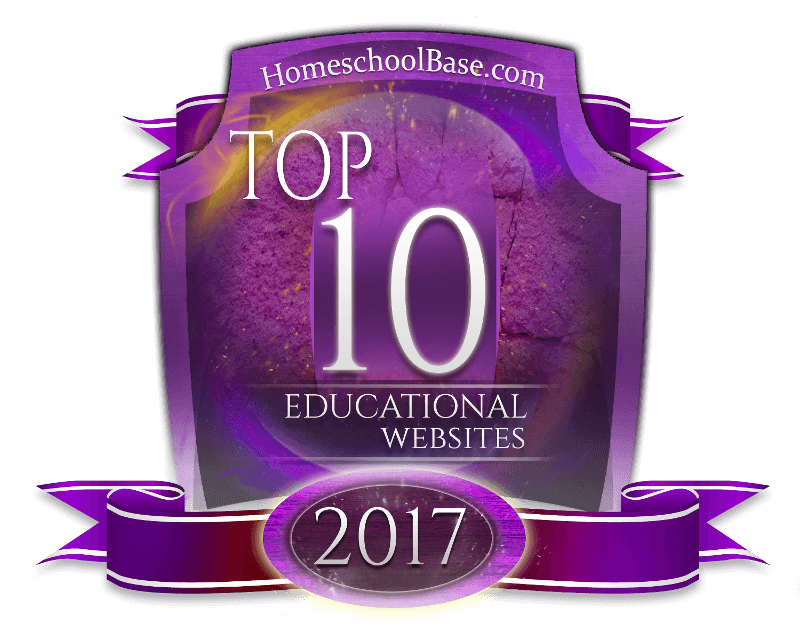 Our TOP 10 Educational Websites are all recommended by multiple teachers, home educators, and homeschool parents through various feedback channels. All sites have received our Purple Stamp of Approval that honors exemplary websites/apps that offer quality, innovative, unique, cost-effective, or significant value to teachers, educators, and homeschooling families. None of these websites paid to be on this list. We hope you enjoy browsing through our list and discovering new sites that can improve your homeschool in the upcoming year. 
CTCMath
What our home educators like best about CTCMath is the chance to bring a math tutor into their home at any time. With CTCMath someone else can explain math concepts and problems to your child or student. There are over 1,300 video tutorials that span grades K-12. Students work at their own pace until they truly understand a concept. CTC's diagnostic tests allow educators to pinpoint skills that students need to strengthen. Furthermore, once a weakness is recognized, CTC offers the worksheets necessary to improve and strengthen that area. Once a section is completed, students can view full solutions to the printable worksheets. All worksheets are self-graded.
iPracticeMath
iPracticeMath furnishes educators with instant access to free, downloadable, and easy-to-use worksheets. There are unlimited math lessons, assessments, reports, real-time progress, and motivational certificates. iPracticeMath also offers 24/7 learning support. One aspect of iPracticeMath that was most appreciated by our home educators was the mobile responsive platform. It can be an all-in-one stop for homeschoolers, home educators, educational consultants, and involved parents.
Math Playground
Math Playground is a well known learning website packed with free learning games for mathematics, logic, and problem solving skills. The site has a track record since 2002 of providing a safe online environment for educating children. Furthermore, homeschoolers reported appreciating that Math Playground has a collection of exclusive games. When founder, Colleen King, isn't developing new math activities, she's presenting research at large academic conferences.
Math Game Time
Math Game Time is another fantastic math game website with videos, worksheets, mobile games, and an educational blog. The media is designed for Pre-K through 7th grade. Math Game Time collaborates and works with other educational websites to curate and create materials and content that help students excel in math.
Math File Folder Games
Math File Folder Games - the secret formula for the 21st century math classroom. Games are targeted to elementary and middle school ages. Both fun and challenging, students interact cooperatively or competitively to achieve a defined goal within a specified set of circumstances while learning or practicing math skills. Math games are a great tool to involve parents, guardians, siblings and other important people in the child's life.
Math Is Fun
Yes, math is fun! MathIsFun.com was founded in 2000 and has been providing free online resources ever since. Several homeschool moms reported that they use MathsIsFun.com to refresh their own memory before teaching their kids. One homeschool mom said that, "Any time we have trouble with math, we search the concept and they [MathIsFun.com] give very easy to teach explanations."
Math-U-See
Our homeschoolers report that Math-U-See takes customer service to the next level. They lend support, answer questions, and provide a free consultation, with no strings attached. Math-U-See is a complete K-12, skill-based, multi-sensory math program. You can easily create math worksheets and answer sheets based on competency, from basic math to high school math. Just select the type of math your child is working on, set how many questions you want, and hit the print key--it's that easy.
Matific
Matific takes a unique approach to teaching K-6 math by using hands-on and interactive mini-games called episodes. These immersive bite-sized apps for tablets and personal computers are based on a modular and progressive spiral learning system. Matific makes teaching math more intuitive and promotes critical thinking as opposed to memorization.
Marshall Cavendish Education
Marshall Cavendish Education publishes Singapore Math, Math In Focus curriculum, and Primary Mathematics curriculum. The Marshall Cavendish approach is holistic. It focuses on education through professional development, core curriculum, digital resources, and supplemental materials. Our homeschoolers reported they enjoy using the online shop and their digital complements to math textbooks.
Prodigy
Prodigy is a completely free (forever) online math game with students, teachers, and parent users totaling over 9 million. The site earns money through a completely optional parent upgrade, which only unlocks extra aesthetic game content. The site is appropriate for grades 1-8 and covers 1200 crucial math skills. Our homeschoolers complimented how excited their children were when using Prodigy.
Media Contact: press@homeschoolbase.com
Last modified: January 1, 2017