Top 10 Educational Websites for STEM of 2017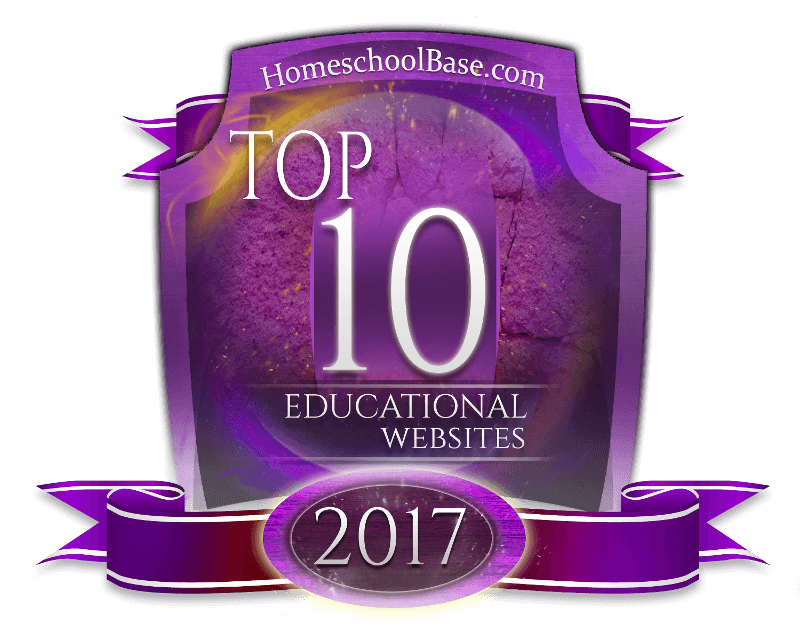 Our TOP 10 Educational Websites are all recommended by multiple teachers, home educators, and homeschool parents through various feedback channels. All sites have received our Purple Stamp of Approval that honors exemplary websites/apps that offer quality, innovative, unique, cost-effective, or significant value to teachers, educators, and homeschooling families. None of these websites paid to be on this list. We hope you enjoy browsing through our list and discovering new sites that can improve your homeschool in the upcoming year. 
Code Academy
Code Academy's popularity is so universal it will decidedly earn a place on every list of educational resources for coding and programming. Among homeschoolers, Code Academy had the best brand-name recognition of all computer and programming websites. Even homeschoolers that choose a traditional curriculum use Code Academy as an additional resource.
Fascinating Education
The philosophy and unique approach behind Facinating Education is the #1 reason why home educators use and recommend it. The philosophy is best described in Dr. Sheldon Margulies' own words, "The way to keep kids interested in science is to give them scientific tools they can use in their own lives and make the science easy to learn. I believe that once they realize how easy (and useful) science can be, their own growing confidence and pride in accomplishment will propel them forward." Dr. Margulies approaches science education from the right side of the brain. While most science courses use a written text as the primary teaching tool, he uses illustrations as the primary teaching tool. He flips the typical approach to learning science on its head by using audio files and texts as supplemental resources.
Girls Who Code
Did you know that a woman, Ada Lovelace, is regarded as the first programmer? Girls Who Code writes that the biggest drop off in computer science interest among girls happens between the ages of 13-17. Furthermore, the gender gap in computing has been growing. In 1984, 37% of computer science graduates were women. Today, that number is only 18%. Girls Who Code was founded with a single mission: to close the gender gap in technology. Learn more about their mission, programs, and how to connect with 40,000 other girls who code on their website.
Home Science Tools
When home educators are looking for science/lab equipment, parts, and hands-on science projects/activities, they visit Home Science Tools (HomeTrainingTools.com). Home Science Tools offers a free science catalog, a learning center, and have a 90 day 100% satisfaction guarantee.
Science 4 Us
Science4Us.com is our educator's #1 choice for a complete science curriculum for kindergarten, 1st grade, and 2nd grade students. Science4Us can operate either online or through an iPad app. Included in the monthly subscription ($7.95) curriculum are over 350 animated activities, printable worksheets and hands-on project ideas. Our favorite aspect of Science4Us is their multidisciplinary approach.
Scientifics Direct
Scientifics Direct's website, ScientificsOnline.com, is the first stop for educators and parents searching for educational toys, STEM-based toys, and science kits. Their website is safe, secure, easy to navigate, and offers some of the best deals on the internet. ScientificsOnline.com is definitely one of the best ecommerce shops for homeschoolers.
Scratch
Scratch and Scratch Jr. are both university created and backed introductions to programming. More specifically, Scratch is a tile-based visual programming environment and toolkit. Scratch is a massive online community and platform for building stories, games, and animations. There are lots and lots of online tutorials which were helpful for parents with no programming experience.
Scratch Jr. is aimed at children ages 5-7 and also focuses on creating interactive stories and games. The Scratch community is full of homeschoolers, but just like any open online community, supervision is always recommended.
Thames & Kosmos
Thames & Kosmos produces the most highly recommended STEM learning kits for 2017. Homeschool parents use these kits all the time as supplements, learning tools, and ways to introduce their students to new scientific concepts. At the moment, they offer over 140 kits that collectively contain over 3,000 experiments and projects. All of their content is unique and manually created.
Tynker
Tynker is a complete learning system that teaches kids to code. Parents, educators, and homeschoolers are all members of Tynker's global community. Tynker is appropriate for children ages 7 and up. The biggest reason why homeschool parents recommend Tynker is because the subscription is really a learning path. Whatever your student is interested in, Tynker's interest-based learning paths will guide and support them through every step. Tynker is popular with over 35 million users.  You can't beat the 100% satisfaction guarantee.
Youth Digital
Home educators have named Youth Digital the best website for online tech courses for students ages 8-14. Children can learn to design, animate, program, and develop applications. Especially popular among homeschoolers was the "Code Your Own Custom Minecraft® Server" course. Parents told us that Aaron's teaching style and enthusiasm was captivating and that the service/support team is unmatched.
Media Contact: [email protected]
Last modified: January 1, 2017