Top 10 Educational Websites of 2017 - Supplemental, Study, & Worksheets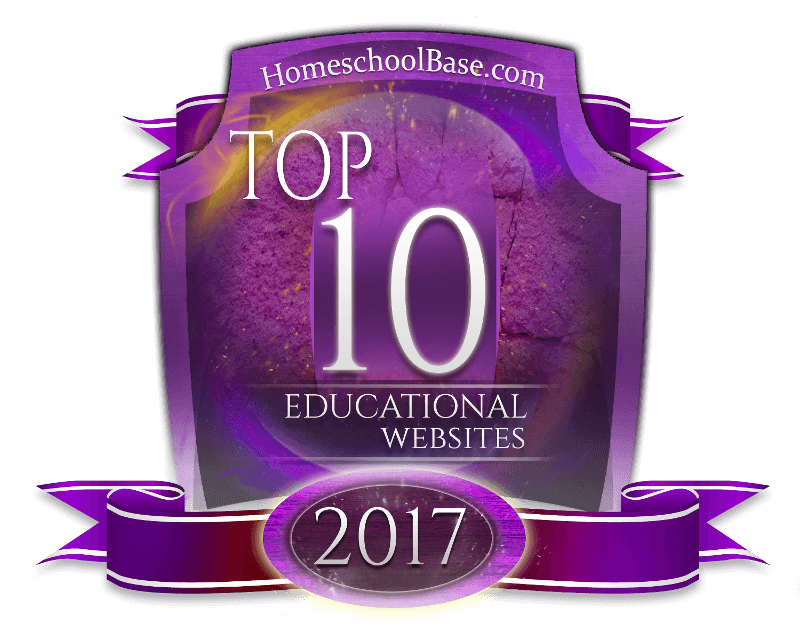 Our TOP 10 Educational Websites are all recommended by multiple teachers, home educators, and homeschool parents through various feedback channels. All sites have received our Purple Stamp of Approval that honors exemplary websites/apps that offer quality, innovative, unique, cost-effective, or significant value to teachers, educators, and homeschooling families. None of these websites paid to be on this list. We hope you enjoy browsing through our list and discovering new sites that can improve your homeschool in the upcoming year. 
Dad's Worksheets
Dad's Worksheets posts free printables and worksheets, primarily for mathematics subjects, puzzles, and word problems. At the time of publication, there are 7,873 worksheets. Recently, homeschools have been loving the fun and unique calculators. Encourage Dad to keep it up!
Education.com
We do not believe any list would be complete without Education.com, and the homeschooling community at large backed us up. Keeping it short and sweet -- Education.com offers worksheets, workbooks, educational games, science projects, lesson plans, and more.
Education Quizzes
Education Quizzes are free for homeschoolers and teachers (normally $12.50 monthly)! Homeschool parents say that the best strategy for using Education Quizzes is to play/take a few quizzes every day. The consistent daily practice is what helps students learn best. Plus, they are quick and easy to do. They can also be used as 'entertaining homework.' All of the quizzes are written by teachers to address the needs of Grade 6, Grade 7, and Grade 8 students.
IXL
IXL is one of the best learning supplements available to a homeschooler, aged pre-K-12. There are a limitless number of practice problems and over 6,000 unique topics. Furthermore, the system is personalized and adapts to your child's learning. What homeschools love the most about IXL is how easy the site is to navigate, how "open" and "free" the accounts are. Users can move between different levels and even repeat completed levels. This proves especially useful for students with skill levels that are not consistent across subjects. Join the millions of students who use IXL around the world.
LearnZillion
LearnZillion was praised for hosting 1000+ high quality lessons, videos, practice sheets, and more -- all for free! The homeschools that use LearnZillion often appreciate the reassurance of comparing their own homeschool or curriculum with lesson plans and worksheets that meet Common Core standards in public schools.
Miaplaza Inc.
Every year two Miaplaza websites, http://always-icecream.com and http://clever-dragons.com, earn high praise from K-Middle homeschoolers. Always Icecream and Clever Dragons have fully moderated social media features. They include educational videos with practice options. These websites also give students a place to create artwork, write newspaper articles, share original videos, and even run a business! Supplement your homeschool day with fun!  Sign up for a free trial period and try it out.
Myetutor.org
MyeTutor marks a new revolution in learning. The site is a fully personalized, subscription based, on-line math tutoring platform. The platform was developed upon cutting edge intelligent knowledge engines matched with highly competent tutors. Never before have these two elements been combined and they offer a real-time adaptive and personalized learning environment for any student.
Quizlet
Homeschool parents that don't use Quizlet simply haven't tried it. The positive feedback and engagement we have received from homeschools is remarkable. "We are totally hooked."
An extremely basic description of Quizlet is an "online user-generated flashcard tool." A growing number of homeschool families are regularly creating and sharing sets that have been extremely time consuming. Quizlet users can add someone else's set that they like to a folder, or make a (duplicate) copy of a set that allows for editing/modification. Both sets and folders can be studied. This allows parents, homeschoolers, and other home educators to benefit from and contribute to the hard work of fellow educators.
Student Handouts
StudentHandouts.com was most frequently recommended because of their wide variety of free K-12 educational materials for teachers and students. There are over 14,000 pages of useful material, focused primarily on English and Math. Grades are categorized through 8th with the massive subject matter covering pages for social studies, geography, and much more.
Super Teacher Worksheets
Super Teacher Worksheets has over 10,000 printables for teachers and homeschool families. Most of the content is for grades K-5. A full year subscription with unlimited access to all worksheets costs $19.99. Even if you're on a budget, be sure to check out the free worksheets that are included on almost every page of the website!
MentoringMinds - Honorable Mention
Although MentoringMinds offers many products, homeschools recommended their supplemental materials such as their Critical Thinking Student Wheel and their flip charts/guides.
Media Contact: [email protected]
Last modified: January 2, 2017