Top 10 Educational Websites of 2017 - Tools & Parent/Teacher Support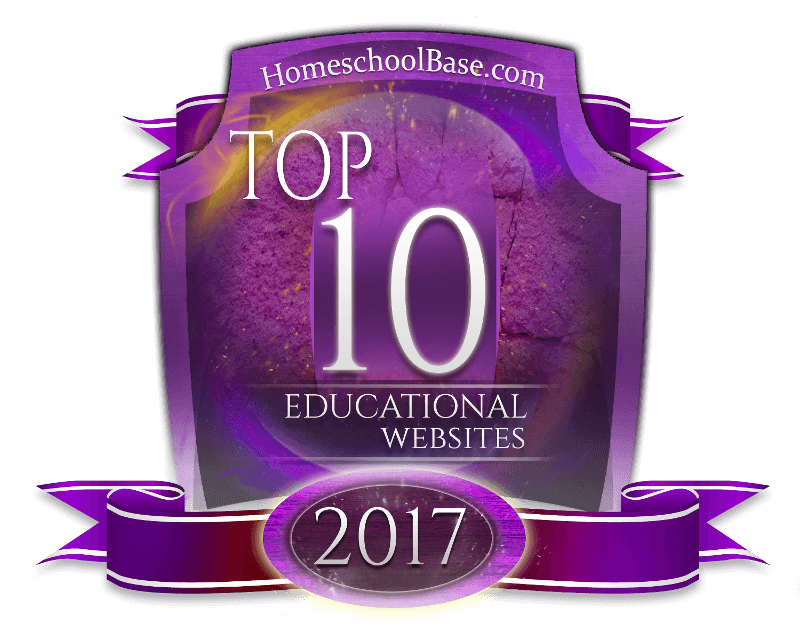 Our TOP 10 Educational Websites are all recommended by multiple teachers, home educators, and homeschool parents through various feedback channels. All sites have received our Purple Stamp of Approval that honors exemplary websites/apps that offer quality, innovative, unique, cost-effective, or significant value to teachers, educators, and homeschooling families. None of these websites paid to be on this list. We hope you enjoy browsing through our list and discovering new sites that can improve your homeschool in the upcoming year. 
Purchasing Educational Supplies
Educents
Educents is the "Etsy for educational products" - a place where parents and homeschoolers can discover innovative products and resources created by a community of education experts.  Educents launched in April, 2013, and has since helped over 1,000,000 educators save over $30 million dollars on educational materials. Educents mission is to be the #1 place for all parents and homeschoolers to find the resources they need to give their child the best possible education.
Homeschool Buyer's Co-op
Because school districts have more purchasing power than an individual educator, they are able to receive sizable discounts on curriculum and other educational materials. The Homeschool Buyer's Co-op brings homeschoolers together to pool their purchasing power. The result is 20-90% off curriculum and products. The Co-op negotiates group buy for large volume discounts and then offers it to their members. The more members that agree to purchase, the steeper the discount. Becoming a member is absolutely free.
Teachers Pay Teachers
Every day, teachers and educators put effort into planning and preparing their lessons. Teachers Pay Teacher's founder, Paul Edelman, noticed that his students did the best when he incorporated ideas from other educators. So he created a site where teachers can share their wisdom for the benefit of others.  Today, there are over 4 million active members and 2.4 million resources available. Home educators love the new ideas, extra resources, and freebies on Teachers Pay Teachers.
4Knowledge 4Fun
Homeschoolers love 4knowledge-4fun.com in their ever evolving collection and unique range of educational materials. Their product selection is not limited to curriculum and books. Just a few of the offerings include building toys, dolls, puzzles, games, stationary, puppets, and nail polish. Above all, this family run company is founded on the premise that, "learning should be fun and while having fun you can certainly learn something too!"
Rainbow Resource Center
Rainbow Resource Center, a Christian ecommerce site, advertises 5 main points about their company. 1) Great selection and detailed product descriptions, 2) year-round low prices, 3) fast and free shipping, 4) free consulting, and 5) a track record of experience and success.
Tools for the Educator
Kidzmet
Kidzmet helps educators identify the unique learning styles,personality, and innate talents of their students. This knowledge results in a more meaningful learning environment for the learner and teacher alike. Kidzmet is like a "crib sheet" of tailor-made tactics that enable the educator to connect with their students individually, based on who the student is and how they learn best.
Lessontrek
Homeschools praise Lessontrek for being the easiest and most robust digital planner. With so many lesson planner websites and apps to choose from, and so similar in style, why not try the one that's recommended by your homeschooling peers!
Online Homeschool Support Communities
The Well Trained Mind Forums
With over 82,000 members and over 6 million posts, this is the largest and most active online community for homeschool parents. The WTM Community has daily parent support threads, thousands of parent-to-parent advice threads, and dedicated categories for all areas of education. The forums are a sub-section of Susan Wise Bauer's Well-Trained Mind Press and classical curriculum. Join the "Hive Mind" today!
Sonlight Forums
The Sonlight Forums are a place to find advice and support. These forums are affiliated with the Sonlight curriculum, but there are many forum categories that are not dedicated to the brand's product. The forums are very welcoming, open and helpful regardless of where you are in your educational journey. One member claimed to frequent new threads even though she wasn't homeschooling that year!
Homeschool sub-Reddit
/r/Homeschool is the largest homeschool community on Reddit, one of the internet's most popular social media sites. Reddit is often called "the front page of the internet." The /r/Homeschool subreddit is a category of Reddit where users upvote interesting and helpful submissions.
Media Contact: [email protected]
Last modified: March 10, 2017