The Best Children's Desks and Study Tables of 2018
Short on Time?
After reviewing the durability, safety, and stability of over 10 desks, the Flash Furniture adjustable desk was ultimately our favorite all-around study desk for children. We also recommend the VIVO Interactive Work Station as a more dynamic choice and the South Shore Axess desk for a bedroom desk. Each desk is very stable, affordable, conveniently sold through Amazon, and we found that children gravitate towards these desks. We also reviewed a corner desk and a canvas-drawer desk (keep reading).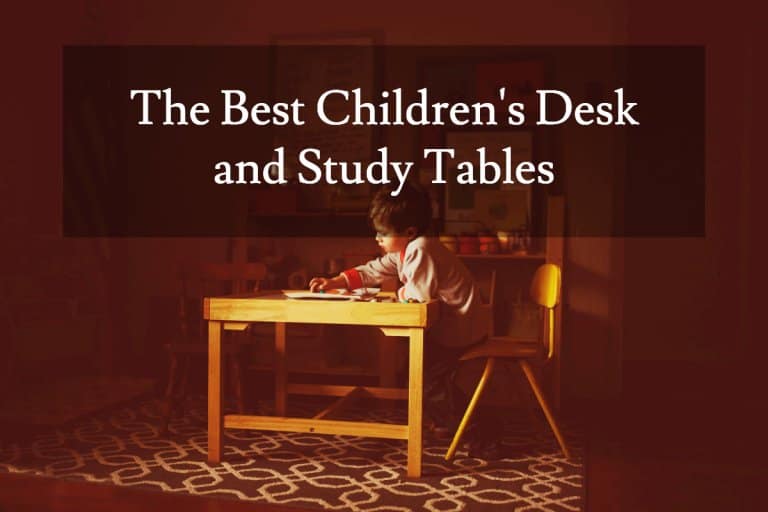 We found that the most important physical characteristics of a children's desk were the practicality, functionality, and design.
A children's desk should be practical. Realistically, most children will use a desk for numerous activities. Especially important for kids workspaces that will be used for many things, a study table should have all the functionality needed (drawers, pouches). Finally, a good product should be designed to handle heavy use. The nature of a children's desk is that it will likely experience all sorts of use and abuse.
All-Around Best Kid's Desk
Flash Furniture adjustable height desk
The Flash Furniture desk is the perfect choice for a classroom, homework, and studying. It is designed to accommodate growing students from elementary age (around 5 years old) all the way to high school ages. Both the desk and the chair are adjustable in height.
After making some adjustments, the entire family can use this desk if necessary. The desk is easy to move and is space efficient. There is not a better option for the price and the assembly is downright easy.
If you want to make your homeschool feel more like a classroom, this is the best option. However, the desk is also perfect for art and other projects. There are very few functional downsides to this desk. Some buyers will want even more desk-space and others are looking for something wooden with storage space. Click here to price check this desk.
Best Adjustable Kid's Work Station for Creators
VIVO Interactive Work Station
This is the most adjustable and dynamic children's desk of all. The table itself adjusts to 40 degrees which is ideal for some art projects. The desk also comes in three fun colors and looks, visually, more appealing.
Just like the Flash Furniture study desk, this was built to grow with your child. However, it is unlikely that your child will continue using this all the way through high school.
This kid's work station has lots of great things going for it - comfort, versatility, aesthetics, durability, and functionality.
The seat the comes with the study desk is comfortable. The drawer under the desk fits plenty of books, colored pencils, paper, and so on. The surface area is slightly larger than some other 'school' desks which makes this an even more attractive choice for children that like to spread out while they work. April described this as being almost like a drafting table. When we updated this post it was on sale, but you'll need to check the price for yourself.
Final thoughts: ease of assembly is great, five years old and up will love it.
Wooden Bedroom Desk
The South Shore Axess Desk
This desk has more features/functionality for the price than any other desk. It can easily
handle all school activities plus projects and crafts. With a sliding tray, it can even be used for a computer although it is also the perfect place for books, notes, and pencil sets. Furthermore, we were surprised at just how incredibly sturdy it was for the price.
As you can tell from the image, this desk is not designed to be mobile or for a classroom. Instead, this desk will need to stay-put in your child's room.
Features
There is one sliding drawer and two open shelves for storage. There is a low hutch that provides storage for books, speakers, small boxes, trinkets, etc. The surface of the desk is very wide, especially compared to some alternatives. This means the child can sprawl out and utilize the space as needed. The downside is that more space can lead to more clutter.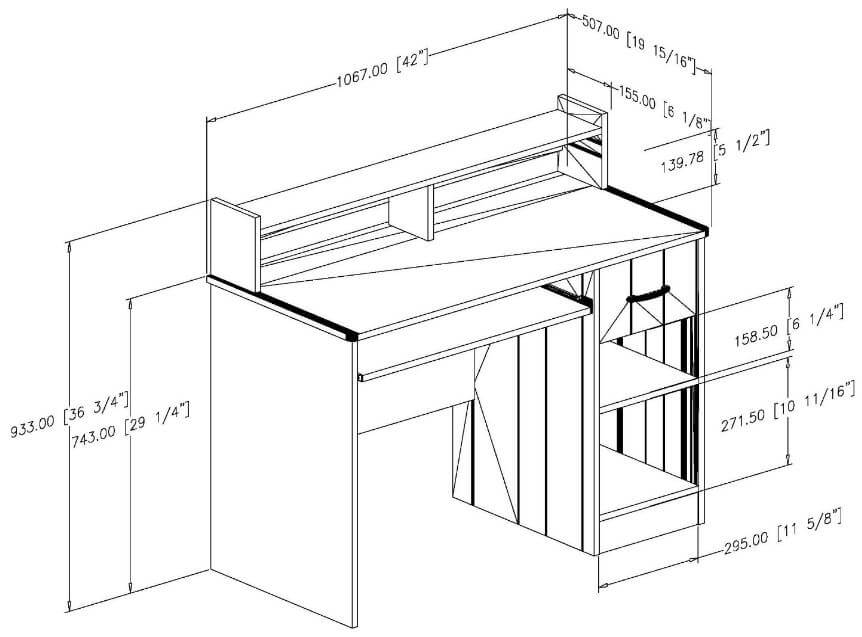 This desk is moderately easy to assemble and it does comes with lots of parts. Although the instructions recommend two adults for assembly, it can be done with a single mom in around an hour. This desk is not meant to be mobile and is not designed for toddlers and very young children. It can be used by both children and adults.
Click here to price check this desk.
The Top Corner Desk
Sometimes your only extra space is in a corner. Although the Vivo desk and the Flash Furniture desk are both portable and space efficient, you may want a space-efficient desk that can be tucked into a corner. If so, we recommend Target Marketing System's wood corner desk. It has one drawer, two color options, and a beautiful finish.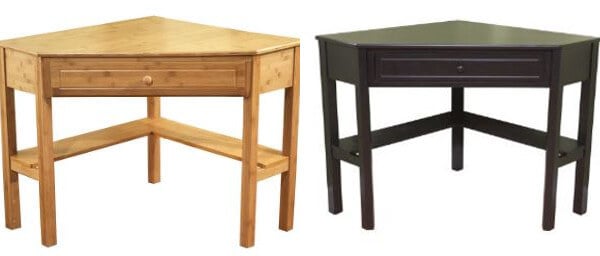 Kids Desk with Foldable Canvas Drawers
Unfortunately, this desk only comes in one color scheme which girls are more apt to like. This is made by 4D Concepts and matches other 4D Concept furniture. This desk is best for a child's room who wants plenty of storage. The canvas drawers are more like bins. The wood is thick and overall very sturdy.
This can easily be used for studying, school, and crafts. The main downsides to this desk are the narrow chair-room and the initial smell. The desk will not grow with a child, so leg room will eventually be an issue. Price check this desk.
Additional article contents
When should you give your child a desk?
How to pick a children's desk
Choosing a good study desk
Should I buy a nice desk, or a cheap desk?
When should you give your child a study table?
Desks can become very useful as soon as kids are able to walk. At a very young age, a desk (or play table) can be used to play with toys. Desks are the perfect place for a child to use coloring books and make a mess with paint and crayons. They can also be a designated spot for learning activities. As a child grows older, a desk will host arts and crafts before, eventually, being used for some type of school activity.
Sometimes parents will argue that children should not be given a desk. The most common argument against buying a desk is that children learn by interaction. This is true for the vast majority. We all learn best when we are engaged. The critics who will tell you to never buy a desk are assuming that your vision for a child's desk means the child will be locked away, studying, in their room.
Desks can be limiting
Here's the deal. Desks can be very limiting on certain learning styles. Sometimes they can end up as distractions that lead children to start playing with something else. Desks also have a tendency to become very cluttered -- flat-surfaced desks are essentially tables. You might not even realize it until you spill something on it... But, as described earlier, desks can also host some of the most creative and engaging activities.
How to pick out a study table for kids
When buying a desk for kids, there are a number of different considerations that should be made before purchasing.
Where will it go?
Where will the desk be positioned? Will it stay in the child's room or somewhere else in the house?
A desk can alter the dynamics of a room. Some critics argue that a desk should always be located in a central area in the home. This way, the parent can monitor and control the actions of the child while they are working. Other parents will enjoy giving their children full liberty. Plenty of kids use desks for many different projects other than academics.
How frequently will it be used?
How often will the child be using the desk? Several hours each day? Whenever the child feels like it?
If a child is going to use a desk for several hours a day, it is important that the desk is comfortable, durable, and sturdy. Desks that will only be used occasionally and for 'fun' can afford to sacrifice some of these requirements. An important tip: never limit your child's desk as only a study space.
Age considerations
How old is your child and are there younger siblings that will inherit the desk?
Some kid desks are not adjustable and very small. This means it will quickly become 'outdated.' However, if you have multiple children a desk can be inherited as each child outgrows it.
Catering a desk to your child's learning style
What is your child's learning style?
Children that love to work alone usually love, and benefit from desks. Children that can't sit still, hate to be alone, and are hands-on learners might suffer from mandatory desk time. For homeschoolers, a kinesthetic learner will still benefit from a desk in shorter time allotments or increments. You can read more about learning styles from these articles.
What type of school does your child attend?
Is your child homeschooled, afterschooled, private schooled, or public schooled?
Public school children sit at some type of desk for the vast majority of the day. This often conditions students to avoid desks unless required. For public school students, an 'alternative' desk or a creative/fun desk may really increase their likelihood to use it.
For homeschoolers, desks can have many benefits. Some parents use them as designated locations within the house where 'school takes place.' The can help shift the child's focus from play to 'study.' The flexibility of homeschooling also allows for any location to be a desk. The kitchen table is a desk, the backyard picnic table is a study location, and so on.
Choosing a Great Study Desk
What did we look for to find the best study desks?
Size matters.

 First of all, your child will continue to grow. So, never buy a desk that is snug from the get-go.

Functionality.

 A table especially designed for art will be slanted. Desks that will be moved frequently will either be small or have some type of rollers. If there is no room for a long desk, a corner desk may be a good option. Some desks have lots of drawers or storage spaces.

Materials.

 We want all of our products to be made with the highest quality materials. Unfortunately, they don't make things like they used to. Many desks on the market are low quality. We found that wood is almost always the longest lasting type of desk if it receives the proper care. Metal desks hold up for a long time, but they also need lots of proper care.
Should I buy a nice desk or a cheap desk?
There are two schools of thought when it comes to buying things for children. The first school of thought holds that we should not buy nice things for children because they will not appreciate them. A high quality or rare present's quality and beauty will be lost upon them. The other school of thought holds that we should buy nice things for our children in order to instill the idea that they are responsible for respecting and maintaining the quality.
Updates for 2017
This review was first published in December 2016. Revisions, updates, and fundamental changes have since been made. This last was last updated in January 2018 with new product recommendations. We stand by these products as 2018's best desks for kids.
From Our Home to Yours
See more
Reviews