Save Time: Here's the Top 5 Best Convertible Car Seats of 2018
Safe, Comfortable, and Reliable
The Price of Safety
Some say that you can't put a price on safety, but when it comes to car seats, the pricing is evident. You need one, and you need a good one. With the help of my local parenting community and coop, I did the hard work for you. This article is the culmination of reviewing dozens of convertible car seats for children.
Welcome to the go-to (convertible) child car seat buying guide for 2018.
The Busy Mom's Quick-Pick
Safety 1st Grow and Go
Here's why I'm in love:
Excellent looks
Comfortability
Affordable and longlasting
Grows with your baby (still works with up to 100lbs)
Easy to clean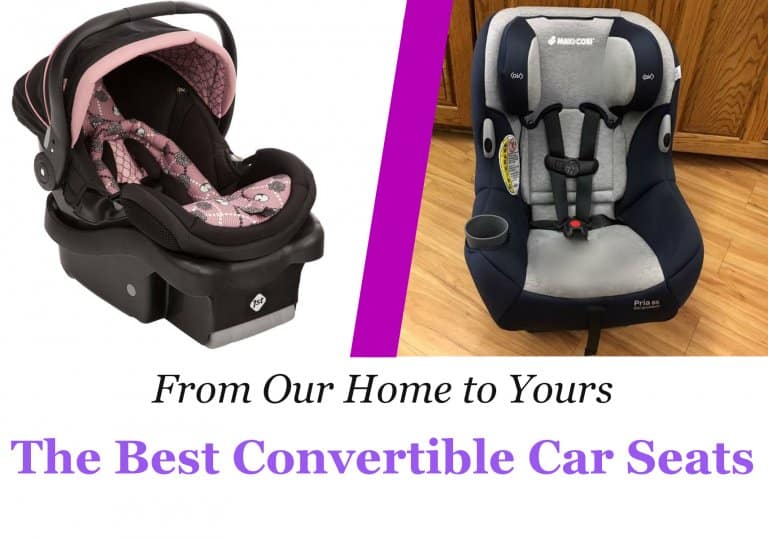 I am absolutely in love with this baby convertible car seat. And here's why: it looks amazing, the kids say it is so comfortable that I wish they would make one for the adults as well, and the pricing is on point - it's very affordable. But at the same time, it's a sound investment because it can support your child through various stages of their development, from babies to toddlers and children up to 100 pounds.
This car seat screams "safe"
This is the seat that I use, and I absolutely recommend to all parents and their children. One look at it and it screamed: SAFE. Additional features that the maker offers are 7 inches of extra legroom, easily adjustable harness and a seat pad that's machine washable. Now, we had our fair share of accidents and spills, but removing the pad for thorough cleaning is very simple. You can take the pad without removing the harness. The seat also comes with two integrated cup holders, but we always use one for Mr Roar the Lion, naturally. He has to stay safe in his seat, too.
The prices normally falls within a range, depending on the product design/features.
Some of my friends also have the EX Air, which is slightly more expensive – usually in the range of $170 to $200, but it comes with some sort of advanced cushion system, exceeding the Federal Safety Standards. I would have bought that one myself if I had known about it, but the one I have is pretty amazing as well.
Diono Radian is a pretty good convertible car sear with metal reinforcements. I have thought about it long and hard whether to make Diono #1 on this list, or Safety 1st. To be honest, I use the latter every day, but Diono is a favorite among some of my friends, so… I am a little biased.
Diono's steel frame is really worth the investment, and if by any miracle we manage to destroy the Safety 1st seat (and knowing the little devil I gave birth to, that even isn't such an impossible feat), I might switch up to Diono.
Additional features
It can be folded flat which is great for traveling, and it has some nice, matte designs. Nothing too fancy, and even the design gives the appearance of durability. During my research, I found that the manufacturer states that Diono has EPS foam and energy-absorbing harnesses for extra safety. It comes with one cup holder, but you can add up to 4. I don't know who needs 4 cup holders per child, but… Good to know ¯\_(ツ)_/¯.
Diono has a range of additional equipment you can purchase. For example, you can invest in Diono car seat travel bag, seat protector, and even an angle adjuster.
Depending on the design, this seat usually ranges anywhere from $250 to $340.
Graco isn't cheap but it's worth the investment because it will follow your little one from the rear-facing phase of 4-50 pounds to the booster phase of 40-120 pounds – basically it's a one-time investment for your child's next 10 years!
The biggest upside of this convertible car seat is that while most others support up to 100 pounds, this one supports children up to 120 pounds.
Parent feedback & reviews of Graco
Parents are enthused about the Graco, and after I had the chance to see it in action, all I can say is that it deserves a place on this list.  Obvious reasons: the design is among the best, children do not complain about the comfort, and just like every seat on this list, it has tip-top safety ratings.
The installation is very self-evident, no guidance needed. Some features worth noting include a washable seat cover, one-second latch and 2 cup holders.
At the time of publication, the manufacturer listed it at $350. Here is a link to the Graco Baby manufacture's website. Here is a link to Amazon so you can compare the prices.
Maxi Cosi also got on this list for a reason – it's highly rated and has a unique built-in crash technology called FlexTech. The manufacturer says this is a built-in multi-directional crash energy management technology.
It's machine washable and can be placed in the dryer. And, for parents who want their car to match, it has 9 designs you can choose from. Here's a link to the product page on manufacturer website. Click here to view the Amazon listings.
Leather Car Seats?
There is a leather seat option as well. Brace yourselves, here comes the rant. First of all, what's up with leather seats?  Are they supposed to be more comfortable than the others?  Sure, especially in the summer.
I really don't understand the concept of leather seats, whether we're talking about a convertible car seat for kids, or just a regular car seat for adults. Often, companies boast how leather seats are more luxurious, but to me, they are obnoxious and impractical. Some parents in my group love the Maxi-Cosi Pria 70 convertible car seat, which, you guessed it right, can be made from leather, and if that rocks your boat, that is perfectly fine. As long as it doesn't rock the car and endangers the child. To me, this car seat does look nice, and comfortable (unless it's scorching outside, or it's the Eskimo season), but for a $800+ price, I'd rather buy several car seats and switch them, for a whim.
But other Maxi Cosi convertible seats with normal cushions look nice, comfortable and pretty good to the eye, while they conform to the safety standards. The downside of this convertible car seat is that it can only support children from infant phase to 7-year-olds. Now, when there are so many convertible car seats that actually support phases up to 10-year-olds, this doesn't look like a good investment.
The prices for Maxi-Cosi Pria 70 Convertible Car Seat range up to $100 between different models.
From Our Home to Yours
See more
Reviews