The Best Fidget Spinners for Restless Hands
View the top-rated spinners and learn everything you need to know about the incredibly popular toy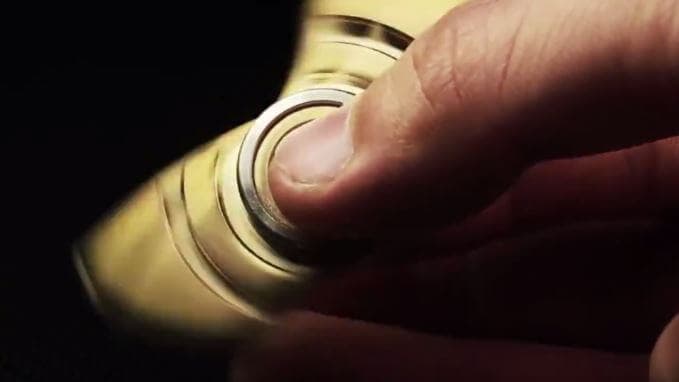 What the Heck is a Fidget Spinner?
Fidget cubes and fidget spinners are all the rage. I first heard about spinners when my cousin started 3D printing them and selling them on Etsy. Then, I took a trip to Washington D.C., and every street salesman was pawning them! They're a new obsession that reminds me of yo-yos mixed with a stress ball.
And, they aren't just a new stupid fad, there is real research to support the benefits of fidgeting! Using one of these spinners, you'll be able to silently channel distracting energy into… spinning!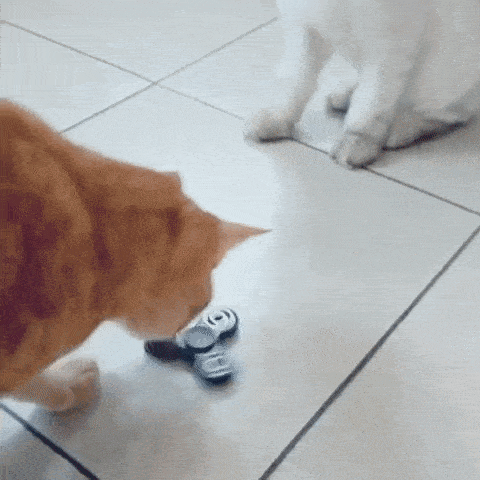 After talking with my cousin who makes these things, testing out a few for myself, and reading up on these gadgets, it is clear they aren't all created equal. After asking why they weren't called "fidget widgets," I got to the point and found out the essential qualities to the best spinners on the market.
The Best Fidget Spinners
These toys were a surprise hit, they're still red hot, and every cheap manufacturing company is trying to jump on the opportunity. Amazon is full of fake reviews and low-quality spinners. I put in the leg work and checked for fake reviews on Fakespot for spinners I haven't used myself.
The Best All-Around Tri-Spinner
There are several styles of spinners, the tri-spinner being the most popular. There are so many tri-spinners on Amazon, that it is very easy to be tricked into believing false reviews. There are a few tri-spinners with more reviews, but this product passed Fakespot with flying colors and I've used it myself. Additionally, this one won't break the bank and will act as a great 1st spinner.
Spin time: 3+/- minutes.
The Longest Spinning Fidget Spinner
This one is an absolute beauty through and through. It has the longest spin time I've seen (5 minutes). It is also one of the highest quality models, made from solid Aluminum alloy with metal caps to protect the bearings. I also love the fact that it comes with a 30-day money-back guarantee.
Spin time: 3-5 minutes.
The Best Glow-in-the-Dark Spinner
This is an affordable and high quality spinner that will light up your night! Perfect for anyone who wants to do cool visual tricks in the dark. This model is available in other colors (non glowing), and I would highly recommend them as well for a quality all-purpose tri-spinner.
Spin time: 2-3+ minutes.
The Most Durable Titanium Spinner
The most durable spinner on the market is made of real titanium! Hence, the heftier price point. Nevertheless, this is the best deal I've found on a real titanium spinner. People are willing to pay over $100 for real titanium! This device is extremely small, smooth, and portable.
Spin time: 1-2 minutes.
The Spinner with the Most Awesome Color Selection
If you're looking for a visually pleasing spinner, KASST offers an awesome selection. I also checked the product to ensure it is one of the highest quality spinners on Amazon. I can't get over the iconic green, blue, red, and white design of this one.
Spin time: 1-2 minutes.
Do you prefer to DIY? I just read this awesome post from Kids Activities Blog that teaches you how to make your own!
Characteristics of High-Quality Fidget Spinners
Look for these key specifications when picking out a high-quality spinner.
Full ceramic bearings
Made of metal (this will make it more expensive)
Single weight vs double weight
How long will it spin?
I've seen experts spin a good model for over 5 minutes. It reminds me of "walking the dog" with a yo-yo. The best yo-yos (spun by true yo-yo artists) could spin for outrageous amounts of time. The spin time will depend on the quality of the spinner, the angle of the spin (vertical/horizontal), and the skill of the user.
Benefits of Playing with a Hand Spinner
Although USA Today thinks everyone already knows about them, I still want to provide a full overview of the benefits.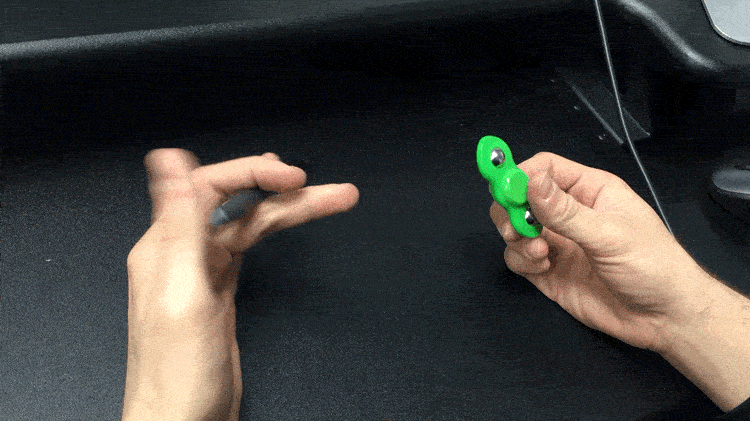 Do you have issues focusing? Were you diagnosed with ADD/ADHD? Can't stop chewing your fingernails or picking at your chin? Chewing on pencils? Spinning pencils with your fingers (and dropping them on the floor)? Tapping the table?
It doesn't matter if you're a kid or an adult, this toy can help curb your annoying fidget habit.
Like stress balls, these toys are absolutely silent (assuming you buy a quality one). If you have a bad habit of clicking the tops of pens or playing with a cube that clicks, you might be annoying everyone around you.
Children Preform Better While Fidgeting
The University of Hertfordshire's Dr. Karen Pine conducted funded research that found when children could fidget with their hands, they performed better in both memory and learning tests.
Psychologists found that children who could move their hands around freely were better at learning than pupils who were not allowed to move.

— "BBC [source]
The study found that gestures and movements were helpful for thinking and learning. Fidget spinners are not designed for gestures, but they certainly take care of movement.
Weight Loss
This is not a joke, there is real research behind this. People that fidget regularly weigh less than their average non-fidgeting counterparts. Back in 2005, the Washington Post reported that fidgeting burns an extra 350 calories a day. This could add up to 30 pounds a year.
Picking up spinning as an idle hobby is not going to solve your weight-loss problems, but it can act as another small contributing factor to your daily activity.
Curing "Restless Hand Syndrome"
Personally, I think this is the best toy for curing "restless hand syndrome." There are several reasons why people fidget. I've listed the most common according to HealthLine:
Generalized Anxiety Disorder
ADHD (the popular ADDitude magazine wrote an article about fidgeting to focus)
Post-Traumatic Stress Disorder
Panic Disorders
Too much Caffeine (your own fault)
Obsessive-Compulsive Disorder
Schizophrenia
Hyperthyroidism
Adjustment Disorder
Nervousness


"The more I do it, the more I like it."

This is the general consensus I've heard after sharing my fidget toy with everyone I know. It grows on you. One of my friends said, "I have a weird sense of peace and calm when I spin it..."
What can you do with a fidget spinner?
You can spend a whole lot of time watching YouTube videos teaching you how to do hand spinner tricks! Here's one of my favorite videos.
Another helpful video. This one is a useful trick for increasing spin times! (How to clean your fidget spinner)
...you can't bring them into some schools
11 states have already banned students from bringing spinners into the classroom. (Glad I homeschool!) And more are likely to follow their lead.
When it comes down to it, most schools are claiming that just because spinners help some children focus, they are still classified as "toys." And toys aren't allowed in the classroom.
From Our Home to Yours
See more
Reviews