The Best Nursing Covers that Don't Scream, "Look at Me I'm Breastfeeding"
The Results of My Journey to Discover the Best Nursing Covers
The Busy Mom's Quick Glance
I embarked on a journey to find the world's greatest nursing cover. I spent (probably way too much) time and energy:
Scouring the internet for reviews/opinions
Researching the materials before choosing which to buy
Trying out each cover for myself
If you're short on time, like most busy moms, below is a quick summary of my #1 pick, based on my experience.
#1 Pick: Lots of Love for Mooiste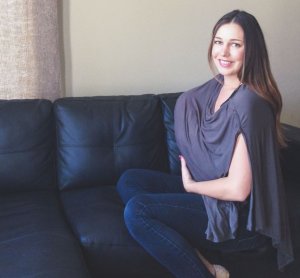 My favorite nursing cover was made by Mooiste. I loved it because it was versatile, very practical, multifunctional, and super-soft and light.
Ultimately, the versatility won out -- it really seems that this company thought of everything. Here's the Amazon link, keep reading below for the full review.
Finally, someone understood the plea of the mothers worldwide – we just want a nice looking, practical nursing cover that won't be screaming, "Hey, look at me, I'm breastfeeding here!?"
Well, finally, we can.
For a while now, the only covers that were available to us were more attracting attention instead of giving privacy. The design of those abominations probably still haunts many mothers to this day. Here is my journey of finding the perfect nursing cover for me and my baby.
The Best Nursing Cover
I absolutely love this one!  It's practical, multifunctional, light and super-soft. You can nurse your baby without the fear of exposing yourself because it's intended to provide a 360 coverage. Mooiste nursing cover has a poncho look and comes in two matte colors – gray and purple. It's made from a cotton muslin, which provides optimal density, it's not see-through, but still keeps your baby's temperature on point. The material is absolutely breathable and the more you wash it, the softer it gets.
I really like the versatility of this product, seems to me like they thought about everything. Here's exactly why: You can adjust the snaps on the side and choose how loose you want your neckline to be. This is a plus for me because I don't really like a stiff neckline – this way it's easier to see what your baby is doing and adjust the latch, for example. And if you want to be more covered, just snap the poncho with one hand and you'll instantly get more coverage.
You can wear Mooiste nursing cover on yourself and nobody would guess it's something other than a stylish poncho. You can also wear it as a scarf, and even use it as a stroller and car seat cover! Oh, and there is also the matter of wallet-friendliness.
Best Casual Nursing Cover
Dria is very similar to Mooiste, but without that stylish look. This one gives you more of a girl-next-door, casual look. Plus side: it provides a 360 coverage, which I believe is essential for every nursing mother. Some say that you can use it like a beachwear, too. The material is definitely very soft and light, and it provides enough privacy for nursing.
Dria can also be used as a car seat cover and a stroller cover. The upside of Dria lies in the design choices – you can choose from 7 different designs. I always air dry my covers, but some moms say that theirs shrunk when they used a machine dryer, so make sure you don't make this mistake.

Best Breastfeeding Shawl / Poncho
It is a called a shawl, but I would still call this a poncho. There is only one reason why this nursing shawl is in the third place on this list. It is a bit more open on the side, and restless babies kick while nursing so… I don't really feel comfortable wearing it. I always think that I will accidentally show more than I am happy to do.
The bamboobies nursing cover is made from rayon and spandex, and even though they advertise it as more eco-friendly than bamboo covers, I am able to feel the difference between the materials, and bamboo nursing covers simply feel so soft, and… Maybe subconsciously I think that they are more baby-friendly.  However, moms in my inner circle do like it, and they told me to definitely put it on the list. I noticed that moms with smaller breasts are perfectly comfortable with this nursing cover, but if you are more on the ampler size regarding the breast size, you should maybe choose some of the other brands.
Itzy Ritzy Infinity Nursing Scarf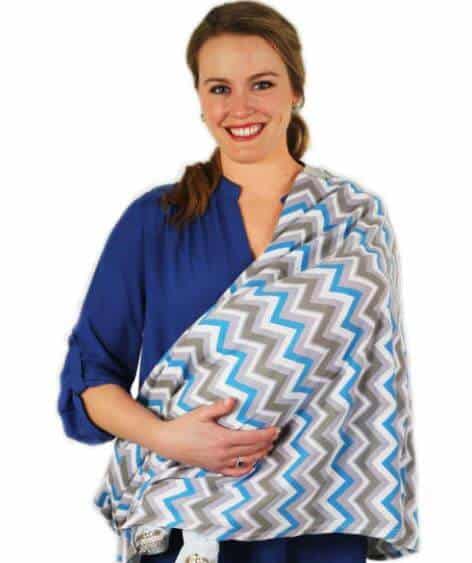 It's quite long and fashionable, but when you put it on, it only covers one shoulder. That means that only one side is actually protected, and if you want to switch sides and breastfeed the baby, you would actually have to turn the whole thing to the other side. That maneuvering can be a hassle and, you might get skilled in that endeavor, but, is it worth it? My personal opinion – I am not a fan. But that has everything to do with my little fellow who is really restless and squirmy. This cover might be perfect for moms who don't have hyperactive children.
The plus side of this cover is that it's intended to be worn as a scarf, and it comes in so many different varieties that you can choose from. I love bright colors, and as a first aid nursing cover – this is perfect. And the price is really affordable so… I can buy more than I need, like every other woman.
Price: $25, sold through ItzyRitzy.com.
Apron Covers
If you are wondering why there aren't any apron type nursing covers in this list, well… It's totally personal. I don't like stiff aprons – babies are playing Prison Break unintentionally and constantly something slips out. And correct me if I'm wrong, but these covers are supposed to provide privacy, right?
I still remember the day when I was buying my first nursing cover, and as I wandered through the shop, there were these kitchen aprons hanging on a rack and I wondered why the hell would they sell them in a baby store? But some moms like them, and apparently the ones that do, love Bebe au Lait nursing cover and the Udder Covers.
Nursing Cover Journey's Final Thoughts
To be honest, I use both Mooiste and Dria – I like Dria's design and I do use it when I'm just visiting a friend or grocery shopping with my squirmy one, but Mooiste is more classy, and I wear it when I want to look all prim and proper.  Bamboobies is nice, but for some (short) reason, almost never makes my daily pick. Itzy Ritzy Infinity scarves are always good to have in reserve, especially if your baby likes the show gratitude and shares with you some of the food – straight on your main nursing cover.
From Our Home to Yours
See more
Reviews