Living on a Homestead WITHOUT the Space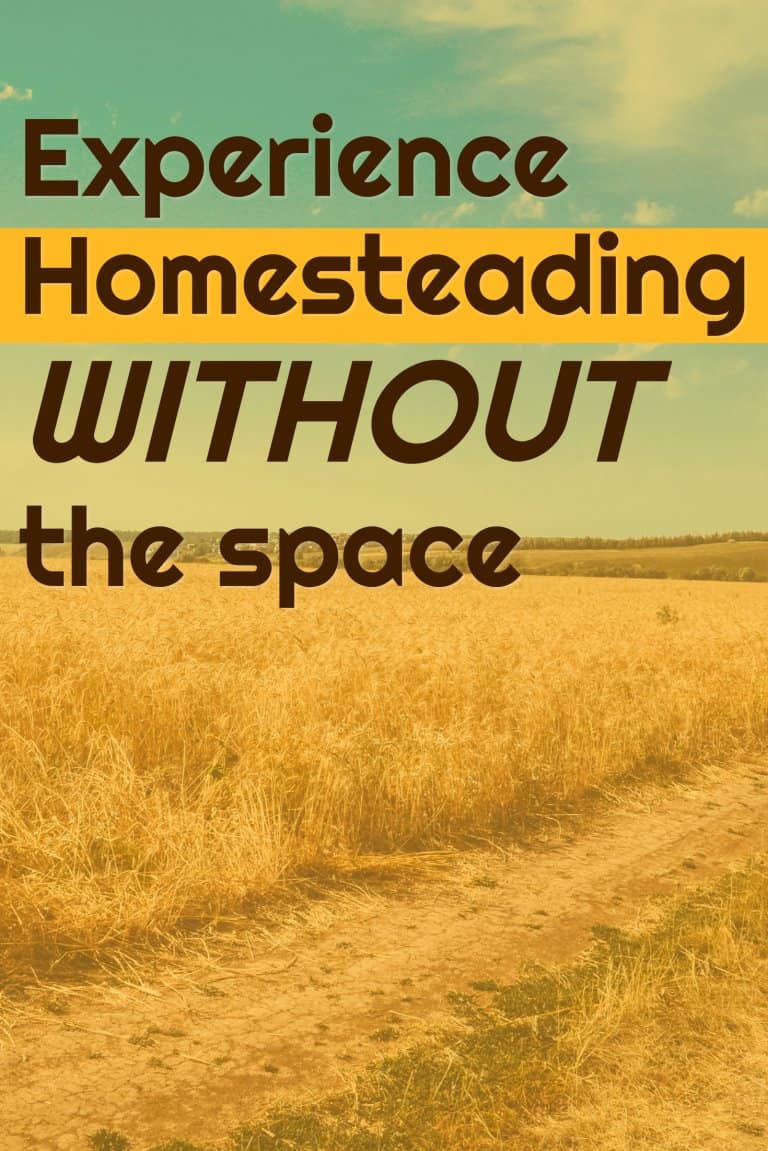 Do you dream of having your own homestead? Children tending to the chickens in between their schooling lessons, while you hang laundry on your clothes line overlooking beautiful green rolling hills?
I feel you, mama. It has always been my dream to own my own land. Have that picturesque farmhouse, chicken, goats, bees and a large garden where I grow all my own organic fresh food. The reality is, that dream is still a long ways from our reality, so I have to make due with what we have.
How do I start my homestead, when I don't have the space I want?
Currently, on the land we live on now, there is no place for animals or a garden, so I utilize resources in other places - community resources.
Start with Community Gardens
One of the first things we choose to participate in was a community garden or a CSA (Community Supported Agriculture). These are groups of people with a common interest in growing food together. Find one in your area, or create your own.
Starting a community garden might seem overwhelming at first, but once you get a couple people together, it can have significant benefits. You will spread the work out between everyone involved, and reap more harvest than if you go at it alone. Also, bringing in people with different skills will help you grow more foods and learn while you're at it.
Find someone with a plot of land, bring in a few friends who have a green thumb, everyone takes a day to come water the plants. In the end, it will cost less, and be less work for each individual person.
A Community Can Share the Burden of Work
Having a homestead is a lot of work, so working together can be helpful especially when you're starting out. Learning from others and sharing the burden can help you figure out what you like, and what you'd rather not have on your property.
You will find there are many tasks you enjoy, and some you would prefer not to do. Having the time to invest in other people, will save you a lot of money in the long haul figuring out what kind of homestead you will have.
Beehives, in the City!?
Did you know you can have a beehive even in the city? Even if you only have a small amount of land, a bee hive can fit almost anywhere - and they will travel up to two miles for pollen.
If having a beehive is not feasible for you, seek out the nearest beekeeper in your vicinity. Offer to help keep up the hives, and trade time for honey, pollen, and wax.
That wax can then be used for candles and the pollen for bath products.
Raising Chickens
If your homestead can support a small chicken coop, this can be an excellent way to produce eggs for your family. If space is the issue, look around and see if anyone you know has space for a coop that you could keep on their property. This will be a lot of work because the birds will need to be tended to twice a day, but if you can make it work, it can be a great option.
If you can't support a coop right now, purchase eggs from a friend or local source. These eggs will be much healthier than ones you can buy at a store, and you will have more connections with the food you are eating. If you're able, a community co-op can be a great option as well.
Hanging the Clothes out to Dry
Using a clothesline to dry your clothes is another great benefit of having your own homestead. They sell pulley clothes lines that you can tie to onto your porch for easy access and an anchor spot for easy access to your clothes.
When that's not an option, look for clothes lines that fan out and store flat. Or, install a retractable line.
What can you do in your kitchen?
Starting a compost pile in a small jar on your counter is a great way to begin utilizing your waste, and creating a great soil for your community garden. If you have some outdoor space a medium sized pile that you can cover with a tarp, or a compost tumbler helps hold larger quantities.
Don't limit yourself just to your backyard either, can you put it on your side yard? Front yard? Or maybe even on your roof? Use the land you have, even if it's not a lot of space.
Learning activities that don't require land
Learning a skill such as canning, making sourdough and meal prepping does not require you to have any land. These are great activities to learn and will help you save money and teach you to make things on your own.
You can keep active sourdough starter on your counter, and use it to make your own bread, along with incredibly delicious pancakes for your family. Yum!
Canning can be an excellent way to keep your harvest all year long, but the cans will take up some space in your house. Look around for underutilized space, could you add a shelf somewhere to keep canned goods?
Good places to look are near the ceiling, perhaps you could put a shelf in your laundry room installed only a foot below the ceiling. Your cans will stay out of the way, while still giving you access to saving food when it's in season. If you have a crawlspace, cellar or basement these are perfect places to keep your cans!
Canning food when it's in season to use for the rest of the year is a wonderful way to save money, and feed your family organic food while on a tight budget.
Wrapping it up
Make a plan! What is important to your family? Is your goal to make your current space work? Or is the end goal to move?
Know what you're working towards and make short and long term goals. Celebrate when you accomplish things, even the small goals move you towards where you want to be.
In my experience, I need a lot less than I think I do, so after diving in, re-evaluate what you want and make a plan from there. Building your homestead will be fun, do not let the space you have stop you from achieving your dreams.
One Response to "Living on a Homestead WITHOUT the Space"