Narrative-style History versus Traditional History Textbooks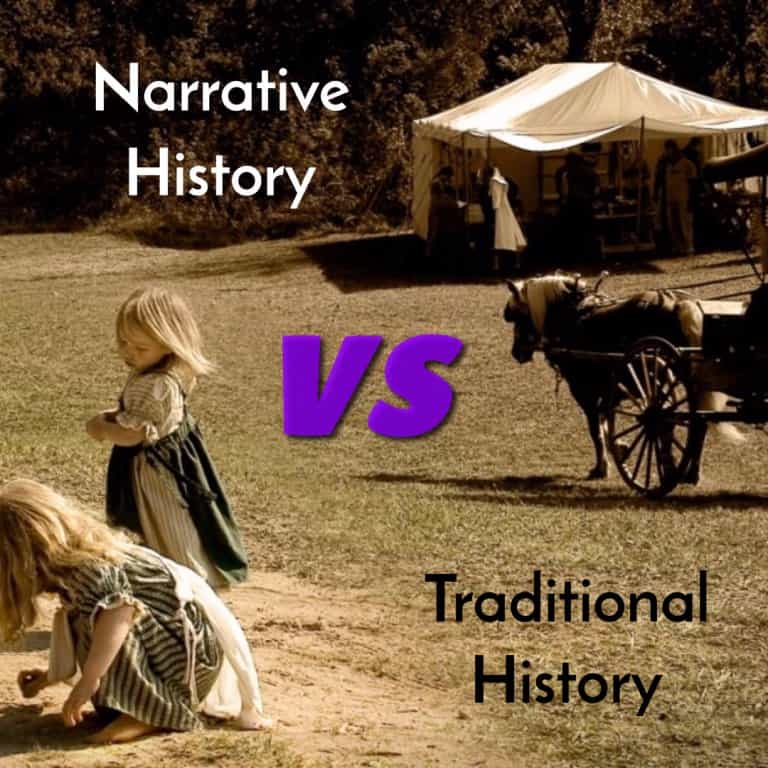 When I was a child, my grandpa would sit and tell me stories of his life. He was born in 1904 and the stories he told were a part of our world's history. I loved them! I would sit and listen as long as he talked. I probably learned more about the early 1900's from him than from any book I ever read.
When I was a homeschooler in high school, I knew nothing about history other than the basic facts and a general timeline, but history was in no way relevant to my everyday life and I had no idea why we learned it at all.
But, thankfully, my mom presented history in a new light. Like my grandpa, my mom was a storyteller. I began to see how relevant history is to our everyday lives and how precious to us the stories of others can be. I began to learn all about the actual people who formed the foundation of our nation and the world.
Now, as a homeschool parent, one of my favorite subjects to teach is history. It can be so exciting and kids can learn so much from it. I have found, though, that the traditional approach to teaching history may not be the best.
What is Narrative History?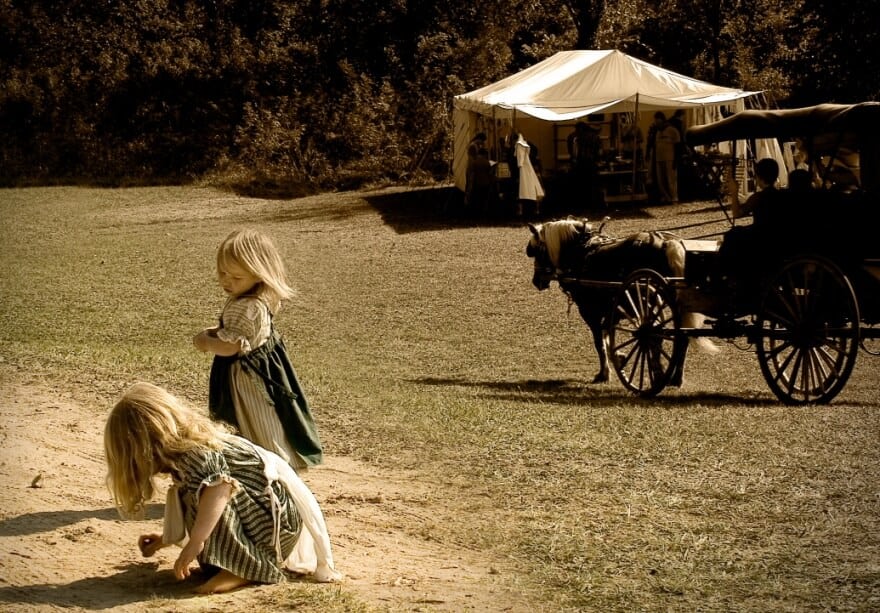 You see, history is, in fact, a bunch of stories, not a bunch of facts. So why shouldn't it be presented in story form? Kids have a hard time connecting the dots between dates and people and events, which is the way history is taught from traditional history textbooks.
Teaching history from a narrative point of view just makes sense. A narrative history book tells the story of an era or people from an era in a conversational style. It is like sitting at the feet of a wise older person and soaking up the bits and pieces of their lives.
When you learn history in this way, you learn much more than the facts and dates and events. Yes, you learn them, too, but you also, unknowingly, read between the lines.
Narrative History Is Relevant to The Child's Own Life
As a person relates their story, they will naturally relate, through their story, the lessons that they learned. THIS is my favorite aspect of narrative history. You don't just learn what happened; you learn how what happened affected the person that experienced it and what they learned from that experience.
This gives the child a reason to learn history. They can think about how the lessons are relevant to their own lives because they can picture themselves in the shoes of the speaker and story, living it, and they will ask themselves, 'What would I do if I were them?'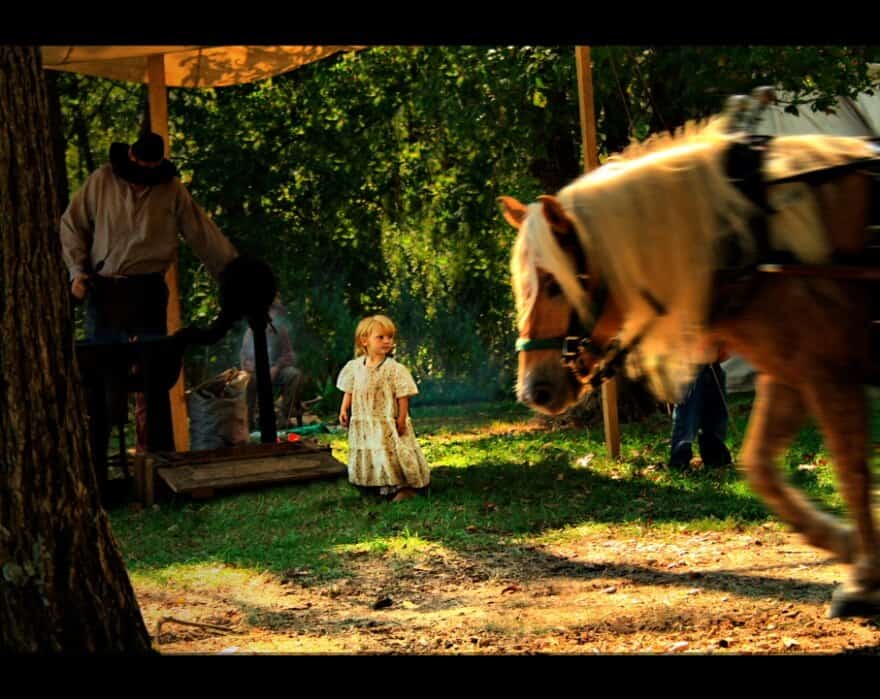 More Benefits of Teaching Narrative History
1. Narrative History Will Be Remembered
A traditional history textbook gives all the facts but it is very difficult for the child to remember those facts because they have no meaning or connection to the life of the child. What is the point of teaching if the lesson is not going to be retained? Most history lessons are just memorized and forgotten.
2. Narrative History Teaches Ideas Rather Than Facts
Let's take, for example, the life of George Washington as a child. When you present to them the fact that George Washington had good manners as a child, it doesn't really sink in. It's just a fact at this point. But when presented in a narrative style, you get much more meaning from the same point.
George took great pains with all he did. His copybooks have been kept, and they show that his handwriting was very neat. He also wrote out over fifty "rules for behavior in company." You see that he wished to be a gentleman in every way.

— Edward Eggleston, A FIRST BOOK IN AMERICAN HISTORY
This makes the child think and brings many questions to their mind:
"What does 'taking great pains mean'? Do I do that?"
"Do I have neat handwriting?"
"What does it feel like to be a gentleman?"
3. Narrative History Teaches Morals
I'm a big believer in making the best use of each subject and integrating ideas of morals and values into the very heart of the lessons. Narrative history books don't just teach facts, they teach morals.
They teach kids to think for themselves and about themselves. They make history relevant to the child's life.
4. Narrative History Teaches Kids to Think
They don't just teach the child what to think but how to think. As these questions enter their mind, they will begin to process the answers. They are not given a question that has a fact for an answer but they think of a question that must be explained and thought about.
5. Narrative History Encourages Reading
This style of teaching history also encourages reading. Once a child is introduced to great stories, they will want to hear more great stories. My children are always eager to hear about the lives of great men and women in history when I teach this way. They become better at recognizing good literature when they hear it, too.
6. Narrative History Encourages Time Together
As narrative style reading is so easy to understand, it can be enjoyed by many ages at the same time. Both my older children and my younger ones can benefit from the same book.
My children and I all enjoy reading our narrative style history books aloud together. This creates many memories and is a natural way for children to learn.
Narrative-style History Curriculums
There are many narrative-style history curriculums and individual books available. Try choosing just one short biography to read to your children and you will soon be hooked just like we were.
When you are shopping, these are also called "living books" because they bring the lessons to life. They are a cornerstone to the Charlotte Mason education.
The stories of our history should be brought to life for our children and passed on and on. There are so many wonderful lessons to be learned in much the same way as I learned sitting at my grandpa's feet.