Top 10 Educational Websites for Multiple Subjects of 2017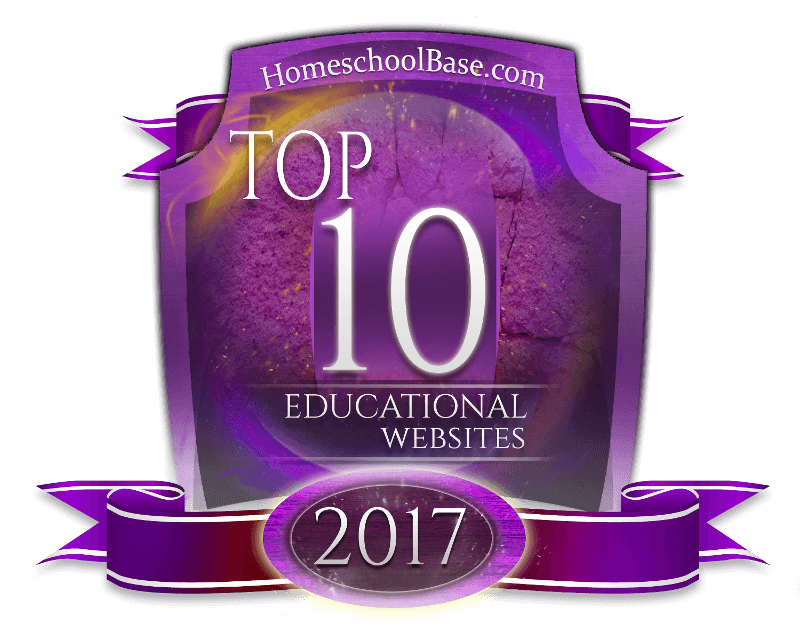 Our TOP 10 Educational Websites are all recommended by multiple teachers, home educators, and homeschool parents through various feedback channels. All sites have received our Purple Stamp of Approval that honors exemplary websites/apps that offer quality, innovative, unique, cost-effective, or significant value to teachers, educators, and homeschooling families. None of these websites paid to be on this list. We hope you enjoy browsing through our list and discovering new sites that can improve your homeschool in the upcoming year. 
The majority of websites on this list provide complete curriculum solutions. All sites offer superb educational materials for an extremely wide range of subjects and disciplines. Readers might also be interested in the Top 10 online schools and academies that afford students enrollment in fully accredited online education.
GCF Learn Free
GCFLearnFree.org is a leading example of free, online, quality education with 180 topics, 2,000+ lessons, 800+ videos, and 55+ interactives and games. This program offers their content as self paced tutorials. It's available 24 hours a day so it fits any schedule. All you need is an internet connection and you're ready to start.
GCF is one of the most used and frequently recommended educational websites. Why? There is not a single cost -- no premium, upgrades, paid certificates, or bonus materials. According to our homeschools, GCF has the best Microsoft Office tutorials on the internet, an essential skill for everyone to master. A free account enables users to track their learning activity. Homeschools use this as progress report and can print a transcript if needed.
Homeschools are excitedly looking forward to 2017 when GCF will be re-opening their free online classes - classes.gcflearnfree.org.
Crash Course
Some homeschool parents rely on Crash Course videos for every subject in their school. No other YouTube channel came close to garnering the praise and recommendations that Crash Course received. Crash Course creates extremely high quality educational videos for free. In business for over 3 years, they offer more than 15 different courses, and have hundreds of millions of views. Crash Course videos are appropriate for high school and college prep. They also offer another channel for younger students, Crash Course Kids. Their videos are so exceptional that your kids will watch them just for fun. Crash Course also offers World History lesson plans.
E-learning for Kids
E-learning for kids (EFK) represents unparalleled excellence in free online primary education (ages 5-12). They offer 800+ courses for children in Math, Science, Language Arts, Computers, Environmental, Health and Life Skills. Some of their lessons are even available offline.
Our educators and homeschoolers applauded EFK as the best curriculum supplement for multiple subjects, as well as an excellent resource for students who need extra practice in specific subjects.
Why is EFK so highly recommended? Homeschoolers, teachers, and educators highlighted that EFK is based on well researched standards and first rate quality courses and lessons. This company also truly appreciates and welcomes feedback. To learn how to get started today, visit their page, How to Use EFK.
Homeschool Complete
Designed and branded for homeschoolers, Homeschool Complete is an all-inclusive (complete) homeschool curriculum available for Kindergarten and 1st Grade. It was the #1 most recommended curriculum for early education by our homeschoolers! One reason why home educators love  Homeschool Complete is because author Debra Arbuthnot was a homeschool mom to her 3 children and has 25 years of teaching experience at the Elementary, Junior High, and High School levels in both public and private schools.
The Critical Thinking Co.
The Critical Thinking Co. has been producing educational products of the highest quality since 1958. Our home educators recommended a full spectrum of subjects, resources, and products from their website which earned them this spot as a Top 10 Educational Website for multiple subjects. Specific recommendations focused on their award winning solutions for Gifted Education, their website as the best Ecommerce shop for education, and their online playroom for demos of educational games.
Time4Learning
Time4Learning is the most popular (paid subscription) complete learning system among our homeschoolers. Time4Learning is an online homeschooling curriculum designed for Pre K-12th grade students. We also received extremely positive feedback for utilizing Time4Learning as an after school enrichment option. It is clear from both surveyed comments and discussions on Time4Learning forums that this company equips homeschooling families with everything they want or need. Learn more about the award-winning complete online solution on their website.
Apex Learning
Although Apex Learning offers a full online school program, the overwhelming number of homeschools who recommended Apex use it as a supplement in their teaching. Apex offers over 100 individual, accredited online courses. Homeschool high school parents searching for a program that can address a variety of learning needs will find a solution with Apex. Additionally, Apex Learning received volumes of praise for their support system.
Khan Academy
Khan Academy is the only website to earn a Top 10 award in two categories. The Khan Academy platform contains practice exercises, instructional videos, dashboard analytics and teacher tools which empower learners in and outside of the classroom to study at their own pace. Their learning experience adapts to each individual, helps them to see their progress and goals, creates personalized recommendations about what to learn next and motivates them to master the skills they seek. For more information, read Khan's listing under Open Course Education.
Thinkwell Homeschool
Thinkwell has produced effective video-instruction curriculum for homeschoolers seeking advanced high school instruction. The homeschools that nominated Thinkwell as a Top 10 website appreciated that Thinkwell hand-picked some of the best educators in the country to teach their courses. Thinkwell is best for AP courses and early college level courses where they offer a variety of core subjects. Find out if Thinkwell is right for you by requesting a free course.
Alpha Omega Publications
Alpha Omega Publications earned some of the most all-around positive responses from our Christian homeschool families. They have several educational options available that received nominations. The two most popular products they offer are an online Christian homeschool curriculum and a computer-based learning curriculum.
AmblesideOnline
AmblesideOnline is the most popular free homeschool curriculum that uses the Charlotte Mason education. This style of education uses "classically-based principles to prepare children for a life of rich relationships with everything around them: God, humanity, and the natural world." The homeschools that use and recommend AmblesideOnline also praise the Facebook support group, and the Ambleside support forum.
---
Still haven't found what you're looking for? The following resources may be of interest to you: free homeschool curriculum, public domain resources, free ebooks, and homeschool curriculum reviews.
Media Contact: [email protected]
Last modified: February 6, 2017