Trump's New Secretary of Education Betsy DeVos a Strong Supporter of Homeschooling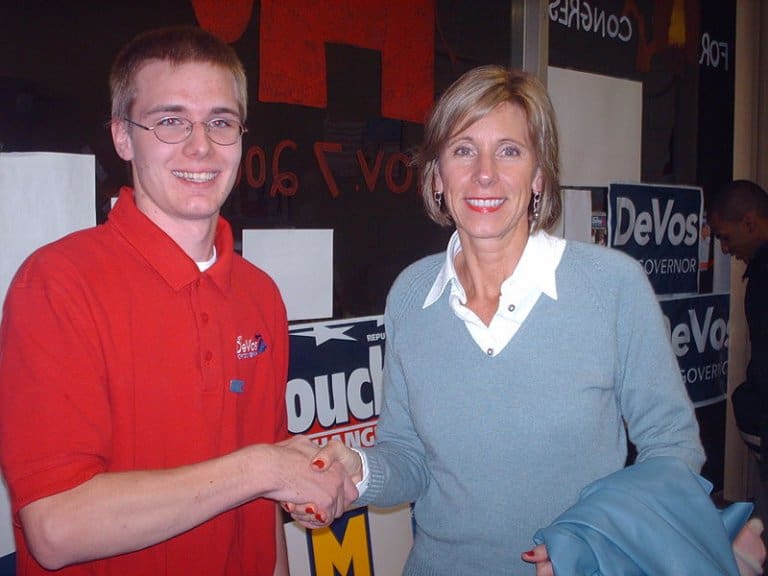 UPDATE: After much controversy over Common Core Betsy DeVos announced she does not support it. A statement is available here on her website. If you are a homeschooler from Michigan and would be interested in writing an op-ed about DeVos, please contact us.

BREAKING: President-elect Donald Trump has named Betsy DeVos as his nominee for education secretary. She is a conservative activist and billionaire philanthropist who has backed and encouraged private school voucher programs nationwide. DeVos is chair of the American Federation for Children (AFC). Based in Washington, D.C., the AFC is a single-issue organization devoted to expanding school of choice options across the country. Her father-in-law is a co-founder of Amway.
Her nomination is expected to face strong opposition from public school advocates, who oppose her efforts to funnel taxpayer dollars from public to private and religious schools.
"DeVos, 58, is seen as a national leader in the school choice movement, which she has called an attempt to "empower" parents to find good schools for their children, whether they be traditional public schools in other neighborhoods, charter schools, virtual schools or private institutions." [source]
Trump said, "Under her leadership, we will reform the U.S. education system and break the bureaucracy that is holding our children back so that we can deliver world-class education and school choice to all families."
Trump's campaign stance on education: "A lot of people believe the Department of Education should just be eliminated. Get rid of it. If we don't eliminate it completely, we certainly need to cut its power and reach." - from his book, "Great Again: How to Fix Our Crippled America."
"The status quo in education is not acceptable," DeVos said. "Together, we can work to make transformational change that ensures every student in America has the opportunity to fulfill his or her highest potential."
DeVos on Home Education
As a strong supporter of school choice, it is correct to assume DeVos supports traditional homeschooling. DeVos was interviewed for the Spring 2013 issue of Philanthropy magazine. This is what she said about homeschooling:
MRS. DEVOS: Homeschooling represents another perfectly valid educational option. We've seen more and more people opt for homeschooling, including in urban areas. What you're seeing is parents who are fed up with their lack of power to do anything about where their kids are assigned to go to school. To the extent that homeschooling puts parents back in charge of their kids' education, more power to them.
PHILANTHROPY: And charter schools?
MRS. DEVOS: Charter schools are another choice—a very valid choice. As we work to help provide parents with more educational choices, it is always with the assumption that charter schools are part of the equation. We think of the educational choice movement as involving many parts: vouchers and tax credits, certainly, but also virtual schools, magnet schools, homeschooling, and charter schools. Source: Philanthropy Magazine
In September 2016, the current administration's Education Secretary, John King, Jr., said that "students who are homeschooled are not getting kind of the rapid instructional experience they would get in school—unless parents are very intentional about it." [source]
What does this nomination tell us?
What are your thoughts? Tell us on Facebook
It seems that Trump intends to go through with his sweeping voucher plan. His plan is exactly what DeVos has "zealously worked" to make happen on a state-by-state basis for decades.
School oversight might not be the education department's top concern.

Updated: Before DeVos clarified her stance on Common Core it was up in the air as a potentially iffy issue due to her affiliations and donations to pro-Common Core organizations. Her past ties suggest that she supports the effort to raise and standardize expectations of what students should learn in each grade. [source] Nevertheless, she announced, very clearly, that she opposes Common Core, period.
Update: Mixed media responses
West Michigan Politics reported that, like Donald Trump himself, the DeVos family has donated to the Clinton Foundation: The Doug and Maria DeVos Family Foundation donated between $50,000-$100,000. 
Buzzfeed News reports that: DeVos is in most ways a conventional choice for the position: a longtime advocate of alternatives to the public school system, with close ties to many on Capitol Hill, she is closely aligned to Republican education officials like Sen. Lamar Alexander and serves on the board of Jeb Bush's education foundation. [source] 
Frank Cannon, president of American Principles Project, also released the following statement: It is puzzling, then, to see reports that the Trump transition team is considering an establishment, pro-Common Core Secretary of Education – this would not qualify as 'draining the swamp' – and it seems to fly in the face of what Trump has stated on education policy up to this point.
In March, she told the Washington Examiner, I don't think Donald Trump represents the Republican Party. I continue to be very optimistic that as we get further along into the process, the more voters know about him, and the more informed they are, the more they're going to continue to break away.
Update #2: Clarification on Common Core
After much controversy, DeVos has made it very clear that she opposes Common Core. This is contrary to her historical record of voicing support for Common Core State Standards. For further reading, see The Detroit News article.
Do actions speak louder than words? According to PRWatch, the public elementary, middle, and high schools in DeVos's school district in Grand Rapids, Michigan, are highly ranked. Nevertheless, she never sent any of her children to a public school. Instead, DeVos said that her two daughters were homeschooled for a number of years.
What are your thoughts? Tell us on Facebook
18 Responses to "Trump's New Secretary of Education Betsy DeVos a Strong Supporter of Homeschooling"