Review: The Best Instant Pot Accessories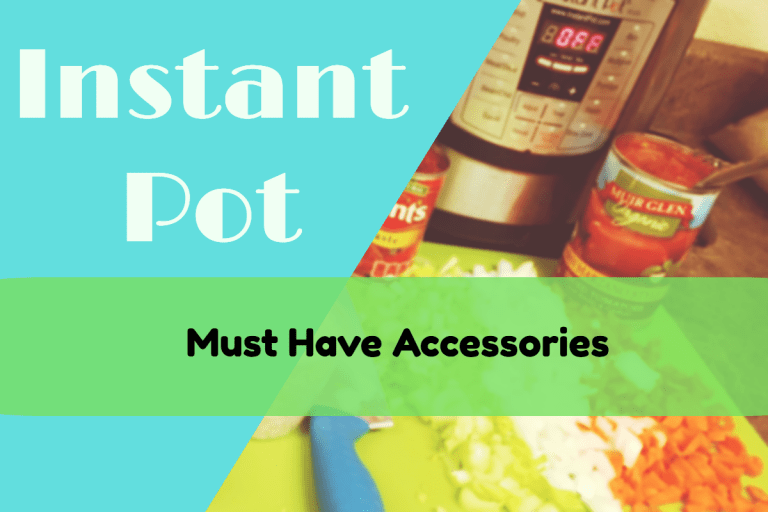 A few weeks ago one of my friends asked me for some advice on what add-ons/accessories she should use with her new pressure cooker. So, I figured if I was going to put in the effort, I might as well publish it too. I'm going to continue to update this list when I discover more products that I actually enjoy using. This page has all of the accessories and products that I actually use with my Instant Pot (review). I'll try to explain why each product is useful. The links to products, accessories, and cookbooks lead to Amazon unless otherwise noted.
Before we start, I'm assuming you already have the The Instant Pot Cookbook.
Silicone fingertip mitts
I use these every single time I use my Instant Pot. If you already have great mitts, there is no reason to buy another pair. But definitely, always use your Instant Pot with good quality mitts. Why? ... safety.
It is really hard to say no to a 100% lifetime guarantee on the Heat Resistant Silicon Gloves - 1 size fit all. Plus, they are so hip.
The best trivet for Instant Pots
I can't live without this one - Long Handled Silicone Trivet - which is designed specifically for the Instant Pot. Why is this the best trivet available? Well, besides constantly going out of stock, this is the best way to remove different foods from different 'levels' within your pressure cooker. It is also your solution for stopping certain items from touching the bottom of the pressure cooker. I use mine to keep certain foods raised up.
This is a similar concept to a roast, like you might do with a duck or chicken. The concept is also similar to a steamer basket.
A glass measuring jug

I didn't say "cup," I said jug. My personal favorite is one of the large Pyrex jugs. What do I use it for? This jug is used for many things, but most often for steel cut oats / oatmeal, rice, and baby carrots. It is even handy for reheating soups.
An example: This measuring jug sits (very easily) on top of curry with the rice cooking inside it. The handle makes it easy to lift out too. When I cook rice and curry, I use the lowest trivet. I let the jug sink down naturally into the curry, as far as the trivet will allow. There are lots of different trivets available, and you can make your own too. But do know that if the trivet is too high, the jug isn't going to fit inside your pot.
Buy the glass lid
Update 2017: This is by far the most popular based on feedback I've gotten!
At first I didn't think I was going to need this. I didn't buy it for myself, my daughter did. I guess she researched accessories as well, or talked to a friend. Why did I change my mind? I found out after a while that my Instant Pot had a hard time keeping my food warm with the 'default' lid. Price check the Instant Pot glass lid on Amazon.
Tongs
These are my personal favorite tongs to use with the Instant Pot - Topoko Kitchen Stainless Steel Exquisite Bowl Pot Pan Gripper Clip. This will really help you put some distance between your hands and the pressure cooker... especially if you don't always remember to put on your silicone gloves. I use it for taking pans out.
Push pans
Don't be fooled, these have many uses other than cheesecake. Personally, I think that using them for lasagna makes the presentation flawless. There are many different sizes, and you will most likely already have one that works. Here are a few good options:
If you aren't sure what to use them for, yes you can actually make cheesecake!
Immersion stick blender
I use the Cuisinart SmartStick to easily blend soups and other stuff inside my Instant Pot. It is cordless and a breeze. I can't go back. Here is a video demonstration.
Extra Instant Pot parts
A second sealing ring (or a third)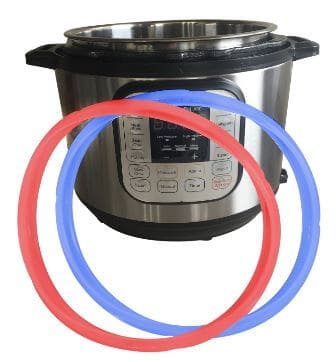 Why would you need a second sealing ring? If you are like me, and cook quite a few dishes that are very strong in flavor, you'll be able to designate a second sealing ring for sweet foods and bland foods. You might even want a 3rd for further categorization of foods.
A bit eccentric or unnecessary? Maybe for the occasional Instant Pot user, but extremely useful for a regular or heavy user.
Why? These rings will retain strong smells from foods with garlic/onions. Therefore, I keep one ring for desserts and foods without odors, and use the original one for strong dishes / everything else. They sell these rings in different colors so that you don't mix them up! At some point after heavy use, you will also need to replace the sealing ring  -- simply because it becomes warn out.
This isn't an item you need to buy in a rush, maybe wait a bit and see if it goes on sale, but you should buy one before you find yourself needing it!
An extra inner pot
#1 Best Selling - Instant Pot Inner Pot with 3 Ply Bottom, 6 quart, Stainless Steel.
You may even want to buy two additional inner pots. Why more than 1? I bought my first extra inner because I wanted to leave one pot in the fridge with leftovers. Then I discovered that if you are making multiple courses (or you need to cook your meal in different batches) you pretty much have to get more than one.
I personally store my yogurt in its own container, but I know several people who store the yogurt they make in the pot. Sometimes instead of cleaning out the pot I've just used, I'll make a second dish in my spare pot. This saves me some cleaning time.
Price check an extra pot on Amazon.
The best inserts for your pressure cooker
A good steamer basket
There are several options for steamer baskets. This is the one I use - Endurance Stainless Steel 3 Quart Wide Rim Mesh Basket.
My mother-in-law uses this steamer - Stainless Steel Collapsible Vegetable Steamer 12 Inch - which serves a very similar purpose.
A steaming rack
This is the one I personally use - Household Stainless Steel Cooking Ware Steaming Rack Stand 7" Diameter.
Another Instant Pot!
The best accessory for an Instant Pot is another Instant Pot! If you cook with your pressure cooker all the time, you might want to consider buying a second one for simultaneous cooking! Make sure to read our review of the instant pot ip-duo60.
If I forgot one of your favorite instant pot accessories, let me know and I'll buy it, test it out, and see if it is worthy of inclusion!
8 Responses to "Review: The Best Instant Pot Accessories"