The Best Bassinet for Your Baby's Comfort and Your Peace of Mind
So, You're Looking for the Best Bassinet?
As parents, its pretty easy to get caught up in the debate of cribs vs. bassinet. First-time parents are already confused about what they should buy, and the online discussions about their differences can make things even worse.
So, rather than comparing both (read about that here), let's just assume that you want a bassinet, and you're on the hunt for the best bassinet on the market. Our quick guide below will lead you towards purchasing the best product on the market, catered to your needs.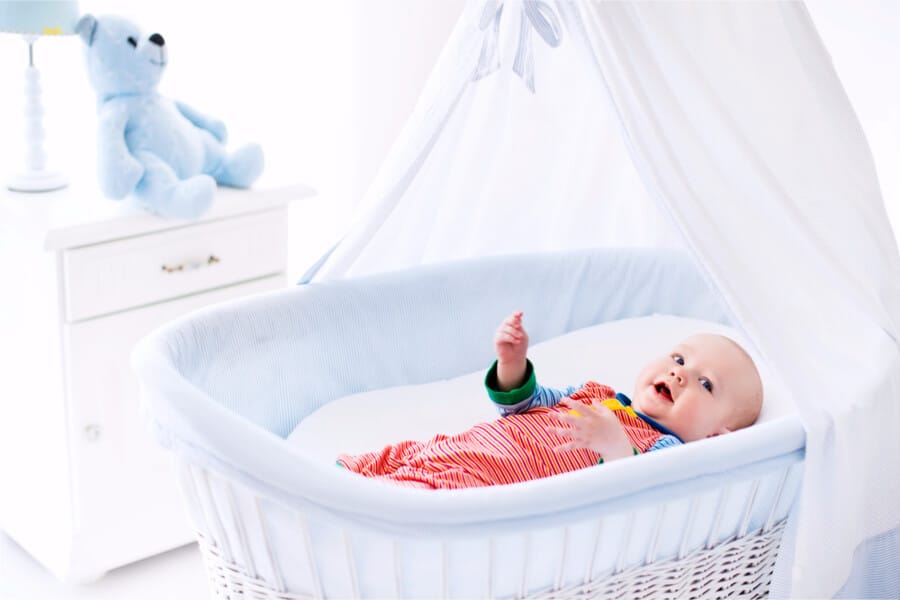 We know you're busy. Click a link below to jump to a specific part of this guide.
Best Bassinet – Top Recommendations
One of the things that many bassinet makers forget while manufacturing them is the comfortability factor for the parents, but that's not the case with Graco Pack N Play Playard bassinet. This bassinet has features that make it perfect for a baby and a convenience for parents. It is a combination of multiple materials: metal, plastic, and polyester.
Here are the best features of this bassinet:
It offers wheels for smooth movement and even a handle for parents to carry the basket around.
All around the bassinet there is mesh to allow proper wind ventilation for baby's comfort.
The bedding area can be removed to convert the bassinet into a play area for the baby.
There is a toy bar right where the baby's head will rest with some stuff toys hanging.
The folding mechanism of this bassinet is its biggest highlight. It folds easily in the middle to become so small that it will easily fit in your luggage.
Because the price is very reasonable, I think you will agree this product offers fantastic value. It is designed for children weighing 15 lbs. or less.
This particular bassinet is completely different from the first one. This is more suited for parents who are looking more into in-home mobility rather than traveling with a bassinet. Delta Children Sweet Beginnings bassinet is also meant for children weighing 15 lbs. or less, which is something you need to keep in mind when you make a buying decision. Here's a look at the most important features of the Sweet Beginnings Bassinet:
Most important features:
The overall look of this bassinet is towards the "cute" side, which is not the case with Graco Pack N Play, which has a more functional design.
The product is incorporated with a beautiful canopy. You can add or remove the canopy at will.
There's also a gadget fitted on it that throws dim nightlight and plays certain tunes to put the baby to sleep.
There is no question about its sturdiness as its frame is made of steel.
The caster wheels at its feet make it easy for parents to move it around the house.
There's also a storage basket at the bottom large enough to accommodate a lot of your baby's essential stuff.
This one offers great value as you can get your hands on it for a great price.
This is the most expensive bassinet on this list, but undoubtedly the most intelligently designed out bassinet out there. A lot of the focus with this bassinet is in the comfort and convenience of a mother who will be tending to her baby. Here are some specs and the coolest features of HALO bassinet swivel sleeper.
Specs and Features:
This bassinet is designed to hold a baby of up to 30 pounds.
It is a perfect blend of functionality and cuteness – something you will notice at first glance.
The bassinet rests on a strong stand with four outward extending feet for maximum stability.
There is 360-degree swiveling and rotation on this bassinet so you can tend to the baby while lying in your bed.
The height of the bassinet can be adjusted according to the height of your bed.
The side wall of the bassinet moves down automatically with the weight of your hand when you're picking up the baby. You can even lock it with a locking mechanism.
The design of this bassinet allows you to have your baby right by your side while you are sleeping in your bed.
There is a nightlight, lullabies, nursing timer, etc. that can be easily adjusted with a control system located out front.
The price of this premium bassinet is higher than the previous top picks, but it easily delivers everything that would justify the price. This can be the best gift you can give to a loved one who's about to be a mother.
The Bottom Line
So there you go – a string of some of the best Bassinets that you can get your hands on.
Still unsure why bassinets are important? Wondering how we made these recommendations? Do you want to know how to tell a quality bassinet from a cheap brand? You'll find the answers to these questions and more below.
Importance of Using a Bassinet
Any type of bassinet (or cradle) is a good choice so long as it ensures your infant stays close to you at night without literally sharing your bed. Why shouldn't babies share a bed with their mother?
Myths about co-sleeping and bed-sharing run rampant through Facebook groups, viral articles, and mommy bloggers. Bed sharing when your child is still an infant is opposed by American Academy of Pediatrics. The reason for not sharing a bed is SIDS (sudden infant death syndrome), a risk that increases in likelihood when parents share beds with their babies. However, co-sleeping is recommended by most childcare experts.
But infants do not have to be in the same bed to "cosleep," as a bassinet next to the bed, where baby and mother are within range of detecting each other's signals and cues is all that is necessary.

— University of Notre Dame [source]
How to Choose the Best Bassinet
The tips and points given below should help you identify and pick a top-notch bassinet, especially if you are in-store shopping.
First, turn your attention to the base of the bassinet. It needs to be rock solid – shaking and squeaking noises are unacceptable.
A soft mattress is not recommended because it becomes a suffocation hazard. Pick one that is rather firm.
The mattress should be big enough to fit perfectly inside the bassinet leaving no space between the sides and mattress edges. This is also to avoid any risk of suffocation.
The edges and corners of the bassinet's body should be rounded and definitely not pointy. If it is made of wood, make sure it's not brittle or have nails or other sharp components protruding that would harm the child.
Look for a JPMA seal which certifies the product is tested annually by independent laboratories to ensure the product meets the highest safety requirements.
Always look at the weight limit on the bassinet.
Folding mechanisms can be incredibly convenient, but also pose a safety threat.
One of the reasons bassinets are loved by parents is their portability. If you're in this category, check if the bassinet comes with a canopy and other similar features that will further increase its versatility.
Finally, always go for one that easily fits your budget. Bassinets are most suitable for babies up to 4-6 months, so keep in mind that you will have to buy a crib/upgrade sooner or later.
6 Quick Safety Tips
Always buy new, never used.
Register your bassinet to receive updates, recall information, and alerts from the manufacturer.
Although the idea of a heirloom cradle may be enticing, it is definitely not up to modern safety standards.
Never place your infant into a bassinet without first locking the wheels.
Never leave your baby in the bassinet while you transport it from room to room.
Loose fabric is a suffocation hazard. So are stuffed animals.
From Our Home to Yours
See more
Reviews