Bassinet vs. Crib
What's Best for Your Baby (and YOU, the Parent)?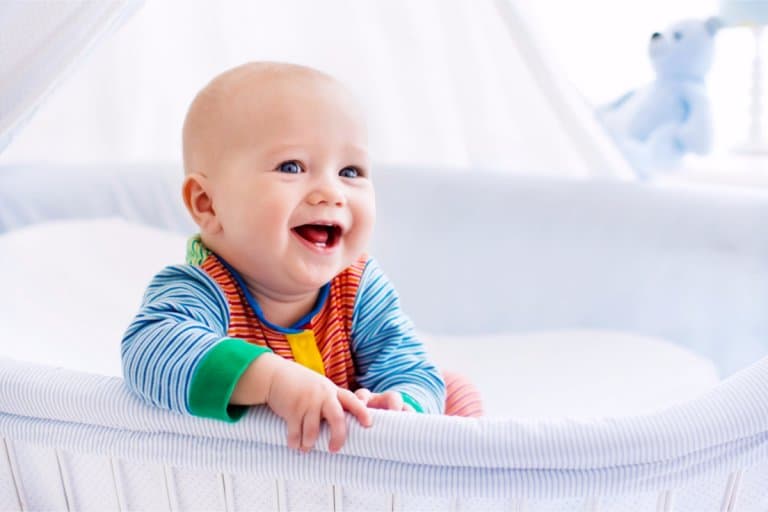 I've encountered many soon-to-be parents who are a little confused about whether to buy a bassinet or a crib for their baby. Your child is going to spend a significant part of the day, about 16 hours or more, sleeping or resting while lying down on its bed! You obviously want only the best for your baby, and this post was written to help you pick the right type of bedding arrangement for your newborn while keeping your convenience as a parent in mind as well.
Before we get into the pros and cons for bassinets versus cribs, it is important to understand that a bassinet can only be used for a maximum of 6 months. In fact, depending on how quickly your baby grows and learns to move and change body positions, you might need to abandon a bassinet in as little as 3 months. (The usual time frame is 4-6 months.)
After hearing this, it might seem like buying a bassinet is a rather bad idea. But, the fact of the matter is that a bassinet offers several key advantages over cribs, even if it is essentially going to be useless after 3-6 months.
If your budget can afford it, we would, in fact, recommend that you first use a bassinet and then move your baby to a crib.
Advantages of Choosing a Bassinet
1. Portability and easy to use ergonomics
The average bassinet only weighs around 10 lbs. Since they usually come on wheels, moving it around from room to room is welcomingly easy. What new parents really love about a bassinet is that it doesn't require a lot of bending or physical strain or effort to place a baby inside of one.
Most bassinets are at about the same height as a bed, allowing tired mothers to cajole, lift and put back a baby, all while being seated on their own bed, after having suddenly woken up in the middle of the night.
Bassinets are especially recommended for mothers who have had a C-Section or are actively experiencing back pain issues.
2. Allows co-sleeping with a separate sleeping area for the baby
The American Academy of Pediatrics recommends co-sleeping with the baby, but only if the baby is able to sleep in a separate area from the parent's bed. Now, if your master bedroom isn't a large one, fitting a crib to allow your baby to co-sleep with you is going to be challenging. A bassinet, on the other hand, is extremely convenient because it can be rolled in just for the night. And during the day, just move it out to the nursery.
3. Snug fit for the baby
Some babies just sleep better when inside a bassinet, as opposed to a crib. When you think about it, a crib mattress is a rather sprawling space for a little baby. On the other hand, a bassinet is warm, cozy, and comfortable, giving your child a womb-like feel for it to peacefully sleep in.
4. Canopy and storage feature
Bassinets come with adjustable canopies that you can use to block out light while your baby sleeps during the day. Some of the best bassinets will also give you canopies that double up as mosquito and bug nets. Thanks to breathable fabric, fresh air can easily permeate while keeping disease-ridden insects out of reach.
Almost all bassinets will come with at least a little, if not ample, storage space beneath where the baby sleeps. Here you can easily store towels, toys, wipes, or the million other things you need as a mother.
Disadvantages to Choosing a Bassinet
The obvious downside is that a bassinet will become obsolete after 3-6 months. Most bassinets support a body weight of only 15–18 lbs., after which your baby has to move on to a crib. Your child can also outgrow a bassinet if it learns how to roll or sit up. Bassinets are no longer suitable for babies who can roll. Rolling infants can turn over and suffocate, and babies that can sit up are in danger of toppling over due to their top-heavy weight. If your child is active in a seated position, it is time to move on to the crib.
A good bassinet will cost you $50 to $70. Although it might not be of any use after a few months, they offer a lot of advantages for both you (as a tired parent) and for the new-born baby (that needs a lot of comfort and pampering).
Advantages of Choosing a Crib
1. Cribs can last for years
The biggest selling point for a crib vs. a bassinet is that it can be used for quite a considerable time. A crib can easily be great sleeping accommodations for a baby until it reaches the age of 2. Even beyond that, some cribs offer for toddler modifications that allow you use it for even longer. There are in fact some 7-in-1 cribs that can serve as a crib, toddler bed, day bed, youth bed, and even a full-size bed.
2. Many mattress choices
Buying a crib will give you several mattress options. Since cribs come in standard sizes, you will have the flexibility to try new mattresses if your baby doesn't seem comfortable on a particular padding, without being worried about whether the new bed will fit your crib. A lot of crib mattress manufacturers also sell dual sided mattresses that allow a softer side to be used for up to a particular age. Later on, it can be turned over, and the firmer side will support a heavier baby.
Super heavy baby? Most cribs also allow the use of more than one mattress. The crib can support quite a lot of added body weight as the baby grows.
Disadvantages of choosing a crib
Most likely, your crib is going to be rather large and heavy. Weighing in at about 50 LBS with a mattress, they usually take up an area of about 55 x 35 inches. This is quite a lot of area, especially if you only have a small nursery room.
Another common peeve that parents have with cribs is that it can be difficult to bend over the railing to place the baby on the mattress, especially if the parent was too short or too tall.
Making a Decision
Hopefully, everything made sense to you. Succinctly, bassinets are incredibly handy. Cribs are unavoidably essential. If you have the budget for a bassinet, it is well-worth your money, and I suggest you browse the bassinet buyer's guide.
Now that you know the upsides and downsides of buying cribs and bassinets we will leave you to decide what is the best course of action.
In closing, here is one final piece of advice. Whatever bedding you choose to buy for your baby, it is imperative that you make sure it exceeds (or at least meets) all applicable CPSC and ASTM safety standards.