2018's Best Drawing Tablets for Beginners, Professionals, & More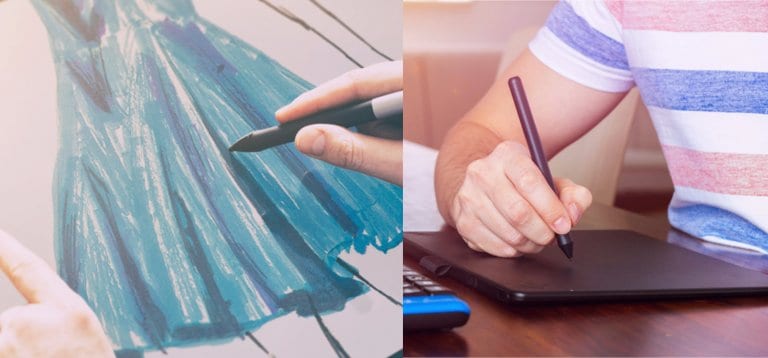 A good drawing tablet allows you to have the finest degree of precision in your work compared to using a mouse. A drawing tablet tends to offer you different levels of pressure sensitivity, especially when you're working on a detail-oriented illustration.
As an artist, I discovered that I had more control over jobs that came my way using a graphics tablet. It changed the way I interact with my computer. This experience makes me feel like I'm part of the image I edit. I can easily tilt my stylus pen, and move my hand and wrist in a more flexible and natural drawing position.
And this was only possible because I got the right graphics tablet. Yes, you need to be careful before you buy a tablet for drawing. For instance, you wouldn't want to end up buying an art tablet that won't give you enough pen pressure to work.
I was able to buy a super-duper art tablet after a lot of careful research. But the truth is, there are so many to choose from, with different pros and cons, that you want to take your time and choose wisely.
Essential Features of a Drawing Tablet
Before you scrutinize a drawing tablet, here are some important questions to answer before making a buying decision.
Does the tablet have customizable buttons?
Is it compatible with your PC?
Does the size of the tablet make a huge difference in the usability of the tablet?
Does it have high pressure sensitivity?
Does it offer a stylus pen that feels comfortable in your hand and works perfectly well?
After a lot of careful research, hands-on experience, and testing, I've done my best to make it as easy as possible for you to review the seven best graphics tablets on the Market in 2018.
Top List of Graphics Tablets Reviewed
Here is a quick overview table of the tablets we reviewed.
| Image | Model | Price | Reviews |
| --- | --- | --- | --- |
| | Wacom Intuos Draw (Old Version) | $45.49 | Read Reviews |
| | Huion H610PRO V2 10 x 6.25 inch Graphics Tablet Drawing Tablet with 8192 Battery-Free Stylus Tilt Function, 8 Shortcut Keys, Compatible with Mac, PC or Android Mobile | N/A | Read Reviews |
| | Samsung Galaxy Tab A with S Pen 9.7"; 16 GB Wifi Tablet (Smoky Titanium) SM-P550NZAAXAR | $95.00 | Read Reviews |
| | XP-PEN Artist22E Pro 21.5 Inch HD Pen Display Monitor Graphics Drawing Tablet with 16 Shortcuts and Adjustable Stand(8192 Levels Pressure) | N/A | Read Reviews |
| | Apple iPad Pro (128GB, Wi-Fi, Silver) - 12.9" Display | N/A | Read Reviews |
| | Wacom Cintiq 13HD Interactive Pen Display, DTK1300 (Old Version) | $500.00 | Read Reviews |
| | Microsoft Surface Pro 4 (256 GB, 8 GB RAM, Intel Core i5) | $186.00 | Read Reviews |
Prices in the table above were retrieved and updated on Thursday, March 30th 2023, 10:12am EST using the Product API - Pricing Information
If you're new and looking for a tablet that will give you the best overall experience, then the Wacom Intuos is probably the best option for you. Wacom is taking big swings with the new Intuos Draw CTL490DW. The drawing tablet is an all-new device that has been re-imagined from the ground up to give you an ideal drawing experience.
Effectiveness
Most professional artists know Wacom because of their top of the line graphics tablets. The company has managed to corner the market with the Wacom Intuos Draw CTL490DW.
One astounding feature that gives this device a leg up over other drawing tablets is the pen's ability to convey realistic texture. Wacom seems to have just nailed it with this model, the performance is brilliant.
Pros
Great tablet for beginners
The tablet is battery-free
High levels of pressure sensitivity

Perfect for texture drawing

The Stylus Pen works amazingly well.
Cons
The drawing area is small (for professionals, too small)
No eraser nib
Shorter pen nibs
No touch capabilities
Wacom Intuos Review
Maybe one of the most compelling video reviews we've seen for Wacom is below. Draw with Jazza proves that you can create "professional" art with an incredibly affordable tablet.... the Wacom!
Design
The design of this tablet is magnificent, robust and screams high quality at every corner. The Intuos CTL490DW is one of those devices that doesn't come with a screen built into it. The tablet is designed to sit on the side of the screen.
The tab is thin and compact, which means you can easily slip it into your backpack. On top of the tablet are 4 customizable Hotkeys you can use to customize your drawing.
Performance and the Stylus Pen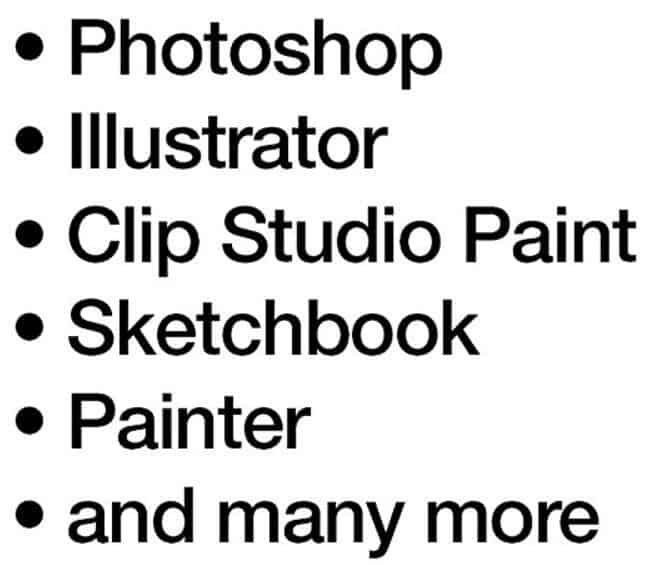 Wacom offers a stylus pen that has a thin and sleek design. Just like other high-end graphics tablets, the pen has 1024 levels of pressure sensitivity. I think you'll agree that pressure sensitivity is the most overrated stats on a graphics tablet.
The pen pressure works amazingly well with various tools and brushes. Wacom did pay a significant amount of attention to detail when designing this pen as it doesn't have a hollow plastic.
Did I forget to tell you that the pen is pretty light? Sure it is! The pen is thinner than a lot of other stylus pens that come with other graphic tablets of this type.
We also found out that we can run the tablet on PC. And I had no problem running the tablet on our Samsung Notebook 7 Spin.
Display
The Intuos Draw CTL490DW also features an active area that represents your entire screen. If you have a large monitor, you may have some difficulties using a smaller tablet like this one. That means a small movement on the tablet is going to equal a larger movement on the screen. The solution to this is to go for a tablet like the Intuos Pro Pen that offers a larger active area.
Software
The performance of the software is spectacular. To use this tab on your PC, you have to download the Wacom software and install it on your laptop. The installation process of the Intuos CTL490DW is a piece of cake. Thanks to their intuitive web interface. When you download it, you have to restart your computer before you can use it.
Battery
No Battery! All you need to do is to connect the USB cable to your laptop, and it starts working on its own.
Price
We positioned the Intuos CTL490DW as the prime choice for budget tablets. The Wacom usually retails at less than one hundred dollars, which is one of the best deals!
When you buy this tablet, you're buying into a brand name that has a reputation for producing top of the line drawing tablets that will last you for a long time.
Having tested the capabilities of this tablet for a few weeks, here is what we found.
Downsides
Some people may find the size a bit constraining as it is smaller than the Apple iPad PRO. But, that is what you'd expect from an entry level tablet. And of course, I don't see this as a deal breaker.
Bottom Line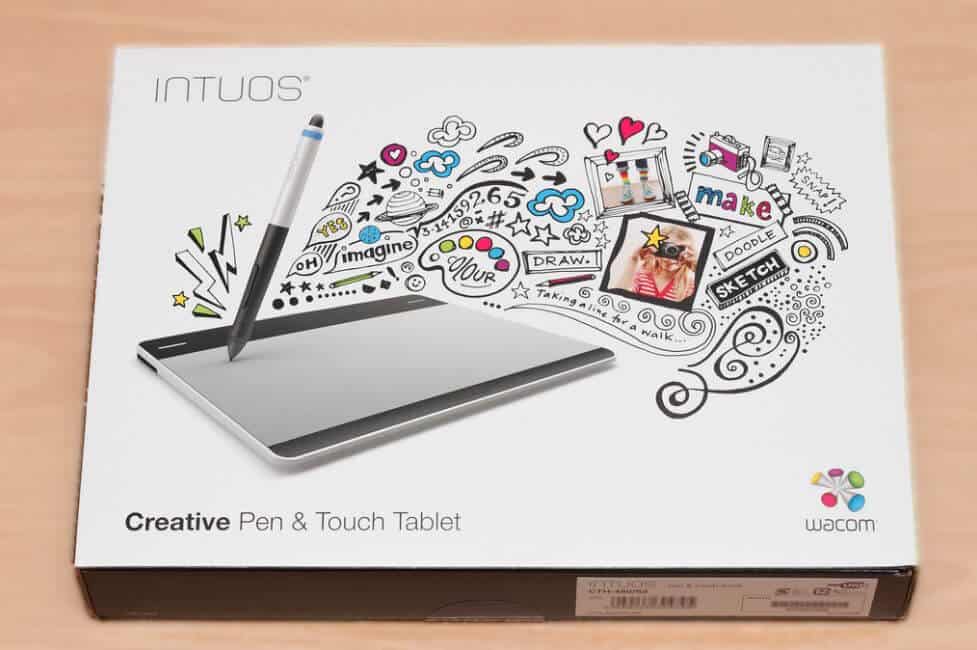 Overall, this is a solid graphics tablet. The fact that this drawing tablet is cheap and works amazingly like a premium tablet makes it an excellent choice for anyone.
Based on our experience, I can tell you that this tablet is better quality build than other more expensive tablets.
If you buy this tablet, you're paying for a top-notch quality tablet. You're paying for a good driver, support, and good drawing experience.
After using this device, seeing how the pressure sensitivity works, you're going to fall in love with this tablet.
Next up is another tablet specifically designed for art. But this time, you may recognize the famous brand, Huion. For those who don't know, the company is known for creating a plethora of top of the line Pen graphics tablets that have become increasingly renowned over time.
During our testing, we decided that the Huion H610 PRO might just be the best budget-friendly drawing tablet we used.
Effectiveness
The tablet is accurate, very responsive, and easy to operate. It is excellent for beginners, and it's perfect for any skill level as it brings a lot to the table for aspiring artists and accomplished designers.
Pros
Cheap and affordable
Gorgeous and Captivating design
Offers 2048 levels of pressure sensitivity
Great friction and control.
Features a black glove to reduce friction between your hand and the tablet
Unlike the Intuos CTL490DW, this one has a big drawing space
Cons
The Windows driver is a little bit outdated
The operation isn't as smooth as what you get from Wacom CTL490DW
Huion H610 PRO Review
Design
The design of this tablet is brilliant and captivating. It's quite thin, lightweight and doesn't feel flimsy at all. On the left side, you will find some buttons that have been pre-programmed with keyboard shortcuts. You'll see buttons like the undo, eraser, brush size, and a little hand tool button.
Performance and the Stylus Pen
Instead of 1024 levels of pressure sensitivity, the Huion H610 PRO beats the competition by offering 2048 levels of pressure sensitivity to give you the best texture drawing at a decent price. I'd say this is a vast improvement over the 1024 levels of pressure sensitivity common to most drawing tablets like the Intuos Draw CTL490DW we just reviewed.
More importantly, is the H610 Pro Stylus pen that offers a delicate plastic covering which feels genuinely pleasant. The pen has two buttons and feels quite sturdy and light.
It also offers a Stand that comes with four replaceable nibs, just in case one pulls off or when it needs to be replaced. But one little gripe we had is that the nib of the pen comes out quickly when it's pulled out. Anyway, if you're not going to be pulling it out, then there won't be a problem.
Display
The display quality of this drawing tablet is incredibly gorgeous and glows with very bright color.
Do keep in mind that drawing on this tablet is quite sensitive. The feeling of the nib on the surface of the tablet has an excellent friction and control. The outcome of your drawing depends on how you use your stylus pen on the tablet.
If you press down hard enough, you will get a thicker line than when you draw mildly. The thicker and lighter drawings depend on what you want.
Software
The software is very responsive and works perfectly well. It provides you with a lot of friction when you are drawing and gives you more control over your work.
Wobbly lines – this is something we commonly observed with most graphics tablets. Many have a tendency to produce wobbly lines, especially when you are drawing straight lines. But the Huion H610 proved us wrong. It gives you that perfect line in your artwork.
Battery
Keep in mind that the pen is battery powered. You need to charge it through a little charging port provided at the back of the pen. However, the best part of this is that the pen can last for 800 hours before needing another recharge.
Price
All-around, the best deal. Currently, the tablet is listed on Amazon for at what I believe is an excellent entry price. This tablet gives the best bang for your buck.
Bottom Line
For a budget tablet, the Huion H610 PRO drawing tablet delivers an excellent user experience. So if you are on a tight budget and you're looking for a tablet for drawing, we're 100% sure that this device will provide a good user experience. The Huion will also be sufficiently Splendiferous for designers, and professionals with substantial design work.
Samsung took the world by surprise when they released one of the most iconic graphics tablets on the market.
With the combination of premium features for designers and a multitasking system that allows you to run two apps at the same time, the Galaxy Tab A stays ahead of the curve with its premium features. Beginners will discover this tablet comes in handy because of its friendly interface and reasonably affordable price tag.
Keep in mind that we're going to be looking at this particular tablet from an artist point of view.
Effectiveness
The tablet proved to be pretty much outstanding in every area of our test. We discovered that the stylus pen worked incredibly well. Issues that plagued other stylus pens seemed to be absent.
Also, the device offers a multi-tasking system that lets you use multiple apps at the same time. You can confidently fulfill your artwork with this drawing tablet, knowing full well that it has an expandable Micro SD card slot for expanded storage.
Pros
Comes in a compact design.
Touchscreen sensitivity and fluidity work stupendously
Excellent viewing angles
Crisp and bright screen colors
Strong battery life
No wobbles or lag time
The pressure sensitivity of the stylus works flawlessly.
Cons
Takes longer time to charge the battery
It has a low camera resolution compared to other high-end devices
The tablet slows down when browsing the internet while other apps are running.
Galaxy Tab "A" Review
Design
The Galaxy Tab "A" looks quite similar to what you would expect from Samsung. Even the design alone makes a statement for itself. The Tab A features a classic plastic design that has an elegant feel and a gorgeous detailing. The looks alone can make you fall in love with this graphics tablets.
Instead of being bulky, the Galaxy Tab is lightweight and weighs around 1.5 lbs. The device is solid, well-made and offers 16GB ROM.
One major improvement is the introduction of important features like a micro SD Card slot, a headphone Jack, speakers and Front-facing 2-megapixel camera.
Performance and the Stylus Pen
The Samsung Galaxy S Tab 'A' comes with a great stylus pen that works surprisingly accurate. The pen doesn't feel cheap, and it has a stylish and skinny design. The performance is capable of translating your drawing into something that looks more natural and unique.
Taking the device through our standard drawing test shows that it doesn't have any wobbles or lag time. Just like the Apple pencil, the pressure sensitivity of the stylus works flawlessly. The palm rejection comes with a stellar performance compared to other devices. You don't have to worry if your stylus is close enough to the screen to engage the palm recognition.
Display
The Galaxy Tab A offers some pretty amazing features that are welcomed additions. For instance, this drawing tablet features a 1024*768 screen resolution that gives the screen bright colors and excellent viewing angles. In addition to that, the tablet offers a superb and a subtle contrast.
The adaptive display allows the ambient sensor to adjust the screen light based on your environment. So even if you are doing your sketching outdoors, the screen will adapt to that surrounding to ensure it's not so hard on your eyes.
Software
Regarding the operating system, Galaxy Tab A runs on the Android 5.0 Lollipop that features the latest version of Touchware. You can also browse the internet, search for artistic designs, and do your drawings at the same time.
I also love the fact this bad boy features an "Ask Finder" that lets you do a quick search on the device for anything you may need at that particular time.
Battery Life
The tablet sports a 6000 mAh non-removable battery life that can last you for days. The only downside is that it takes a longer time to charge the battery.
Price
Considering what this drawing tablet stands to offer, the price of this device is superbly affordable and reasonable. I'd say we found another steal with the price of this tablet.
Bottom Line
Overall, this is a great buy for anyone who is looking for a tablet that comes with a stellar performance. The fact that the interface is user-friendly makes it an excellent choice for both beginners and professionals.
Sadly, the Tab "A" is a bit lacking in display quality as it only offers you 720p picture quality compared to 1080p of screen resolution found on other devices.
Apart from that, the Samsung Galaxy Tab A with S Pen 9.7 could be overkill for a regular consumer. However, at the same time, the tablet is a dream come true for both aspiring and professional artists
If you're looking for a drawing tablet that will make your work look more natural and give it a personal touch, the XP-Pen Artist 22 is the best option for you.
The XP-pen is a perfect alternative to the Wacom drawing tablet. When we ran a test on this tablet, we had no choice than to fall in love with it. The tablet has a lot of unique features that set it apart from other devices
Effectiveness
XP-Pen Artist22 offers you on-screen painting experience at a decent price. The tablet is large, beautiful and offers high-end features. The artwork from this device is vibrant, colorful and captivating. Viewing your work on this tablet is a total joy. The tablet is perfect for digital drawing, painting of 3d sculpting, video editing and general web browsing
Pros
Features two stylus pens just in case something happens to the one you're using.
Excellent screen quality
Features a hand glove that prevents your hand from touching the screen
Vibrant color and good viewing angle
Compatible with graphics software
Smooth and accurate
Cons
The pen does not support tilt or rotation sensitivity.
The brand is pretty expensive
Pens are made from a cheap plastic design
The Stand most times interferes with the cable positioning
No eraser on the stylus pens
XP-Pen Artist22 Review
Design
The overall design of this bad boy is close to my platonic ideal of a modern drawing tablet. The XP-Pen features a hand glove, two stylus pens, a V-driver on CD, extra nib power, and connectivity wire.
Apart from those, you also get a screen wiper and a stylish makeup brush to clean finger prints and marks from the screen.
It comes with one USB to USB extension cable. So that if you want to work on your couch or something, then you can put in the USB cable into your laptop or computer. And if you'd ask me, I think these are great additions.
Did I forget to tell you that the monitor is large, beautiful and the materials are of high-quality? The tablet has a large 22 inch HD IPS screen which I would say it's the major selling point of this device.
Performance and the Stylus Pen
Like I earlier said, this bad boy features two pens that are so comfortable to hold. The design is almost the same weight as that of Wacom Intuos Pen. The fact that it offers two pens makes it stand out from others, which means you can have the spare one running while the other one is being charged.
If you decide to use this tablet, you're going to get 2048 levels of pressure sensitivity, which allows for realistic brush strokes. Sadly, the Pens do not support tilt or rotation sensitivity, unlike some Wacom tablets.
The monitor has a well-made adjustable stand at the back, which you can use to change the viewing angle of the tablet.
Display
The first thing that caught our attention about this tablet was the quality of the screen. The tablet has a large 22 inch HD IPS screen, which I would say it's the major selling point of this device. The screen features a 1920 x 1080p display, and it has 9 points of calibration with a 2048 level pressure.
The colors are vibrant; the contrast is out of this world! The brightness is even better than most drawing tablets around. The glass is smooth and allows your hand to glide across it effortlessly.
Software
Our testing shows that installing the software on this tablet took no time at all. All you just have to do is to head straight to the website and download the software. The software works without any hitch or whatsoever.
Battery
Just like the Huion H610 Pro, the stylus pen on this particular tablet is battery powered. The pen has a LED light to indicate when it's charging or when the battery is low. Based on our test, the stylus pen can last you for about a week before needing another charge.
Price
As you must realize, this is a graphics tablet that comes with a top-dollar price tag. But have it in mind that the number of unusual features that are packed into this tablet alone is enough to justify the hefty price tag it offers. With this device, you are getting the value for your money.
Basic steps to using the x-pen
The setup of this device is simple. First, connect the USB cable into the little USB slot on the side of the monitor. Then, plug in the HDMI cord into your laptop or PC. By doing this, whatever it is that you're working on will replicate on your laptop or computer screen.
Downsides
What we didn't see as fun was that the power and button menu was underneath the monitor. We figured out that this could be a pain to access if you have to keep tweaking your settings.
It would have made more sense if X-Pen had the menu placed on top of the tablet. Well, I still think this is not a deal-breaker since the screen looks perfect on its first startup. So, I don't see you tweaking any of the settings.
Bottom Line
Our experience with the XP-Pen Artist22 has been positive and has met all of our needs. The performance so far has been responsive and exceeded our expectations. Everything on it just looks beautiful and perfect.
The next up on our list is the legendary iPad Pro, which a lot of people are comparing with the Microsoft Surface Pro. Graphic designers are going to find this device as a tremendous asset to their various artworks.
Effectiveness
If you're accustomed to drawing on an A4 size sketch pad, you'll conclude that the iPad 19.7 is much more comfortable to use. Drawings in landscape and portrait modes are perfectly usable and features a pen that has high pressure sensitivity
Pros
High pressure sensitivity
Ideal for graphic designers
Higher screen resolution display
Larger screen size for efficient drawing
Importing and recording files are stupendously fast
Cons
No groundbreaking software or apps
Too big to be carried around
The tablet is expensive
The battery drains fast
You need third-party accessories for optimal performance
Apple iPad Pro (for Drawing) Review
Design
One thing we love about the Apple iPad Pro is how nicely everything is packed in a compact design. Unlike some other Graphics tablets, this isn't an absolute behemoth.
The tablet is lightweight, which means you can even draw with it standing. It has an aluminum back, and a Sheffard edged like a regular iPad. The tablet features a 12.9-inch diagonal display which is quite larger than any of Apple's previous models.
For storage, the Pro offers a 4 GB RAM and a 2.26 GHZ Dual core. It also features a 32GB storage capacity. With all these features, it can compete with the 12-inch MacBook Air.
Performance and the Stylus Pen
What convinced me that the iPad Pro is the ideal drawing tool for artists is the Apple pencil. Unlike the iPad 9.7, you're going to get less cramp in your hand using this pen. You can even do some awesome stuff like Paper by 53 Adobe Photoshop, AutoCAD, and 360 3D models.
Although working in landscape mode can be luxurious, if you use the portrait mode, you'll get as much more perfect work. Drawing a full body character from head-to-toe isn't a problem at all. It's even more comfortable using it in portrait mode.
Display
Another thing that tipped me to the Pro is the super high-quality display. The display tends to be the best I have seen. The iPad Pro is a significantly larger device to hold. But because this device is thin, you don't feel you're drawing on a large drawing tablet.
It comes in almost 13 inches, which is what you would expect from a standard Mac book pro. That doesn't mean it's larger than a 13-inch laptop. But you're going to find out that most of your pictures and angles are much wider.
Apart from that, the tablet delivers bright and vibrant colors. You're going to get a high screen resolution of 2736*1824, which is brilliant. I must admit, regarding higher screen resolution, the iPad Pro seems to beat the competition
Software
The software is intuitive and delivers much more accuracy to your drawing. Its advanced sensor is capable of detecting pressure and tilt while the touch system recognizes your hands, fingers and the apple pencil.
Battery
The iPad Pro comes with a larger battery life. If you're always drawing, you have to charge it for two and a half hours. If you draw casually, you may be able to use the tablet without having to charge it for a long time.
Price
Compared to what you pay for in other devices, I'd say this one comes with a top dollar price. However, you're getting a whole lot more than just drawing capabilities with the iPad.
Bottom Line
If you're looking for a drawing tablet that has one of the highest screen resolutions, dynamic design, and is packed with premium features, the Apple iPad Pro Graphics tablet will suit your needs.
This is yet another great one from the boss, Wacom. We are always struck by how Wacom consistently improves on its line of graphics tablets. This time, we're talking about the Cintiq 13HD Interactive Pen Display. Our conclusion: this is the most responsive tablet we've ever used.
Effectiveness
One unique thing about the Cintiq 13HD is that it makes your work more natural and gives you more flexibility. The art tablet is capable of boosting your creativity. It also acts as a huge setup for those who want a faster and creative turnaround in their design work.
Pros
Lightweight and sturdy design
Better screen resolution
Has high pressure sensitivity of 2048
Natural drawing experience
The display quality is crisp and clear
Cons
The Stand offers a cheap plastic design
The overall design is cheap
The connection cable isn't sturdy, and most times it obstructs your work operation.
Wacom Cintiq Review
Design
The design of this device seems like the combination of an Intuos 5 and a Cintiq 12WX. The Cintiq 13HD is a gorgeous, more compact and solid tablet that has a few high-end features that help it stand out from other art tablets.
The Graphics tablet weighs up to 1.2kg instead of 2.4kg, which makes it easy to carry around. The device can be held conveniently in one arm while the user draws with the other arm. The display is powered by the HDMI while the USB serves as the digitizer pen interface. The USB port gives you access to USB drives and keyboards.
Performance
The Wacoom Cintiq 13HD also delivers high levels of pressure sensitivity of 2048. The stylus also comes with a design that is similar to that of the Intuos 5 and it's created to function as every Wacom tablet. The Pro Pen comes in a neat case, complete with replacement nibs offering different textures.
One of the drawbacks of this art tablet is the Stand that offers a cheap plastic design. I'd say it's a prototype of what we have seen on more inexpensive devices.
For an expensive product like this, one would expect quality from every point of view. The rubbery isn't sturdy and wiggles a little bit while drawing. The connection cable is constructed, sometimes causes some break in connection.
Although this device comes with 9 buttons, I still think they are not enough for a digital painter who needs a lot of settings to carry out his paintings.
Display
As a small tablet for drawing, the 13HD offers an excellent screen size of the 13.3-inch display, mostly directed to digital artist and graphic designers. With this size, you are not required to focus on a computer monitor that is separate from the tablet.
Also, the 13HD digital drawing tablet boasts a high-resolution screen in this class of graphics tablets. Taking over from the 1280 by 800 Cintiq 12, the 13HD features a full HD of 1920 by 1080 display.
However, if you should observe the tablet from an angle, the LED backlights can be seen at the side of the screen which makes the resolution seem not that remarkable.
Software
The way the software was created has not changed that much. You'll need to install the software from Wacom official sites to let your computer recognize the tablet and the pen. For an expensive device like this, one would expect to see a groundbreaking intuitive interface. Unfortunately, the 13HD didn't seem to meet that expectation.
Battery
Just like the Intuos Draw CTL490DW, the Cintiq 13HD doesn't feature an internal battery. Once you hook it up with your laptop, using the tri-cable, it starts working on its own.
Price
The tablet is quite expensive, especially if you're looking for a budget tablet. But if price is not an option or you're a professional designer who is looking for a sophisticated tab that can handle all your heavy design work, then the Wacoom Cintiq 13HD is a win-win deal for you.
Bottom Line
If you are in search of a tablet that will make your drawing look more life-like, then you may want to go with this tablet. Apart from its enhanced resolution, utilizing the pen for drawings is fluid and very natural.
Last, but not the least, is the Microsoft Surface Pro 4. Microsoft releases its fourth iteration of the Surface Pro. Although this looks very similar to all the previous models, it does come with amazing features for graphic designers.
We are not going to dive into the usual technical features of this brand because the Surface Pro 4 is designed for everyday use. We're going to be looking at this device from the point of an illustrator who primarily uses it for drawing.
Effectiveness
The Surface Pro 4 comes with a stylus Pen which has pressure sensitivity that allows more or less color to be applied naturally to your drawing. When I loaded gigantic photos in Lightroom and Photoshop, the tablet processed them without any hitch.
Pros
High pressure sensitivity
High-quality stylus pen
Has a responsive screen that gives you more control of your drawing
It's super portable and versatile
Can be used in place of a laptop
Battery life is good compared to some laptops.
The kickstand is sturdy and allows for any angle you want.
Cons
The tablet is pretty expensive
The material on the back is prone to scratches
Battery drains while in sleep mode
Microsoft Surface Pro Review
Design
The highly rated Microsoft Pro features a 4 Gig RAM, which I feel isn't a lot if you're running Photoshop. The Pro 4 also comes with 128-gigabyte hard drive, and the new i5 Skylink processor.
As expected, the Microsoft Surface Pro 4 feels great and comes with a super light design. Just like a MacBook, this one also has a sleek and elegant design. Of course, anyone coming from the Apple background would be comfortable with this tablet.
Performance and the Stylus Pen
The Surface Pro 4 automatically runs Windows 10. So, you don't have to bother with the whole windows 8 stuff.
With that in mind, the new type-cover is a big step-up from the Surface Pro 3 type-cover. The keys have a lot of spacing, and the new trackpad is larger and less sensitive than the old trackpad.
But do you need the type-cover?
Of course, you can do without it if you want to, but I think you do need it. The reason is that the Microsoft Pro was built with a keyboard and a mouse interface to give you a better user-experience.
Also, the pen has a sleek design. It comes with a special tip that is a little bit more rubberized.
Just like the Wacom CTL490DW, this pen has a great texture, but with more friction. That means you have more control of your drawings on the glass screen.
The pen itself has 1024 pressure sensitivity, which is somewhat passable for artists. The difference between the 1024 and the full 2048 is not that huge. But, it all depends on your style.
For instance, if you're a painter, it might be a little bit of a problem, but other than that, it's not an issue. Well, I still think the pen needs a bit of more calibration.
The back of the pen has an eraser with a rubbery tip. It automatically switches to an eraser when you're working on programs like manga studio and Photoshop.
The pen has a magnet that enables it to stick to the side of the surface. I like this feature because it safeguards your pen and prevents you from losing it. Of course, the magnet is amazingly strong, so your pen isn't going to fall off.
Not only do you have the magnet on the pen, but the power code also has a magnet that holds it in place.
The pen runs off an 'AAA' battery, which can last you up to 5 to 7 hours, depending on what you're doing with it.
Display
Microsoft Surface Pro 4 screen is slightly bigger. It houses a 12.3-inch screen size instead of 12 inches. The 12.3-inch screen is very sharp, vibrant, accurate and beautiful. There's no screen bleeding, and the colors are correct and come out clearly. It houses original resolution compared to other laptops with 4k resolution or 1080p resolution.
Software
The Surface Pro comes with software that lets you adjust the pressure sensitivity. So, if you're one that likes to draw softly, you can adjust it to your preference.
This drawing tablet also supports other programs like Adobe Photoshop, Adobe Illustrator, and Clip Studio Photoshop. With all these software in place, you can do a lot of stuff with this tab. And they all run perfectly well on the Tab without any slowdowns.
Battery Life
You'll get an average of about 11 hours and 22 minutes, although the battery life depends on the program you're running at that particular moment. The issue with the battery is that when the surface is in sleep mode, the battery continues to drain in a steady pace.
Price
The Microsoft Surface Pro 4 retails at a premium price, but that is because this isn't just a drawing machine. Considering the premium features that are packed into this device, I'd say it's worth every single penny if you can use it for multiple needs.
Bottom Line
I think the Microsoft Surface Pro performs extraordinarily well and much better than we expected.
However, one main issue is the RAM, which is rather too small if you're running Photoshop on this tablet. So, if you're like me who uses Photoshop more often, then I'd tell you to get a better processor and get more RAM.
On the other hand, if you're the type of person that wants to experience the feeling of owning the Surface Pro and you want to draw on it a little bit, then you can make the dive on this product.
Learning to Draw with a Digital Tablet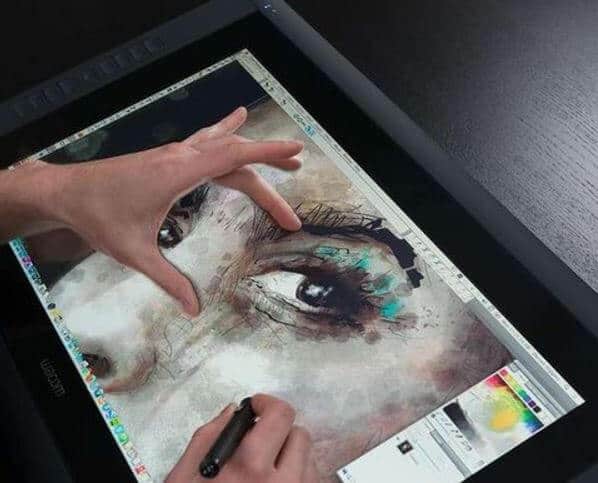 The internet has so many awesome tutorials that will help you get started for free. For instance, beginners can check out this Instructables introduction to drawing with a tablet. However, my #1 recommendation is CTRL paint. And there are both free and paid courses on Udemy. Lynda.com's database of video tutorials also has some courses for beginners and talented veterans.
From Our Home to Yours
See more
Reviews