Review: Best Super Glues for Each Type of Material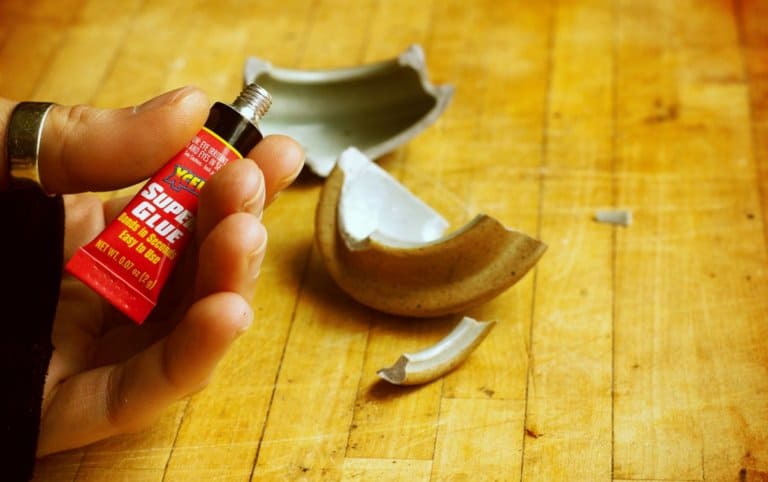 In our home, we use super glue all the time. Yes, we enjoy arts and crafts. But we also have young boys running around. Naturally, this means things are always breaking. Dishes, parts of the desk, the edges of furniture, their favorite old toys and new toys... the list goes on and on.
What have I learned? I've learned which types of super glue are the best, which super glues actually stand the test of time, and the easiest ways to cover-up the fact that a cup handle was broken multiple times. 🙂
Here's the deal with super glue
Unless you are familiar with various types of superglues, then I need to tell you that not all super glue is created equally.
Some super glues are made to be extremely strong, while other kinds are meant for very specific materials. You might be surprised to find that there are a wide array of choices to pick from. For instance... There is super glue, super super glue, glue for wood, superglue for metal, just to name a few. That's why I'm going to go over the best superglue out there for a variety of materials. These include plastic, metal, and wood.
Best Super Glue for Plastic
The J-B Weld PlasticWeld super glue can be used on other surfaces besides plastic. These surfaces include metal, fiberglass, ceramic, and more. This can also be used as an acrylic glue. The PlasticWeld system consists of two parts:
This ensures that repairs are strong, durable, and long lasting. The tensile strength of this super flue is 4400 PSI (pounds per square inch), making this an extremely strong glue that you can even use for automotive repairs.
J-B Weld PlasticWeld glue sets in only a matter of 5 minutes at average room temperature and cures fully in 1 hour. Expect the set time to be longer if the temperature is below 40 degrees F. While the color has no representation of the effectiveness of this glue, it dries to a translucent yellow color. It is possible to stain and paint over the glue if desired.
When to use this glue
You can utilize this glue both indoors and outdoors without any worries. This is because it was made to be resistant to moisture. It doesn't shrink as it dries either, meaning you won't need to go back and apply another coat, which saves you time and provides you with convenience. The J-B Weld PlasticWeld is definitely the best super glue for plastic you'll find on the market.
Best Glue for Metal
When working with metals, you want to be completely sure that the glue you are using is strong enough. A top strongest glue to use for metal is the Loctite Epoxy Weld Bonding Compound. It works on various types of metals, including steel, iron, aluminum, bronze, brass, copper, and more. You can repair anything from appliances, machinery, tools, automotive components, pipes, tools, practically anything that consists of metal parts. It's so strong that you can even drill through it once it's completely dried.
Just like the J-B Weld superglue, the Loctite Epoxy Weld consists of a 2-part system; epoxy resin and a hardener. The ratio of these parts is 1:1, making the mix easy to achieve. Something many people like about this bonding compound is that it adds shine to whatever you're using it on. The glue itself is extremely resistant to impact, is resistant to water, and has a strength of 3,000 PSI.
The best time to use this super glue
The Loctite Epoxy Weld Bonding Compound is so strong that it can be compared to actual welding itself. It's safer and more convenient than traditional welding and is perfect for repairs, rebuilding, and fillings for any project that has to do with metals. The solution itself sets in a matter of 8 minutes and finishes with a metallic gray. You can sand, drill, and paint the finished product without any tampering with its effectiveness. Simply put, the Loctite Epoxy Weld Bonding Compound is trustworthy to keep your metals "welded" together.

Best Wood Glue
Gorilla Glue is one of the most popular superglue brands out there. So, it's no wonder it tops as the best wood glue on our list. The formula is water-based and can be used on all different types of wood. Whether it's for carpentry or personal projects, the Gorilla Wood Glue will be extremely effective when it comes to bonding wood together.
This superglue is quick, needing to be clamped for 20-30 minutes, and is completely cured within 24 hours of application. You can use this glue both indoors and outdoors, on hard, soft, and natural woods. Gorilla Wood Glue is resistant to water and is "invisible" when completely cured. Being water-based, it is easy to handle the glue, as well as clean it up while it's still wet.
How to use Gorilla Wood Glue
Gorilla Glue is a huge glue brand for a reason. Before applying the superglue, make sure that you clean all surfaces the glue will be in contact with so you get the most secure stick possible. If you're looking for a hold you can trust to use on your wood, then go with the trusty Gorilla Wood Glue.

What is the strongest commercially available super glue?
Trick question!
If I didn't make this clear enough in the product descriptions, the strongest glue changes based on the context. The strongest glue is the one that is most appropriate for the material you are sticking together.
Steps to ensure a strong adhesiveness
There are additional factors that come into play. The #1 most important factor is ensuring you have correctly prepared the surface of the material. Rule of thumb, you want to:
closely match the surfaces
maintain a thin glue layer
The #2 most important factor to ensuring a strong finished product is the set time. Most adhesives do not set quickly. This means you'll need to clamp the two pieces together.
Choosing the Right Superglue
Hopefully, I've answered any questions you might have. If not, leave a comment below and I'll make sure to give you my .02c.