A Big Bunch of Brain Breaks - Brain Break Ideas for Every Scenario
Fun Ways to Refresh Your Student's Brain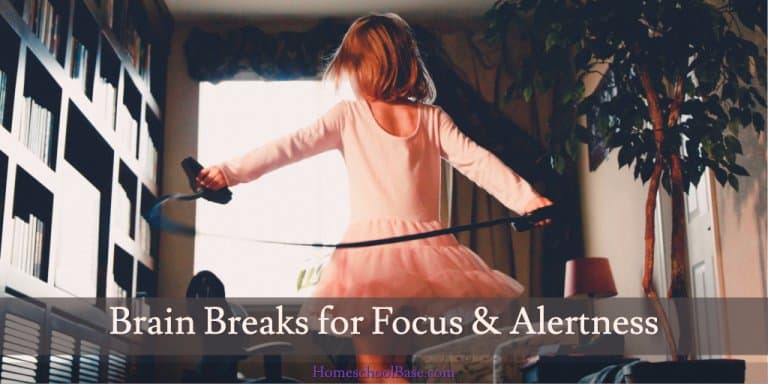 If your child has "the wiggles" and can't focus on schoolwork, give them a "brain break!" Science has proven that taking short movement breaks every 25-30 minutes makes students more efficient, helping regain focus and alertness. For more information see the importance of brain breaks. Need a quick list of brain break ideas to get started? Try these!
Two-Person Brain Breaks
Stand face to face, one leg back. Grip hands as though arm wrestling. Without touching anything else, try to knock the other person off balance.
Rock Paper Scissors (try a "whole body" version: curl up for rock, jumping jack for scissors, lie down for paper).
Thumb war (stand up!) or arm wrestling.
Races: One foot. Crawling. Frog-hopping. Backwards.
Group Brain Breaks
Play Simon Says. Anyone who is "out" continues to repeat a motion (jumping, patting head).
Keep one or more beach balls or balloons in the air.
Turn on some music and dance! Variation: Have everyone freeze whenever you pause the music.
Do whole-body movement songs, like Hokey Pokey, Head and Shoulders, or the Macarena. Find dance videos online and follow along.
Name a color, shape, etc., in the room, and race to touch it (Something glass! Something orange! Something triangular!)
Stand up and touch the ground, knees straight if possible. Inch your hands forward as far as possible, then walk your feet forward. Repeat. Try an "inchworm race."
Read an alliterative phrase ("The Big Bad Bear went Bowling, then Bought a Bunch of Balloons"). Every time you hear that letter ("B"), stand up! Next "B," sit back down!
Individual Brain Breaks
Act out animals—ones that jump, fly, etc. for maximum movement.
Jumping jacks
Jump with an invisible jump rope
Do simple exercises, like push-ups, yoga poses, or stretches.
Pat your head and rub your tummy.
Move one hand up and down, while moving the other right to left.
Write the alphabet (ABC) with your toe, while writing it in reverse (ZYX) with your finger.
Hold out your hand, spin your wrist clockwise, and your index finger counterclockwise.
Sitting-Still Brain Breaks
While less motion is also less effective, knowing these tricks can be useful—for example, while studying in the car, in public, or at a community college class.
Stretch.
Play with a fidget toy (make your own toy by filling a balloon with flour).
Put a hard candy in your mouth.
Play with a rubber band.
Contract, then relax all your muscles.
Rub your palms on your thighs.
Hug yourself hard.
Silently blow all the air from your lungs. Hold. Let the next breath rush in.
For more movement, get up for a drink, or take a short walk.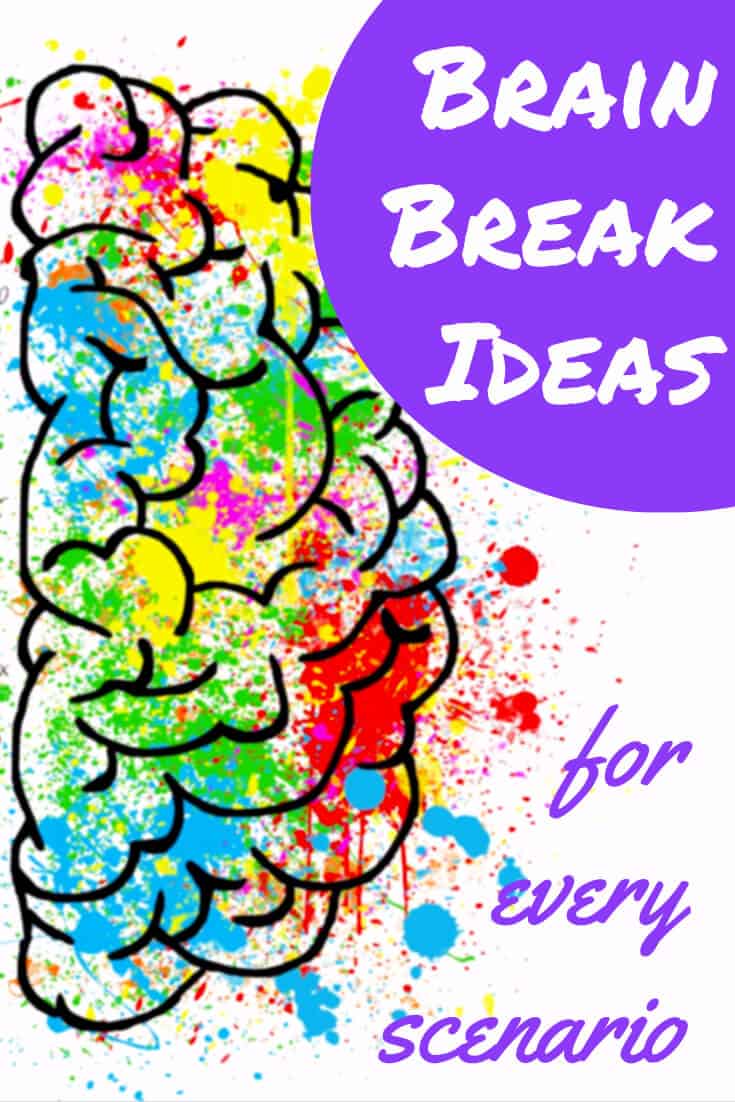 Where Can I Find More Brain Breaks Ideas?
The internet is cram-packed with brain breaks in a variety of formats:
Lists of ideas on forums, blogs, and websites (print a list of your favorites!)
Flashcard collections
Books
DVDs
Apps
Sources for some of these ideas (thank you!):