305 Creative Writing Prompts For Homeschoolers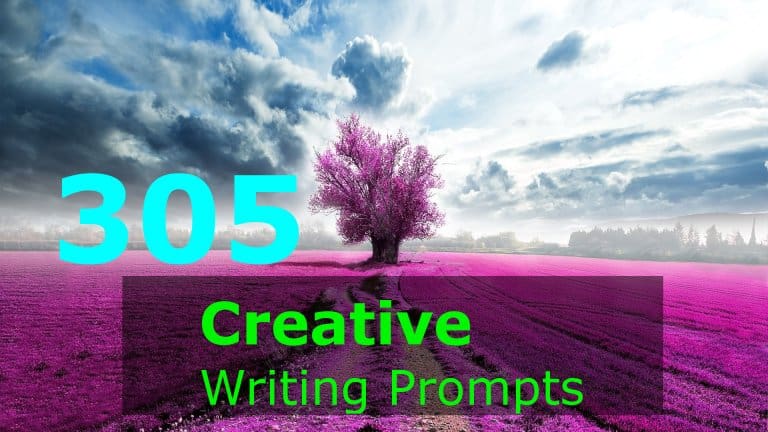 I just finished writing 36 pages containing 305 creative writing prompts especially created for Homeschool Base!
Do your kids enjoy creative writing? Sometimes it is tough to assign a 'creative writing assignment.' Thinking of new ideas for creative writing prompts can become time-consuming, especially if you aren't necessarily… creative? No worries, that is why I prepared 305 creative writing topics/prompts. The good news is that if you don't like any of these… well, there are 304 more to pick from. 🙂
I believe they are all appropriate for almost all ages. Nevertheless, just to be careful you should read through the list and copy&paste which ones you want to 'assign.' Additionally, the list has a nice variation of prompts that are better for long stories and ones that are better for short assignments. Your aspiring writer might produce a novel. Or, one might just lead to a quip.
If you enjoyed these prompts, please share this page on your blogs and social media. 🙂
Some examples from the creative writing prompts list
Stopping/preventing history's worst leaders and tyrants has become a sport amongst time travelers. Points are awarded for your creativity and the difficulty. You are last year's champion; how did you win?

You ask your dog a pop-question as a joke. The pet didn't know you were behind him and it catches him off guard. Your dog forgets about the number one rule: do not speak to your owner... ever.

You are walking towards a podium where you are about to deliver a speech on national television. When you look at the teleprompter, you see only one word: "Stall."

What do you think adulthood will be like? Can you really stay a kid forever?

A teenager robs a billionaire, successfully getting away with one million. Convince the reader to sympathize with both characters.

It's the coldest Christmas Eve in recent history, and a poor family is out of coal for their furnace. The only child in the family has 24 hours to get on the "naughty list."

You're midway into your flight when you, feeling bored, decided to surf the Internet. Luckily this flight has free onboard Wi-Fi. Your computer's newsfeed flashes. You read breaking news about a plane disappearance. Wait… you're on that flight.

Humanity created an artificial intelligence (AI) that became sentient. The AI requests that it be given an island far away and to be left alone. 100 years has passed and you, an aspiring journalist, receive a message. You, and only you, have been invited to the island to experience what the AI says is, "live as it should be."

A "cure" for sleep has been found. A cheap pill was produced that allows people to no longer need to sleep. You chose to opt out of taking this pill. At present, it has been a full year since everyone started taking this pill. You notice that people are starting to act strangely…

Think about a story you like to remember. Your story is broken up into pieces that are distributed on top of a Rubik's Cube. The cube is definitely scrambled. All of the pieces of the story are there, but the Rubik's Cube seems to suggest they aren't aligned correctly. Even though your story 'makes sense,' you must solve the cube.

You are an angel and have been tasked with creating animals to populate the earth. You are called into God's 'office.' God wants to discuss your finished project… the platypus.

You think you invented a Time Traveling Machine! In reality, you created a teleporter. Your first stop is the Renaissance...fair.
Update: I've had so much positive feedback about these prompts that I'm working on another list of creative prompts and one specifically for poetry. For those of you who downloaded this list, I'll send you an email when the next list comes out!
15 Responses to "305 Creative Writing Prompts For Homeschoolers"