The Best Homeschool Planners (Printables, Hard Copy, & Digital)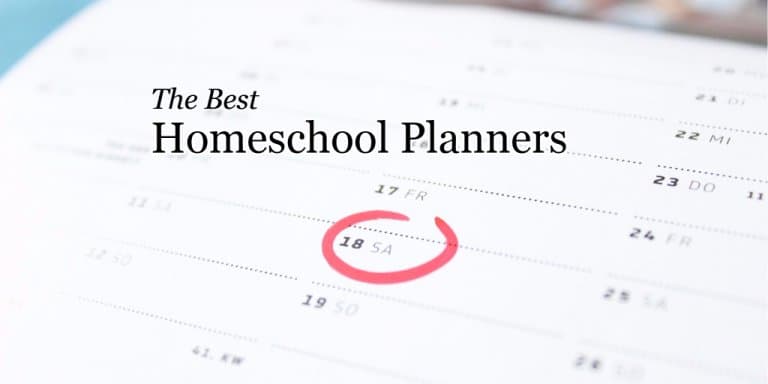 This article was updated and re-published on 11/26/2016. This page has multiple sections! If you know exactly what you are looking for you can skip ahead to the section you want to read.
Jump me to:
When this article links to hard copy planners & books, unless otherwise stated, the link goes to Amazon for purchasing and look inside convenience.

Organizing and keeping track of your homeschool
Organization is one of the keys to a happier and more stress-free homeschool. Of course, in order to stay organized it helps to have structure and a plan. Scheduling homeschooling can be a challenge to the most organized moms. And without exception, every homeschool mom has a crazy schedule.
Is it possible to track and record the academic work of your children's multiple ages and grade levels, field trips, piano lessons, co-op meetings and co-op classes, extracurricular activities, and all of the other appointments that "normal" moms sometimes struggle to manage? Of course! There is not a single style of homeschool that does not need to use some type of tracker or similar tool. But the implementation and best type of planner will be different for each homeschooling parent.
Homeschool planners
Homeschool planners are an excellent way to stay organized. They are also an excellent way to increase confusion and stress if used improperly. When we use multiple calendars and planners and phone apps, information can get scattered, duplicated, hard to find, and even lost. There are many, many different types of homeschool planners and planners often go hand-in-hand with calendars, life scheduling, and record keeping.
Oh, and don't forget about the sticky notes!
The many types of homeschool planners
There are parent planners and student planners. Some focus on daily schedules while others are designed for weekly or monthly intervals. Most planners are exclusive to one task like lesson planning, or appointment planning. And then, don't forget there are multiple mediums! - physical notebooks, printables, digital, apps, and programs. Furthermore, some of us like to have planners for everything - time management, organizing meals, holiday planners, travel planners, record keeping, and so on.

Figuring out what type of planner is right for you
There is no black and white answer for how you should organize and track your days, weeks, and months, just like there is no 'right' answer for what curriculum or homeschooling method you should use.
Budget
The first necessary consideration is budget. Homeschool planners are usually very affordable (see section below), but this does not mean every homeschool parent will have the budget for one. Nevertheless, the benefits of using a good homeschool planner will almost always 'pay for itself.' If better organization keeps you from missing just 1 private lesson or 1 doctors appointment it will more than pay for itself. Not to mention the value of your time.
Paper vs Digital
The second necessary consideration is preferred medium. Some people can't stand digital for note taking, scheduling, planning, and organizing. Other people swear by it. Do you already use apps on your phone to schedule appointments, take notes, and set reminders? Or will your phone never be able to replace your sticky notes, scrap sheets of paper, and physical calendar? If you aren't a digital person, it does not matter how great the best all-in-one online planner is, it probably isn't the right choice for you. If you love technology and going paperless, it should be a no-brainer decision.
All-in-one vs Multiple Planners
The third necessary consideration is the number of planners you will use. This is the hardest question of all to answer. While an all-in-one online planner may sound like the perfect solution for everyone, this is not always the case. If you are the type of person who writes down reminders no matter what and will insist on keeping the monthly calendar on the wall, you will have multiple planners irregardless. Some homeschoolers prefer to have one planner for their side job, one planner for 'school' / curriculum outlines / assignment planning, and another for appointments. Generally, organization is easiest with fewer notebooks and calendars floating around. But some of us prefer to have a hard copy of our local appointments and want the academic schedule to stay separate.
Daily planners and student planners
The word 'planner' is an all-encompassing term. Many parents like to print out a schedule with each day's assignments and hand it to their children. Other parents want their children to learn to make their own schedules. Sometimes homeschoolers opt out of daily schedules and have weekly goals instead. Sometimes it is a combination of both. Unschoolers might disregard this completely. Our recommendation: Make sure that if you use printable daily/weekly schedules you keep a digital back-up copy. If record keeping of these schedules is important, it will be extremely difficult to keep up with all those stray papers.

Making the most of a homeschool planner
To make the most of any homeschool planner you need to establish a 'planning schedule.' See this Quora answer for "How do I create a homeschool planner." Our very broad and basic recommendation is to establish a regular planning routine. For some people a weekly planning routine will look something like this: Sunday night: Set aside time to plan the goals for Monday-Friday, finalize lesson plans, take note of meetings/appointments, and ensure you have any necessary materials. Monday-Friday: Follow the Sunday night plan without getting hung-up on mishaps and make modifications along the way. Friday night: Get into the habit of recording the weeks successes and failures - what worked and what did not.
If you really hate schedules, never try to plan your homeschool down to the minute.

The best hard copy homeschool planners
The Ultimate Homeschool Planner
If you have a Christian world view and want it reflected in a spiral-bound physical planner, check out Debra Bell's, The Ultimate Homeschool Planner. You might recognize Debra Bell's name from her best selling homeschooling book, The Ultimate Guide to Homeschooling and The Ultimate Guide to Homeschooling Teens. She is a former public school teacher, a strong Christian, and a homeschool mom of 4.
This planner allows for up to 6 children and has daily, weekly, monthly, and yearly forms. The forms can be used for tracking, recording, planning, etc. There are end of year review pages plus as well.
Moleskine Planners
Moleskine planners were not designed for homeschoolers, but they are easily the highest quality planners on the market. I adore the quality and feel. They have over 200 pages and expandable inner pockets. Many homeschool moms use these as their primarily planner and supplement them with other printables for their kids.
Recommended moleskine planners:
Other great homeschool planners
Year-Round Homeschool Planner for 1 Student: 52 Weeks of Lesson Plan Pages. (Non-religious with 52 weeks of lesson plan pages.) Here is the link to the edition for two students.
The Complete Homeschool Planner and Journal: A 180-Day Record Book for Homeschoolers and Involved Parents. (Provides space for 180 days of comprehensive homeschool planner/journal entries spanning 20 subjects)
Marjory Yacco's The Ultimate Homeschool Planner. (This is a different 'ultimate' planner than Debra Bell's earlier one).

The best online homeschool planners
While there are several paid homeschool planners, there is no reason to purchase one - there are so many free options.
Google Drive is a perfect solution if you want a homeschool planner online. It is free, stores all of your information, keeps records of all changes in the cloud, includes apps for documents and spreadsheets, and can be synchronized to host all of your other homeschooling files. Plus, there are already some great planner templates. SecularHomeschool.com released a free and high quality template that can be accessed here. There are apps for Google Drive on every smart device. Drive is synchronized, so you will never struggle with duplicate notes.
Homeschool Skedtrack - is a free online homeschool lesson planner, scheduler, and tracking system rolled into one!
Homeschool planner apps
There aren't any free dedicated apps for homeschool planning, but this does not mean there aren't apps that can serve the same function! There is a Google Drive app available for all operating systems.
Evernote is one of the most beloved apps of all time. You can take notes anywhere and have them everywhere. You can clip web-pages and save them along with all other notes for free. It is a great compliment to Google Drive.
Planner Pro - Daily Calendar, Task Manager & Personal Organizer. Handles events, tasks, and notes and can be synchronized with your digital calendars.

Printable planners
Homeschool Base has several printable planners available on the downloads page.
The best website for homeschool planners on the internet is Donna Young's website.
A personal favorite is the Homeschool, Home Life Planning System.
Free Homeschool Deals has a list of homeschool planners and beyond.
Homeschool Creations has a list of middle/high planner printables.