A Power Primer- The Internal Combustion Engine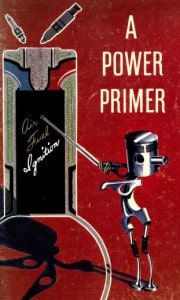 I miss the great books that were put out in ages past that packed so much information and illustration into fun books for kids.  This book, Power Primer, was produced by General Motors Corporation as an introduction to the internal combustion engine.
Not only is this book a course in automobile engines, it also details engines for airplanes, diesel machines, and more.
The text is written at about an 8th grade level.  Younger children will benefit from the great illustrations and diagrams detailing the different engines.  Older kids could use this as a precursor to a hands-on experience with engine mechanics.
The books is available in color and b&w pdf, epub, kindle, and more here.