Choosing BIG Priorities So You Can Do It All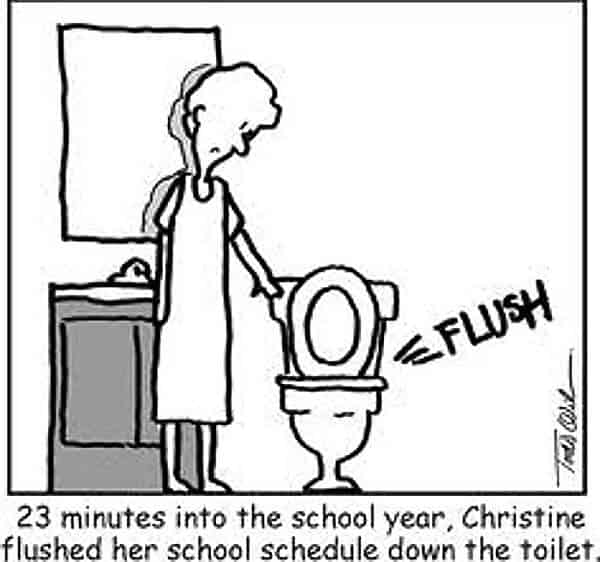 In response to my last article, For Parents Considering A Homeschool Music Program, I was asked,
"...How did you find time to do everything? That's what I foresee as being my biggest difficulty -- encouraging them to do sports, music, school, extracurriculars , etc."
I read the comment to my husband and said, "Should I say I don't cook or clean?" We had a good laugh and started brainstorming about where we found time. Of course, everyone knows we have 24 hours in a day, so prioritizing is important. I've always tried to be a scheduler, and it's always failed miserably, but my husband and I both agreed on the big priorities which made individual decisions easier.
Priorities
Our biggest priority was always the family. Our four kids were born within 6 1/2 years, which made life hectic early on, but wonderful as they got older. When they were little, we didn't do too much other than church. My oldest daughter started softball when she was eight and basketball when she was 10. My second daughter played basketball, too, and began ballet around age 7. We only played during the main season and in low-key environments when possible.
For example, our basketball league was a 12-week-long church league, a cross between rec and upward. I.e., they learned how to play well enough to make their future middle school team, but without the crazy parents… well, mostly. Once my oldest daughter was 11, coaches started telling me how she should be in All-Stars and travel ball. She was "too good for me not to let her play," they said.
But when the priority is family, spending every weekend including Sundays on a ballfield with the rest of the family in tow or at home split up, the decision was easier to make. Once my second daughter made company ballet, it was all consuming. We had moved, and a year-long bridge construction project increased our 45-minute commute to an hour and 15 minutes, so we decided to try volleyball. She was in eighth grade, had never played, and cried the entire way to the clinic, insisting she wasn't going in. She did go in, and she's thanked me repeatedly for making her go. She now plays NCAA Division II volleyball and loves it. Again, her coaches wanted her to play club travel volleyball from the time she started playing in eighth grade, but the money and time away from church and family wasn't worth it. (I did let her play the last two years of high school because she wanted to play in college.)
My oldest daughter began running track in 11th grade when God lead us to a track team. (That story is amazing!) She now runs for a NCAA Division I university and has won three conference championships in her event. We required two of our other children, volleyball player excluded, to run track as well because when you're driving to practice and meets, it's just as easy to take three as it is one. It's a fine line between discovering and encouraging your children in their areas of talents and desires, driving yourself crazy trying to be in four places at the same time, and making them all participate in one thing, like it or not. For example, we were in ballet with a homeschool family of eight kids who all did ballet – – boys included. The mom had decided that was going to be what her family did, and that was their sole extracurricular activity. How many children you have and their ages play a big part into that decision.
Schooling
The next decision of how to homeschool. I live in Georgia where hybrids are popular. They resemble a private school, range from two to four days a week, have strict attendance policies, and give heavy workloads. We chose to homeschool to have a flexible schedule, keep our family together when possible, and select our curriculum. Enrolling in a hybrid would have taken away the very reasons we homeschool.
We wouldn't be considered unschoolers by any means, but relaxed homeschooling probably best describes our family. My husband never went anywhere alone when he was not at work – – he always took a child with him, whether to the dump or the store. He exemplified the command in the Old Testament about teaching as you go. I have a friend who has brilliant children, and they have learned much of what they know by taking advantage of state and national parks and museums. When my kids were young, I didn't see the advantage of hauling them to and from classes and spending lots of money to do what we could do together at home. Once our kids got to high school, we saw that as the time to get serious, but we had prepared them enough so that we didn't have to panic.
When my kids entered high school, we did enroll them in a high school "school" for a few a la carte classes so that when they went to college, they had experience learning under other teachers. That program allowed for absences due to sports or vacations. That program was also a university-model school, meaning that they had class once a week (except for Spanish which was twice a week). That model forced them to discipline themselves to study and divide up their assignments over the week.
When my oldest daughter got to college, she was amazed at how many public school kids had a hard time managing their time while she just continued doing what she had done for the past four years.
Adventures
Once our oldest daughter started running track, it required out-of-state trips. Those trips became our vacations as well. This might be a good time to disclose our suburban has 365,000 miles on it! (We listen to a lot of audible, Christian audio, and CDs in the car.) When our daughter ran in a high school meet at the University of Kentucky, three families went with us. We went to the track meet for a day, but took advantage of the fact that we were already in Kentucky by visiting the Creation Museum and mammoth caves. One of our favorite track meets is a national homeschool track meet in Springfield, Missouri. We have attended that meet for three years, and every time we go we find something to do along the way.
Probably our craziest trip was a few years ago. My youngest daughter was playing basketball in a national homeschool tournament at Liberty University at the same time my oldest daughter was competing in the New Balance Indoor National Track Meet in New York City. Some dear friends whose daughter also played basketball took my two youngest daughters to the basketball tournament and then put them on a plane to New York. My husband, oldest daughter, and son drove to New York City to watch my daughter compete in the track meet. We picked up my other two daughters from the airport, drove to upstate New York to visit my sister and her family for a few days, then took all of my kids except for the volleyball player to the airport. They flew back to Georgia, and my volleyball player and I drove to Indianapolis for a club volleyball tournament. (Since my husband flies a lot, we were able to use frequent flyer miles for the plane rides.)
So, sometimes life can get crazy, but it was a trip that none of us will forget!
House and Life
While I was joking when I said I didn't cook or clean, my house has never been pristine. I have company over a lot, and no one seems to mind a little dust. In fact, one of my friends said, "I don't know why I can't stand to have a messy house, but yours doesn't bother me at all!" 🙂
My kids have always helped clean and we have experimented with lots of different ways of doing that over the years.
I'm also a big believer in sleep! When my kids were little, I took naps because I didn't always get 8 to 9 hours of sleep a night. Some people can function without sleep, but I can't. Getting enough sleep really makes a world of difference.
I see so many moms putting so much pressure on themselves...to keep the house immaculate...to feed their family only healthy non-this non-that food... to teach every subject every day... to look perfect. It's not that those are bad things, but the amount of stress that I see that goes along with trying to attain those things is unbearable. And if you're stressed out, your kids and husband will be too. Ultimately, you can't teach your kids everything. Think of how much you have learned after leaving the house you grew up in. If you can teach your kids how to think critically and love to learn, then I think you've done your job well.
My oldest daughter was an Academic All-American last spring. That means that not only did she excel in her sport, but she also maintained a high GPA, and she managed to do that after being raised in a relaxed, laid back house.
In Conclusion
So in answer to the original question: 1) get on the same page with your husband, 2) set your big priorities, 3) and then make decisions based on those. And hang on and have fun. An adventure awaits!
9 Responses to "Choosing BIG Priorities So You Can Do It All"