The Best Puppets for Kids - Imaginative & Creative Storytelling
Hand puppets are perfect for fun, engaging, and creative learning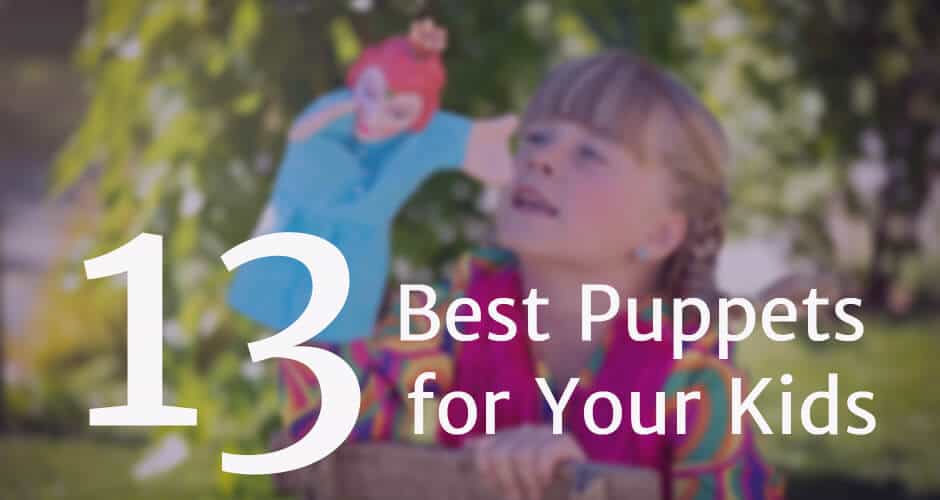 Do your children enjoy telling stories? Are they always going on exciting adventures? If so, then this article is for you because your children will love the hand puppets described below.
Encourage Storytelling with Puppets
Storytellers are important in our world. If we didn't have stories, life would be pretty boring. There are many ways to encourage your children to use their tale telling abilities. How about puppets?
They are entertaining, easy to use, and are perfect "actors" for the stories you and your children create. They can accompany readers theater, spark imaginations, and usher color into a rainy stay-at-home day.
I compiled a list below of 10 amazing puppets and puppet sets that will enable your children to dream big and use their imaginations.
Top 10 Puppets for Kids
This king puppet will be a wonderful addition to your royal family. One hand can be used to make him speak and express his emotions, while the other hand can move the wooden rod that controls his arm. For your convenience, the wooden rod can be removed and/or attached to his other arm. With honor and bravery, King Carl will lead the kingdom to victory and happiness.
This puppet is recommended for children ages 3-15.
This fun pack comes with 16 human and animal puppets that are perfect for teaching and telling stories. An elastic band is wrapped around each character so you can play along as well. These puppets can teach your children about the concepts of family, how to take care of one another, and so much more. Their small size makes them easy to store away and/or bring them along on your adventures.
These puppets are recommended for children ages 6 months and up.
A horse, pig, cow, and duck are ready to entertain an audience! These friendly farm critters are easy to maneuver. They fit comfortably on any hand and are great for nursery rhymes, bedtime stories, or the shows that you create. The small parts are carefully embroidered into the puppets so your child can play safely.
These puppets are recommended for children ages 1-6.
This wild set contains an elephant, giraffe, lion, bear, raccoon, and monkey. Every puppet has a movable mouth except for the elephant. But, no worries! The elephant has a strong trunk to help drink from watering holes. (Of course, I don't mean literally.) If your child loves to play in forests, jungles, or even the hot plains of Africa, then these puppets would love to join them.
These puppets are recommended for children ages 3 and up.
The Sea Squad is eager to swim into new worlds and experience wonderful stories. Your children can play with a shark, angler fish, clam, and octopus without even having to go near water. A simple knob near the bottom of the stick will move the puppets' mouths up and down. Also, the angler fish's light glows in the dark! These easy-to-use puppets will be perfect for your children's enjoyment.
These puppets are recommended for children ages 3-6.
If your kids are looking for a new member to join them on their underwater adventures, then this is the one to get. This colorful fish has the perfect, animated look to add magic to any story. It is 12 inches tall and made with soft materials for a comfortable fit. This sea creature can't wait to perform on the stage and travel to mysterious lands.
This puppet is recommended for children ages 3 and up.
This puppet is great for teaching children about the wonders of insects. It could also be the perfect gift for kids who love the outdoors and all of the creatures in it. Like the real insect, this puppet can "roll" into a ball. All you have to do is fold the fabrics over each other. The puppet's head and legs are movable so you and your children can imagine and play the life of a pill bug.
This puppet is recommended for children ages 3-15.
Are your children afraid of monsters? Well, there is no need to worry any longer. When you pull out this friendly puppet, they will have no more reason to fear. This silly, furry, green monster has giant eyeballs that wiggle crazily around. He has soft teeth, a movable mouth, and would never dream of scaring anyone. Your children will love this hug-able monster and will soon want to play with him all of the time.
This puppet is recommended for children ages 3-6.
Fly into magical stories with Vinni the Dragon! This harmless creature will make a wonderful companion while traveling to new and exciting worlds. With Vinni, you and your children can explore castles, dungeons, islands, and more. There is no limit when it comes to your imagination.
This puppet is recommended for children ages 18 months and up.
Are you going for a more traditional approach to puppets? Scorch is a knitted, sock-like puppet looking for laughter, fun, and friends. Inside of his mouth is a squeaker which enables him to "speak" to any audience. Scorch is around 16 inches tall and has a colorful, friendly look that will make every story interesting.
This puppet is recommended for children ages 3 and up.
Additional Puppets & Puppet Products
Here is a kit that has everything you need to build your own sock puppets. The box contains three socks, wiggly eyes, peel-and-stick felt shapes, and more. These puppets are very easy to make and do not require scissors or glue. Your kids can be as creative as they want as they make their very first sock puppets.
This product is recommended for children ages 3-6.
With this kit, your children can turn paper bags into entertaining animals. It comes with five colored bags, stickers, paper shapes, chunky glue, and easy-to-follow instructions. After a lot of fun and imagination, your kids will know how to make a chicken, frog, lion, cow, and elephant.
This product is recommended for children ages 3-5.
Your children have the puppets, stories, and creativity, but now they need somewhere to perform. This wooden puppet theater is the perfect place to put on shows. It comes with red curtains, a clock with adjustable hands, and a chalkboard for writing down performance names, times, etc. The theater is big enough for two, little puppet masters. So, sit back, relax, and enjoy the show.
This product is recommended for children ages 3-7.
DIY Puppets
If purchasing puppets isn't within your budget, there are plenty of DIY tutorials, ideas, and videos available. Search Pinterest, sew it yourself (more on the benefits of sewing), or check out the video below for extremely easy DIY finger puppets.
The Benefits of Playing with Puppets
Playing with puppets is an amazing way to get anyone's creative juices flowing. Like I said before, we need stories in our big, chaotic world. We need something creative to keep us entertained and stories inspire us to live happy, healthy lives.
Pretend play
Pretend play encourages language development and allows children to explore new life scenarios while building self-confidence and presentation skills. Puppets are one of the best tools to facilitate pretend play.
Read more about the benefits of pretend play on Scholastic.com.
From Our Home to Yours
See more
Lifestyle