SAT Testing Accommodations for Homeschoolers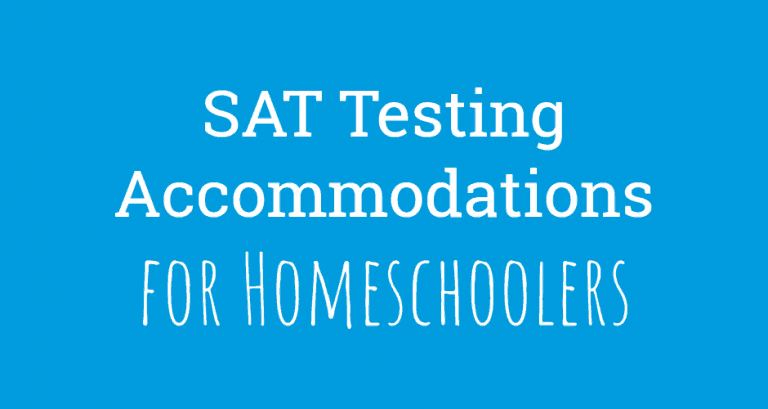 Very useful information for homeschool high schoolers with a diagnosed learning disability. This information was first sourced from a Facebook discussion before confirming it for ourselves.
Obtaining extra test time for homeschoolers with a diagnosed learning disability
Question: SAT Testing Accommodations: Has anyone here ever successfully obtained extra test time, etc. for their child with a diagnosed learning disability? I'm in the process of contacting The College Board about it and oh geesh, it's a long and laborious process.
My son always had an IEP in public school, has been fully diagnosed, etc. I've got all the paperwork and documentation. What seems to be a mystery is how homeschoolers go about obtaining this.
Answer: SUCCESS! I just got off the phone with the College Board and spoke to someone very helpful.
The Phone number for the SSD department is 212-713-8333.
How to talk to a real human from the College Board
In order to get a live human being to answer your questions, these are the steps you'll need to take after dialing:
Press option 1
Then option 2
Then option 3
The conversation I had on the phone with a rep left me with the following information.
Steps for extended time approval:
You must request the Student Eligibility Forms via email or phone. They mail them to you. They are NOT online.
Once you receive these forms, you then send in ANY documentation you have about your child's disability. I asked her if they wanted every IEP he has had since Kindergarten and she said yes. I will also send in doctor letters, neuro-cognitive testing, pretty much everything but the kitchen sink. She said if I have 100 pages, send it in!
It takes 7 weeks for a decision. She said because I have had so many IEP's, I shouldn't have a problem. Once you obtain permission, you have it until the student graduates, so you don't have to reapply each year (I believe the ACT makes you reapply).
So I'll be sending them a giant packet of info and it sounds like we will be approved for time and a half (4 hours, 32 minutes) and four-function calculator use during the math section that does not allow a calculator.
One more note on the info above, there are deadlines for submission of the requests for accommodations. Meaning, my son wants to take the June SAT, so all his paperwork must be submitted by April 10th.
The website has the details. The more in advance you submit it, the easier it will be. I'm doing this now in 9th grade and we should be all set for the next 3 years of test taking.