8 Sensory Toys for Toddlers that Improve Mental and Physical Development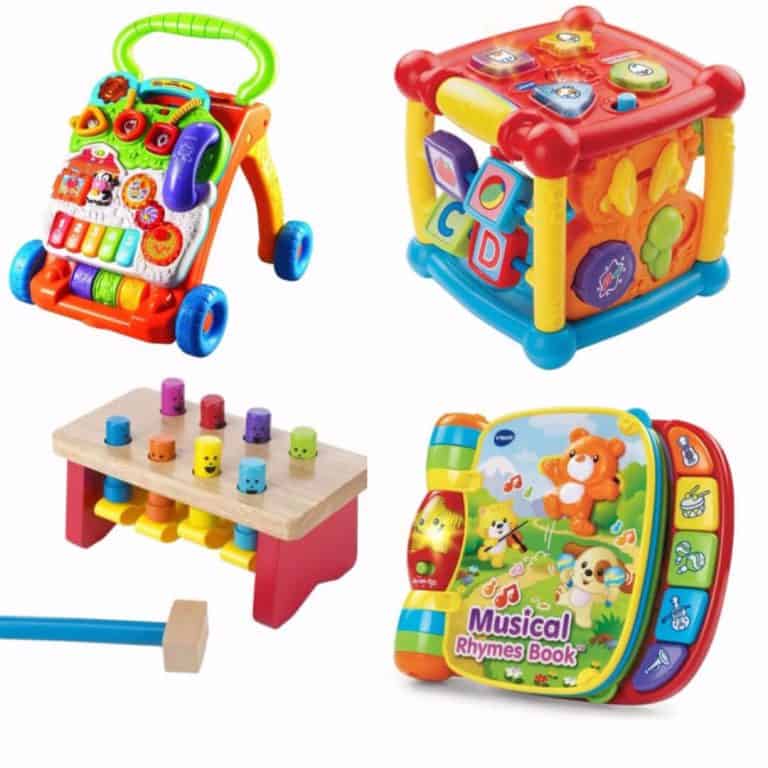 Toddlers play to have fun and explore the world around them. It is important that you provide them with toys that allow them to develop their fine motor skills and hand - eye coordination. There are a lot of toys on the market that help develop these skills, but a toddler also needs sensory toys that help them develop in other aspects of their life.
Choosing Toys for Toddlers
Sensory toys that improve mental and physical development have the following qualities:
Toys that have interlocking pieces
Toys that unscrew
Games that encourage construction
Toys with pieces that must be manipulated into place
Soft, squishy balls
Play dough and molds
Benches that allow them to hammer
Moldable sand
Various arts and crafts supplies
Toddlers also love games that move as they walk around. These help with balance, and increase efficiency with gross motor skills.
Indoor toys that promote these skills are:
Toys that can easily be pushed across the floor
Rocking horses
Toys they can ride on
Tricycles and wagons
Your child will also like musical toys, which increase their intelligence. Toys in this category are:
Pianos
Toys that encourage drumming
Musical hammers
Karaoke machines
Your child will also benefit from toys that encourage them to use their imagination. These toys help them develop creativity and allows them to relate to the grownups around them. Almost anything can be considered a creative toy.
Here are some of the more popular examples:
A bath towel used as a superhero cape
Dressing up in old clothes as a costume
A simple cardboard box, it can be anything your child wants
Toy cars, toy trucks, and toy trains
Stuffed animals and baby dolls
Doctors instruments
Cooking utensils
There are also a number of educational toys that will help your child develop. These sensory based toys will help your child improve their mental and physical development. Plus, they are absolutely fun to play with. The important factor in choosing the right toy for toddlers is to find one that teaches them something important.
Sensory Toys Recommended for Babies to 1-Year
VTech Baby Lil' Critters Moosical Beads
This VTech Baby Lil' Critters Moosical Beads cow provides your child with tactile stimulation, visual stimulation, and audio stimulation. Not only will your baby love the touch, sound, and appearance of this cuddly little cow, he will also love the way it feels against his skin. Your baby will be able to experience different textures, especially if he becomes interested in the texture of the bead ring that is meant for grasping. This toy lights up and even has a square that spins while the music plays to really get baby interested.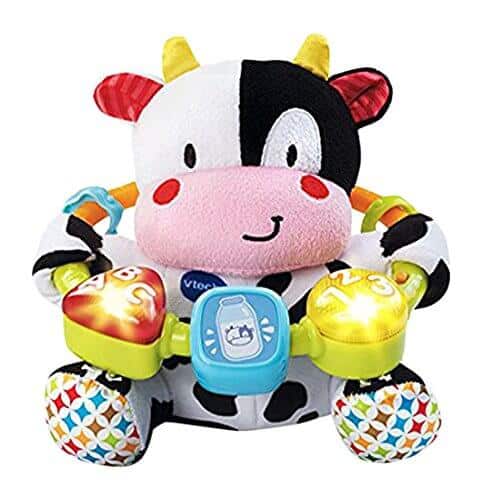 Sassy Developmental Bumpy Ball
One of the best toys available for this age range is the Sassy Developmental Bumpy Ball. It provides both mental and sensory stimulation, which your baby will love. The best part is, this toy is inexpensive!
It provides bright, contrasting colors to draw babies attention. The clear plastic color beads make a rattle sound when baby shakes it. The different textures and bumps make baby want to hold, squeeze and toss the ball around.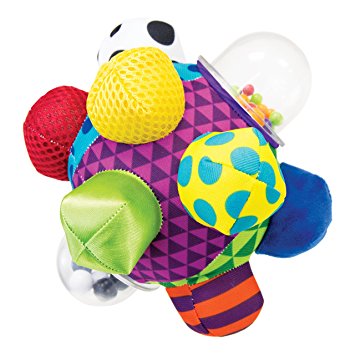 Fisher-Price Baby's First Blocks and Rock Stack Bundle
Babies love Fisher-Price Baby's First Blocks and Rock Stack Bundle. It contains a lot of bright colored blocks. They also like to play with different shapes and colors. They also like to pick things up and put them into various containers. This toy provides them with all of the things they crave on a daily basis.
Babies can toss the blocks into the bucket. They can sort them by shape, and they can enjoy feeling the difference between the edges and sides of each piece. Take the time to show your baby all the different ways they can play with this amazing learning toy.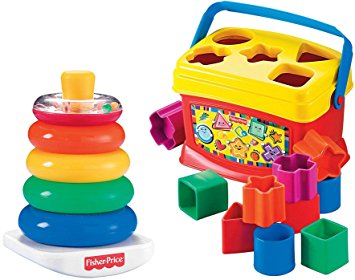 VTech Sit-to-Stand Learning Walker
Babies and children love this amazing, unique, bright, and colorful  VTech Sit-to-Stand Learning walker. Babies can start using this walker as early as 9 months old. This toy encourages babies who are crawling to begin standing. It provides amazing sensory play for hours at a time, whether they are crawling or standing.  This learning walker provides babies with auditory stimuli, while it helps them build their sensory skills and enhances their coordination. Once baby learns to walk, they will have a blast pushing this colorful toy everywhere they go.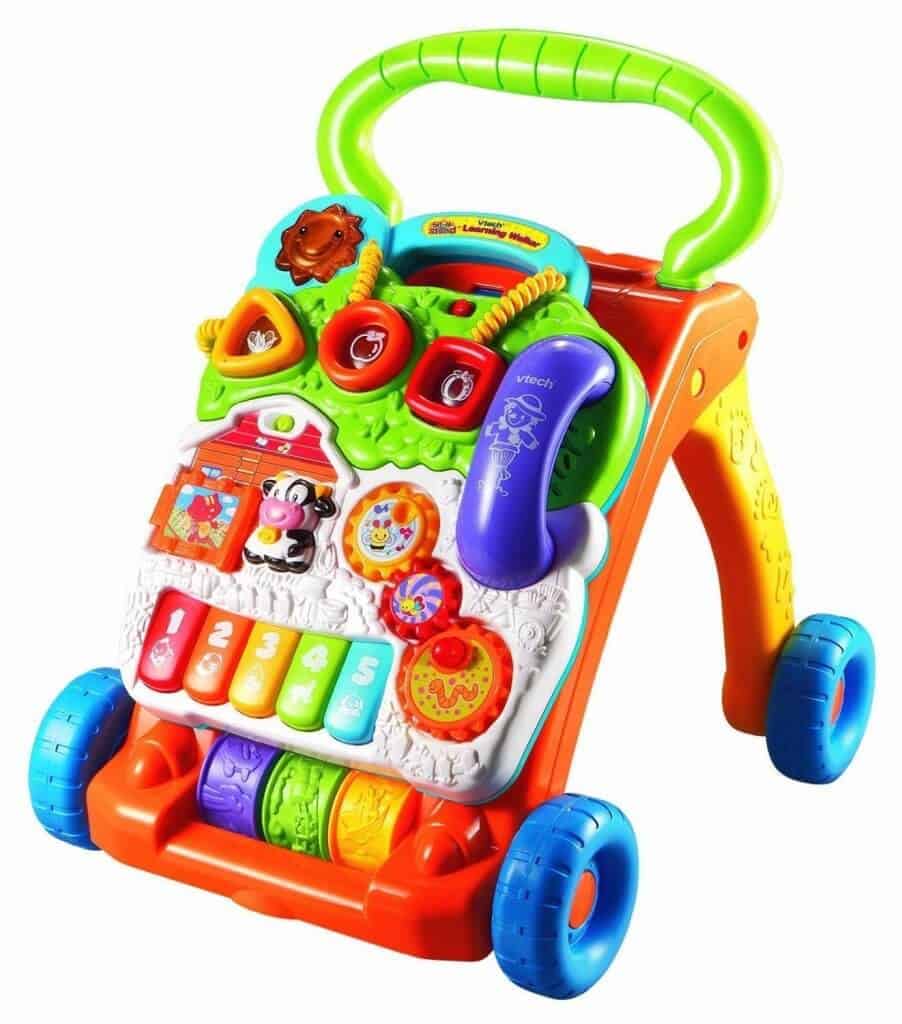 Sensory Toys for Toddlers 1-Year to 3-Years old
Deluxe Pounding Bench
This Deluxe Pounding Bench is great for toddlers between the ages of 1 year and 3 years old. It is brightly colored, and for safety reasons the pegs are installed solidly into the toy. The pegs play peekaboo with your baby as they pound on them with the mallet. Each peg has a friendly face that is welcoming for your baby. Since toddlers love to beat on things, this provides the perfect outlet. They can work on fine motor skills, and begin their journey into learning cause and effect.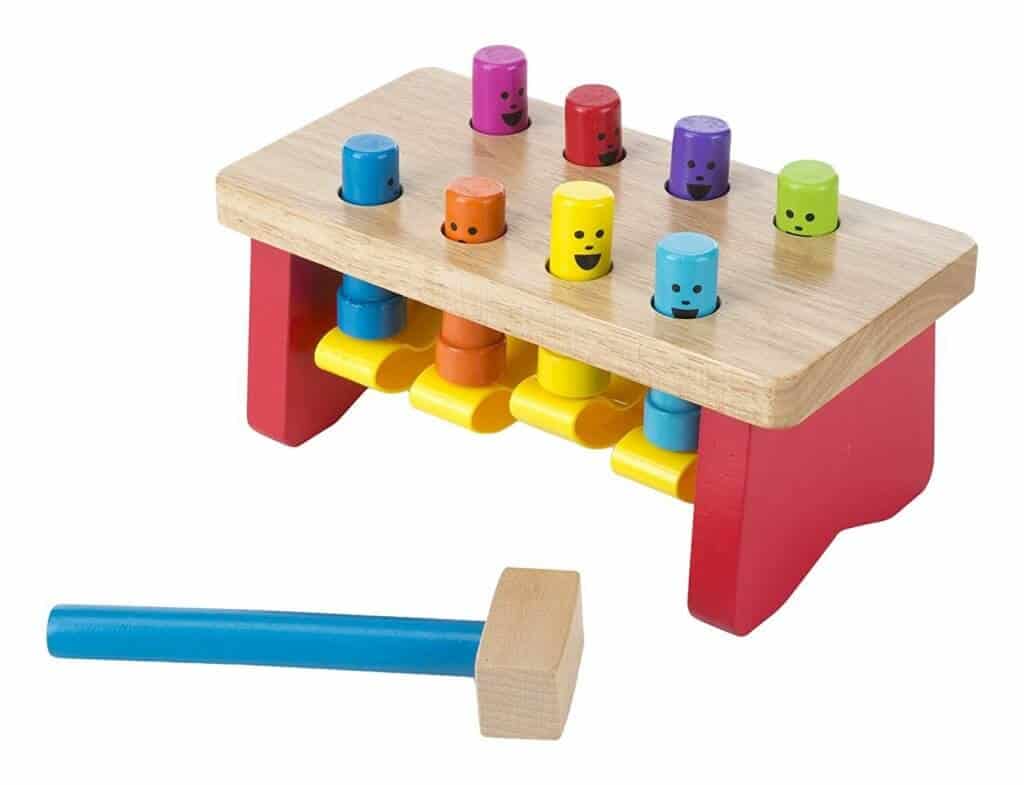 Latches Board
If you are looking for a great way for your child to discover the joy of opening and closing doors, this Latches Board is perfect. They will love unlatching numbered doors and discovering what picture is behind it. This toy helps build fine motor skills, teaches your child colors, teaches your child numbers, and teaches your child numbers as well.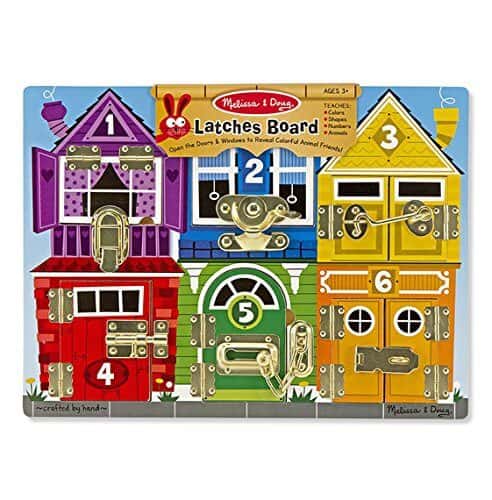 VTech Busy Learners Activity Cube
This VTech Busy Learners Activity Cube is perfect for busy body toddlers. They can explore the toy by pushing, pressing, spinning, twisting, and performing multiple actions at once. This cube has five sides of interactive fun. It plays 25 different songs that your child can trigger through their play. It also features 4 buttons that light up and introduce animals your child should know about and the introductory shapes.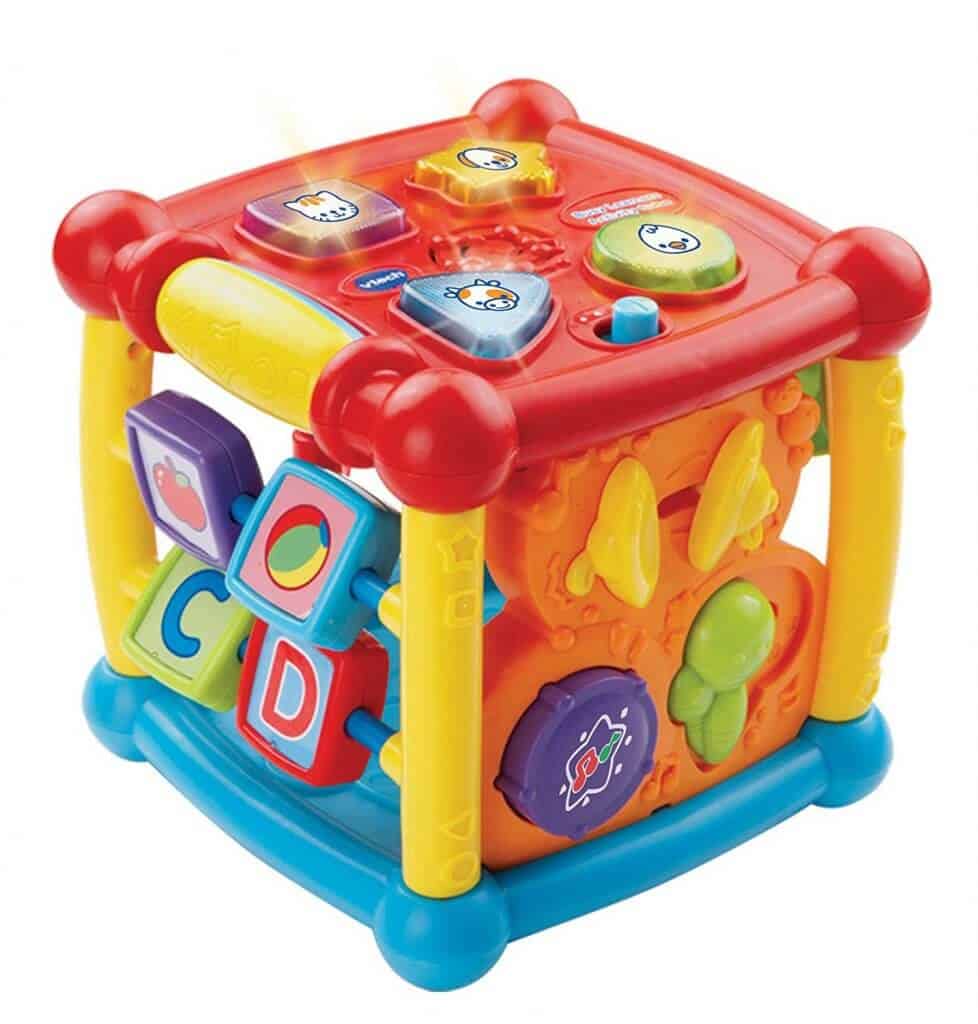 VTech Musical Rhymes Book
Nursery rhymes are a great way for entertaining your child from birth to preschool age. They are a great way to jump start language development and different speech skills. This VTech Music Rhymes Book not only sings six familiar nursery rhymes, it also talks. The colorful piano keys introduce your child to the world of making music. Sit and sing with your child to help them pick up on the words.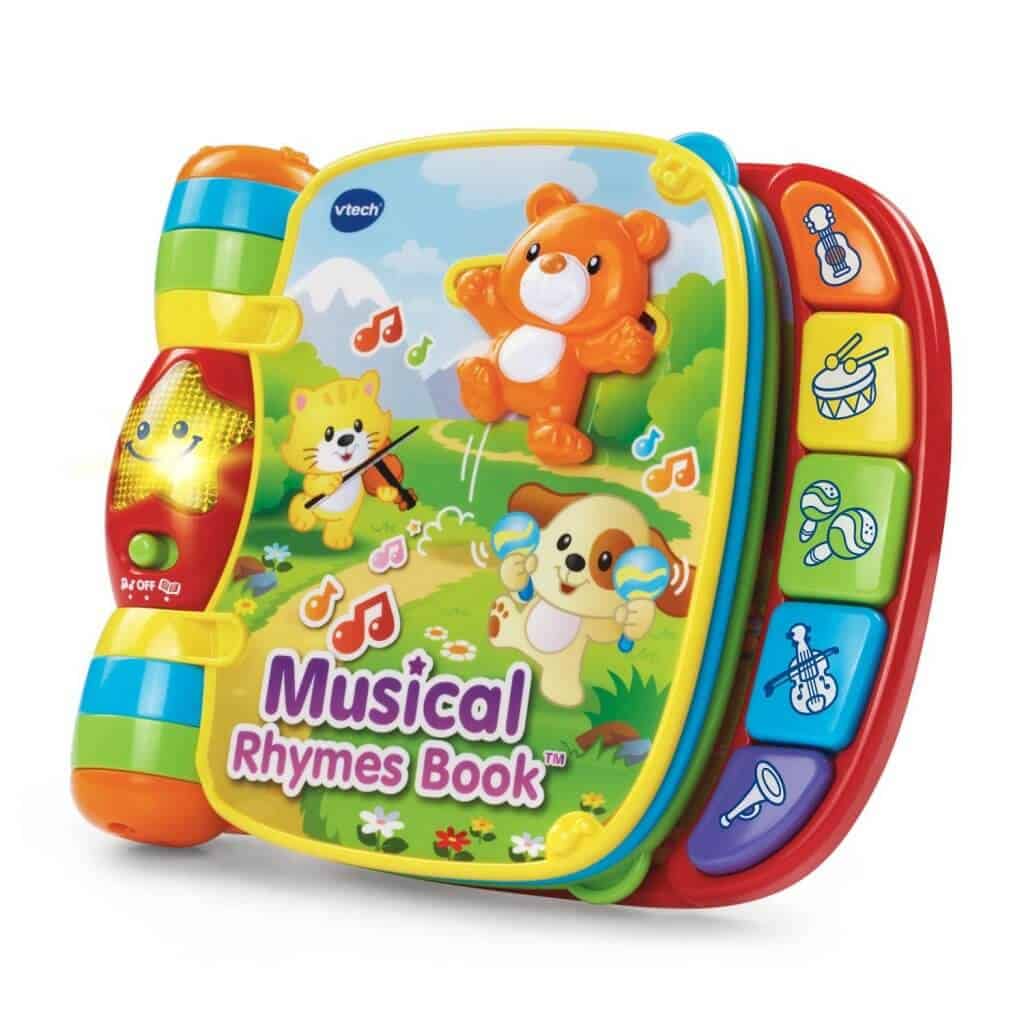 There's more! Don't stop here, keep reading about sensory toys: