Should I Let My Kids Read Those Harry Potter Books?
A Review of the Harry Potter Series by a Skeptical Homeschooler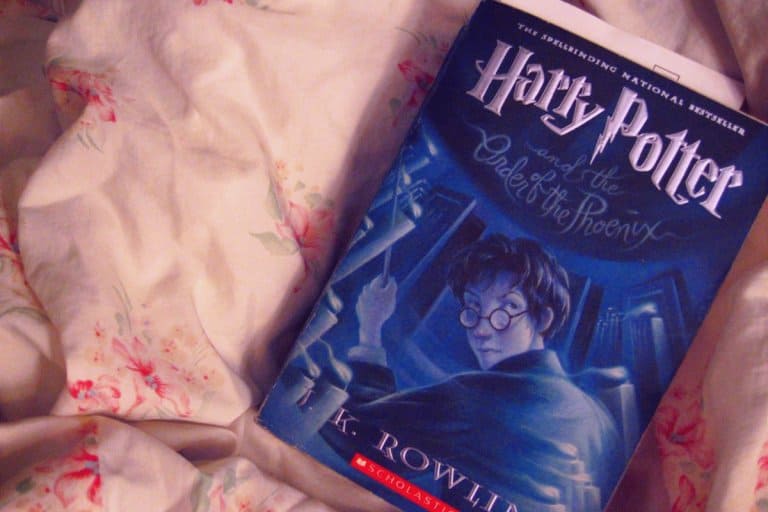 From one skeptical homeschooler to another, I never planned to read the Harry Potter books.
You know who you are. You're reading this review because you never read the Harry Potter books—maybe never wanted to—but now your youngsters are curious about the famed young wizard in spectacles.
As the oldest of seven, I was semi-officially in charge of reviewing media for our family. If it had so much as a dirty word, we skipped it.
I'd heard rumors of Harry Potter's witchcraft and black magic that encouraged young readers to look into the occult. Still, I resolved not to openly criticize them without first having read them—which I didn't … until I was recently asked to preview them for a younger family member.
I picked up the first book with trepidation. I didn't really want to flirt with the devil.
Surprise One: He's Nice
Harry Potter begins as a pleasant, humble character with no interest in magic.
Surprise Two: It's Silly
I found the book unexpectedly light-hearted, silly, whimsical, and full of puns. The "magic" is in the order of invisible cloaks and things like a "Remembrall" that tells its absent-minded owner he's forgotten something.
I continued reading, holding my mental breath, expecting any moment to stumble upon a séance, ouija board, or cult gathering.
Surprise Three: the Witches Aren't So Witchy
The first book ended without any of that. While students are called "witches" and "wizards," their spells are as silly as The Leg-Locker Curse, which glues together a person's legs.
Throughout the series, Harry Potter remains an exemplary character with many positive traits: refusal to kill enemies, kindness to opponents, faithfulness to friends.
Surprise Four: the Spells Aren't So Wicked
Book after book, the silly spells continue, from "extendable ears" for eavesdropping, to a "spell-checking quill" for homework. There's nothing that lends itself to needing the warning, "Don't try this at home."
I consulted a friend who'd read the series. She confirmed that, yes, the books do get darker as the series proceeds.
So I picked up book two, with mental shields up.
Surprise Five: the Darkness Isn't So Dark
Before I knew it, I'd finished the series, and was left scratching my head. Where was all the witchcraft?
The "darker" aspects seemed to consist mostly of more people dying, more typical sneering villains, and more painful curses (although even torture spells aren't gratuitous). And when Harry Potter meets ghostlike figures of the deceased, most are far more Casper-like than demonic.
Surprise Six: Bible Verses
There are Biblical themes, references, and even directly quoted scripture in the last book.
Surprise Seven: Redemption and Love (Mild Spoiler Alert)
Although the final book deals with a character tampering with their own soul, the cure is for them to truly repent of their actions.
And finally, Harry Potter wins the day not with vengeance but with love.
My Surprising Conclusion: Where's the Black Magic?
Love? Redemption? I'd finished the series, but I was still waiting for the real-life black magic.
However, despite remaining critical to the last page, I found Harry Potter no more objectionable than Tolkien's wizards or Roald Dahl's Matilda.
I hold all respect for those who still disagree with me, but I found the books fun and mostly wholesome, with plenty of fictional "magic," a humble hero, and redemptive themes.
Call me a traitor, but Harry Potter has won over a suspicious reader.
6 Responses to "Should I Let My Kids Read Those Harry Potter Books?"