How We Use Tea Time in Our Homeschool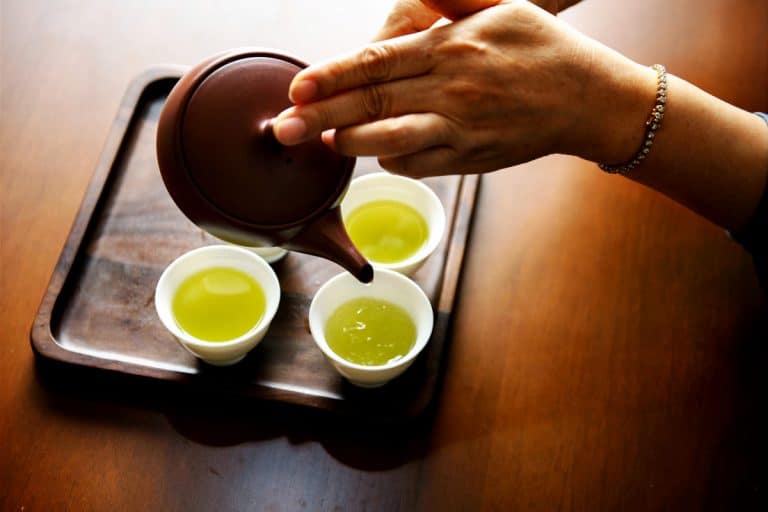 The name tea time might either create lovely pictures in your mind or shrouds of fear and dread. When I initially learned about the concept of tea time, I had no intentions to incorporate the practice into our homeschool. However, as I began along my Charlotte Mason walk, the concept of morning time was brought up in almost every group I joined. I knew I was missing something.
What is Tea Time?
Tea time is a time for my kids to gather around our dining room table, drink tea, and listen to read aloud stories. It isn't a supplemental part of our day that is nice if we can incorporate it. Tea time is the foundation upon which I built our homeschool, and the kids look forward to it each day.
The average tea time lasts between 20 and 30 minutes, but it's been known to go longer and shorter, depending on the kids' attitudes for the day. Sometimes if we are really interested in a current book, we may keep reading for an hour. Other days allocate less time.
I make a plan for our tea times, but I also wing it sometimes. If I see something exciting that I want to incorporate or have a spur of the moment idea, the plans will change. I try to incorporate a read aloud that goes along with our history curriculum. Most have recommendations, or I search other curriculums to see what they recommend for stories.
Another subject we cover in tea time is geography! It's a great time to trace maps, learn how to read a compass, or memorize the states! We also plug in different board or card games throughout tea time. We study poetry, and I play classical music to help expose our children to different artists. Artist studies also happen during tea time. One of my kids' favorite activities is when I bring out a picture to study and have them attempt to replicate it with watercolor paints or other mediums.
Why Don't You Do a Morning Time Basket?
Many people ask me why we don't do a morning time basket. Morning time is a term coined by Cindy Rollins. If you aren't familiar with her, mark that down and get to know her immediately. She is an inspiration for homeschooling mothers everywhere. Her book Mere Motherhood was a game changer for me!
Cindy Rollins created the term morning basket, but there is a good chance she wasn't the first one to attempt such a practice. During her family's morning time, they might study poetry, the arts, history, and read the lovely classic novels so many people pass. They sang hymns and might plug in a card game. It became the focus of their homeschool.
I loved the idea, and that's truly the foundation for tea time. However, there is one glaring problem for my family - we don't like the morning. You see, aside from my 2.5-year-old, none of my family enjoys the morning. We would all prefer to sleep later in the day, and any major ambitions during the mornings tend to go unfinished and ignored. I often joke that my kids could never go to public school anyway because they would never wake up on time.
By noon or 1 pm, our family is fully alert. We typically finish math and language arts first before we have other extra activities or before the baby needs to take a nap. I typically have a few chores finished, and we are able to sit down and enjoy a cup (or three) of tea.
Do You Actually Serve Tea?
Since it's called tea time, absolutely! My kids started drinking hot tea at a young age because their mother loves all hot teas. I always have a variety to pick from, like black tea or a nice chamomile tea. My kids can add cream, sugar, lemon, or honey!
I also tend to serve some type of snacks. There might be a plate of cheese and crackers on the table. Sometimes, I might make little sandwiches or a bowl of popcorn. The kids listen and respond better when they are kept busy.
Speaking of keeping the kids busy, a cup of hot tea doesn't keep the kids occupied for 30 minutes. I also place a stack of white paper and a jar of colored pencils in the center of the table as well. The kids are free to color a picture - bonus points if it incorporates the story we are reading. Sometimes, they want to build with legos or make sculptures with playdoh. The options are endless, but the rule is that they must be quiet and listen with their ears. Kids can listen impressively well if their hands are kept busy.
What are The Benefits of Tea Time?
Tea time is beneficial for several reasons. My most favorite benefit is the extra time we spend together, building memories and learning, but that can be said for any time during the homeschool day.
I've noticed a difference in my children's ability to sit and listen. Tea time is basically working on listening skills each day, and it's a time to be quiet and relaxed. There is no pressure to perform, and the activity level sinks way down. If they're feeling a bit tired, I may let them lay their head on the table or move tea time onto the couch so we can snuggle up.
If you are interested in adding tea time to your homeschool, give it a try! At first, the idea may seem awkward, but you'll quickly start to reap the benefits. Your kids will grow to anticipate and enjoy this time you place back for them. Some of our favorite memories come from the days when we sit around our table, drinking tea and escaping to other worlds in books.
2 Responses to "How We Use Tea Time in Our Homeschool"