Awesome Books for 4th Graders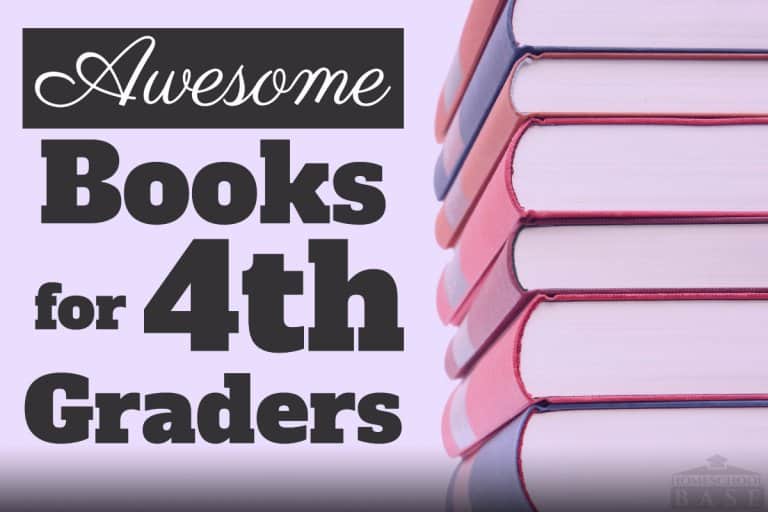 With grades one, two, and three posted, it is time for the first edition of my 4th-grade reading list. This list of books for 4th graders is not comprehensive. Instead of re-hashing the fourth-grade book lists that already exist, I only include what I believe are the very best and unique children's books. As always, one of my goals is to help you discover children's books you haven't heard of before.
I never list a book that I do not personally own in paperback or hardback. There are links under my description of each book that lead to a World Cat book search and the Amazon page. As of 3/21/2017, I started the list with my 5 favorite books for 4th graders. I'll be adding more books in the coming weeks.
The Thief Lord
By: Cornelia Funke | Pages: 376
This international, suspense filled best-seller is set in Venice, Italy, and features twelve-year-old Prosper and his five-year-old brother Bo. They fled from Hamburg, Germany after their mother died in fear of being split up after their aunt decides that she only wants to adopt Bo. They meet other street kids and live in an abandoned movie theater under the care of a mysterious and charming boy who calls himself the Thief Lord. While the boys learn the ropes of living on the streets of Venice, their aunt hires a detective to find them. The novel is full of interesting characters, twist and turns that capture your heart and attention.
This novel was first published in Germany in 2000 and gives us glimpses into the streets of Venice with its canals and alleyways. If your child loves adventure, travel, and mystery, give this book a try.
Recommended for: Kids that enjoy suspense and adventure
View on Amazon | Check your local library
---
Snow Treasure
By: Marie McSwigan | Pages: 208
This award-winning book was based on a newspaper article that the author read detailing how a community of children and adults worked together to smuggle gold out Norway during the German invasion of the country. Although there is solid proof of its historical truth, the article provided an excellent storyline that speaks to the importance of working together in determination and courage in the face of fear and treachery. Snow Treasure is a suspenseful tale of how a Norwegian community devised a plan to smuggle their gold out of town so the Germans would not be able to steal it. The children ultimately had to carry the gold bullion on their sleds down to the river where it was loaded on a boat and transported to the United States. They encountered and solved several problems along the way.
This is a novel that highlights some historical context that could be used to jumpstart a conversation about WWII. It's also a great story that speaks to the importance of working together and making a difference, no matter your age.
Recommended for: Kids that enjoy drama, suspense and/or history
View on Amazon | Check your local library
---
The Mixed-Up Files of Mrs. Basil E. Frankweiler
By: E.L.Konigsburg | Pages: 176
When Claudia Kincaid decides to temporarily run away from the suburb of Greenwich, she thinks very carefully about where to go, how long to stay and who to take with her. Destination: the Metropolitan Museum of Art in New York City. Partner: her younger brother Jamie who happens to have more cash than her. Time Frame: Just long enough for her parents to appreciate her. Once the children reach the Museum and get settled in, they find themselves in the middle of a mystery that Claudia is determined to solve. This well-written tale keeps the reader engaged as you follow Claudia and Jamie on their adventure.
If you're wondering about Mrs. Basil E. Frankweiler, she's the narrator of the story and once you read the short 'cover letter' at the beginning of the book, you'll understand.
Recommended for: Kids that enjoy adventure and humor.
View on Amazon | Check your local library
---
Bud, Not Buddy
By: Christopher Paul Curtis
Bud, not Buddy, is one of my favorite all time characters. He is creative, funny, resilient, resourceful, optimistic, and one smart kid. He is 10 years old, a foster child heading to his third home and living in Flint Michigan in 1936. Turns out, this home is no better than the others, so he heads out on his own, with his suitcase of special things, to find his father who he's never met and knows nothing about. His only clue is a flyer that his mom left him advertising Herman E Calloway and his famous band, the Dusky Devastators of the Depression. This funny, heart-wrenching at times, book details his journey. Christopher Paul Curtis doesn't sugar coat the realities of what it was like for many during the Depression, giving the reader some historical perspective of this time period.
I highly recommend listening to the audio version of this book (on Amazon), read by the author himself. I cannot stress this enough. It adds a wonderful richness that you simply do not get when reading silently and by yourself. Seriously, I cannot overemphasize how incredible the audio is.
Recommended for: Kids that love humor
View on Amazon | Check your local library
---
The Lion, the Witch, and the Wardrobe (The Chronicles of Narnia)
By: C.S.Lewis | Pages: 206
Four adventurous children, Peter, Susan, Edmund and Lucy walk through a wardrobe and into the enchanting and magical land of Narnia and in the process, take their readers along with them. We encounter battles of good and evil, fanciful creatures, and adventures that change the way we see the world.  This book and all the books in this series have been entertaining young and old for over sixty years. Pick up a book and step into the world of Narnia where you, too, will discover the magic and meet the Great Lion, Aslan.
Recommended for: Kids that enjoy fantasy
View on Amazon | Check your local library
---
As always, make sure to utilize your local, public libraries! I only list books that my family reads time and time again. Every book for 4th-graders I listed is still on one of my bookshelves. Nevertheless, not everyone can afford to purchase children's books (although used books usually sell for pennies). Or, maybe you just don't want to end up with a library of children's books! If either case describes you, click here to find a library near you!