How I Used Drones in My Autistic Child's Education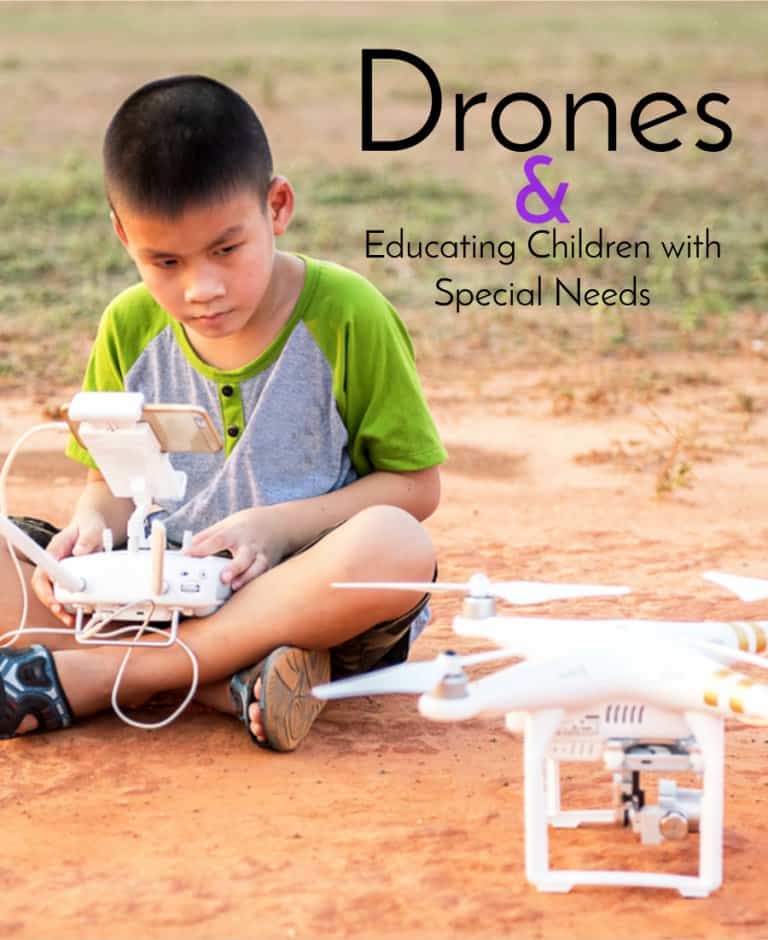 Remember finishing up your snack and rushing outside to play? Setting up dollhouses, or playing in the open air for hours on end? There's a certain sacred magic around playtime that nothing else can mimic. As children, we learn and develop a lot through play. And if your little one is like mine, you already know that play can support specific difficulties your child might have. It is down to you to understand the challenges and adapt to your individual child.
For children, playing is much more than amusement. And children with special needs are no different.
Toys play a big role in the cognitive and physical development of children. Apart from developing their motor skills, playing helps enhance imagination levels, language and social skills, and helps increase overall creativity and free thinking.
However, the toys option pool seems to be a bit narrow and having special needs can present some barriers which ultimately makes it difficult for the children to thoroughly enjoy the experience.
Learning Opportunities
Oftentimes, my kid experiences boredom and frustration when playing. Sometimes, the toys don't work as he wants them to and other times, they're simply of no interest to him. However, luck struck me a couple of months back when I overheard a conversation about RC toys and how their special needs children are responding to them.
Right now, the biggest trend in "remote control" isn't the classic RC cars, its drones.
Related: Ways that your family and kids can use a drone.
Language and Physics Skills
Little did I know that my kid was going to love everything involved in the process of playing with one, starting with the purchase. I started by pitching the idea to my son. We spent the following two weeks browsing, looking up similarities and differences between models, letting him explain specs to me and watching videos online about flying drones.
In short, we took our research very seriously. Having read so much, I could see his vocabulary improving, with the most unexpected of words. Moreover, I used this as an opportunity to explain him a bit about physics, maths, and science.
At last, I asked him if he wanted to order one online or go to a shop. He chose driving 40 minutes to the nearest mall, where once again, we spent two hours touching, lifting and testing all the drones available. He picked one and we went home to test it.
Action Time
Luckily for us, we have an open field sort of park near our house, which is perfect for flying a drone. After taking all the precautions, we set forth is this brand-new activity, for the both of us. Needless to say, I shouldn't have worried. Having read up so much prior to flying, my kid was somewhat familiar to the instructions. He grabbed the remote fiddled for a while, but eventually got the gist of it. Watching him fly the drone, I realized I had made a good decision.
Because you see, the thing about RC toys, is that there is a limited number of actions it can do. You press the correct button, it does what you want, every time. Usually, special needs children need predictability, even in their play, and search for patterns that soothe them. Operating a remote control gives them just that.
And then, there is another aspect of playing with an RC toy. You see, the buttons are very sensitive to pressure and maneuver speed. Therefore, your child will in time learn to build their hand strength and dexterity, which is translated in fine-motor skills. And before you know it, tying their own shoelaces will take far less time.
Suitable Drones
Most input-response toys, namely drones are suitable for a Special Needs child to operate. Drones like Syma X5C, The UDI RC 818A Quadcopter or Hubsan X4 H107C are ideal for special needs children because of their high resistance to crash and easy to operate remote control and system. Read more about the best drones for children here.
As a rule, look for plastic, light-weight ones, with big remote control. If the buttons are not color differentiated, you could adjust that by painting a thin coat of color nail polish, or any other kind of resistant paint. This way, deciphering which is which, and telling left from right will be much easier.
Prior to flying, you should be aware that drones eventually crash. To you, it may not be much, but for your little one, it may cause great frustration, confusion or deep sadness.
Social and Free-Thinking Skills
Another learning opportunity lies in interaction. The park we usually go to is very popular for flying drones, so there were always other children there as well. My kid is not what you would categorize as unfriendly, or introvert, but he would much rather just mind his own thing. Usually, if his peers ask him questions or approach him, he responds kindly, while keeping his distance.
Well, this was not the case here, as he was so focused on his flying, that he easily slipped into a friendlier state. After a while, he befriended another kid, and they would fly their drones together. He learned to share his extensive knowledge and to allow his newly found friend to teach him some tricks. His behavior towards other children has noticeably improved, and I have to RC drones to thank.
Final Words
Remember that each child is unique. If you identify and use their interests wisely, play time can prove to be one of the most effective ways of learning.
All in all, drone flying is a great source of fun and learning, both for parents and for children.
For more on adaptive toys for special needs children, you can go here , here and here.