Practical Home Economics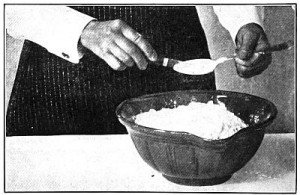 If you're looking to teach your son or daughter about how to care for a household, there are lots of resources for free online and in the public domain.
Warning: At least some of the information in these home economics books will be outdated. If anything, some of the descriptions of how to use old appliances and cleaning methods will be a good history lesson for your child.
However, I have found that they contain some real gems, such as valuable (and often forgotten) skills in buying food, selecting cuts of meat, cooking, and household organization, among other things.
Ontario Teachers' Manuals for Home Economics

My first recommendation for home economics learning is a set of Ontario teachers' manuals published between 1916 and 1918. They are Household Management by Ontario. Ministry of Education and Household Science in Rural Schools.
Both are very similar in subject matter, and I particularly like them because they have a clear syllabus that can be followed along easily. You can look up information and do quick, easy lessons for children of any age.
Here's a sneak peek of the lessons they contain:
Care of the Home
Basics of Cooking
Basic Sewing (mending, hemming, etc)
Sanitation
Caring for babies, family members, and sick persons.
Both can be downloaded (at the links above) from Project Gutenburg.