My Top 3 TEDEd Lessons and How to Create Your Own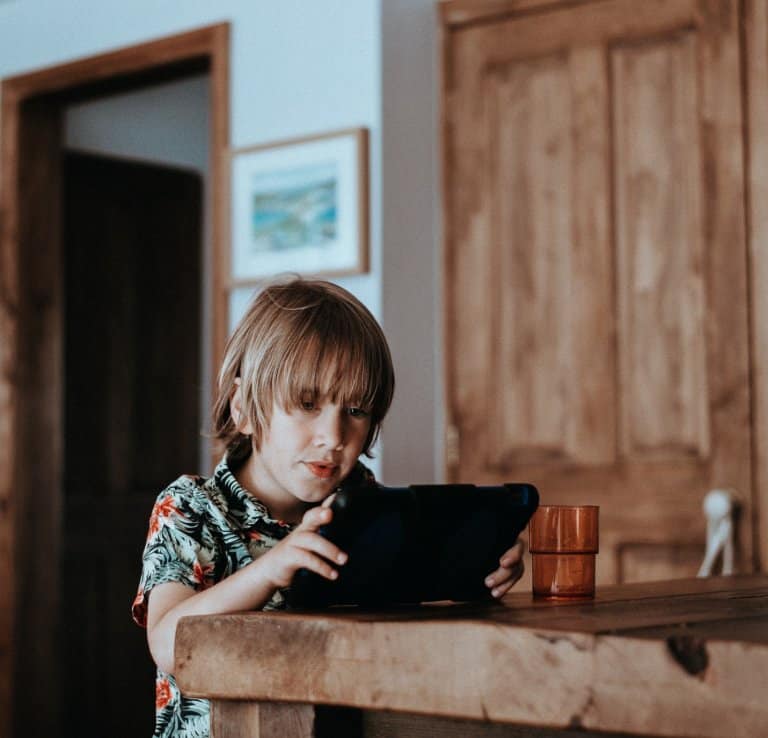 If you are teaching parent and you read home schooling blogs with any frequency, you've undoubtedly heard that the internet is a content-rich environment for home classrooms. It's true!
The challenge comes when deciding how to curate the web's content for your student.
Online learning is an easy choice, but products can range from free to exorbitantly expensive, and there is no guarantee that the content is high quality. Plus, a lot of what is already developed has been designed for the traditional public school classroom.
As an instructional designer by trade, I know how important it is to develop and deliver meaningful online learning to your students. As a parent, I want to be more engaged in curating the content of my child's online learning, but I can't afford the expensive technology that goes into creating online courses.
It's time to talk about TEDEd Lessons.
By now I'm sure you've heard about TED Talks - influential videos from expert speakers on education, business, science, tech and creativity (TED). I've written about them in another blog post for Homeschool Base. But did you know that TED has another resource that can help you create lesson plans from their video content and deliver it in a mobile-friendly way?
TEDEd Lessons is a free platform that hosts thousands of lesson plans developed by educators around the world. More importantly, this platform allows you to curate videos from TED or YouTube, quizzes, resources, and discussion questions to create your own online lesson plans. Did I mention it's FREE?
My Top 3 TEDEd Lessons
If you're like me, you want to test drive the platform, and its products before you invest too much time into developing a curriculum around it. I've pulled together my three favorite TEDEd Lessons for this post. Take them for a spin, kick the tires, look under the hood, and then scroll down to my How To Create Your Own TEDEd Lessons below.
Making sense of a visible quantum object - Aaron O'Connell
Why I picked it: A lot of uncertainty about home schooling comes from apprehension around subjects we as parents are less familiar with. For me, it's science. I love certain aspects of science, but my mind wraps more easily around social studies and language arts. This video helps bring the indescribable into perspective, even for me.
What's wrong with our food system - Birke Baehr
Why I picked it: Our kids need to see new and innovative ideas from people their own age. This video features a really amazing 11-year-old boy and his own ideas about modern day agriculture and food sourcing. How cool is that?!
Dare to educate Afghan girls - Shabana Basij-Rasikh
Why I picked it: The internet has brought the world to our doors and with that comes the awareness of different lives, different challenges, and different possibilities. We must teach our students to embrace awareness even if it's hard and to advocate for those we have the power to help. This video is awakening and a call to action in our own lives.
TEDEd Lessons also feature series of videos that could lead your student on a longer journey through a specific topic such as Ingenuity in the Developing World, Playing with Language, and Inventions that Shape History.
How to Create Your Own TedEd Lesson
Step 1
The first step in creating your own lesson is selecting a video. You can choose from any TedEd video or public access video on YouTube. You'll just need the URL or link. Also, note that you can crop the video in the editor later if you have a smaller clip you want to focus on. For the sake of our example, I'll select the topic of the harm of fake news and how to discern what is real.
Video: TED.com/how_fake_news_does_real_harm
NOTE: This video discusses the real-life events that occurred during the Boko Haram kidnappings and may not be suitable for younger children. Parents are advised to view the video before showing it to their children.
Step 2
After selecting your video, you will be select "continue" to move on to the lesson editor. From here, you'll be able to change the title, add an introduction, additional resources, and publish your lesson. I've changed the title of my lesson to "How Fake News Does Real Harm and How to Discern What Is Real."
Step 3
Write an introduction that explains the lesson to your students. Brevity is important so be sure to include your learning objectives. I've added my learning objectives to this lesson after a very brief introduction:
After this lesson, students should be able to:
Understand the dangers of believing and sharing fake or poorly researched news.
Identify what is and what is not fake or poorly researched news by the most obvious signs.
Advocate for truth and raise awareness of the importance of journalistic integrity.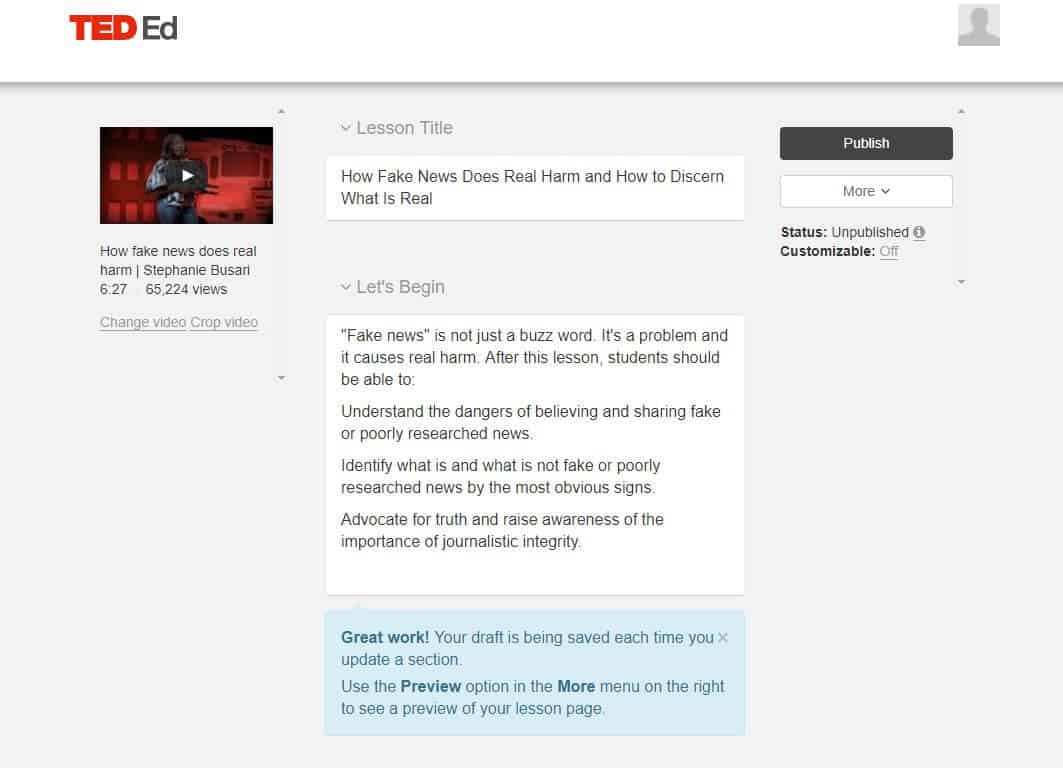 Step 4
Adding your Thinking question, Dig Deeper readings, and Discussion questions is where your learners own critical thinking is engaged. Be sure to provide age-appropriate questions, credible sources, and thought/action provoking questions that align with your learning objectives.
I've added several questions, online articles and discussion prompts to my lesson but the quantity and variety are up to you.
Step 5
When you are done adding resources and discussion questions, conduct a final review with the preview option. If everything looks good, click publish. You can edit should you want to correct anything or update the lesson as information changes. The final product is clean and professional. You can share it with your own students or broadly with a homeschool group.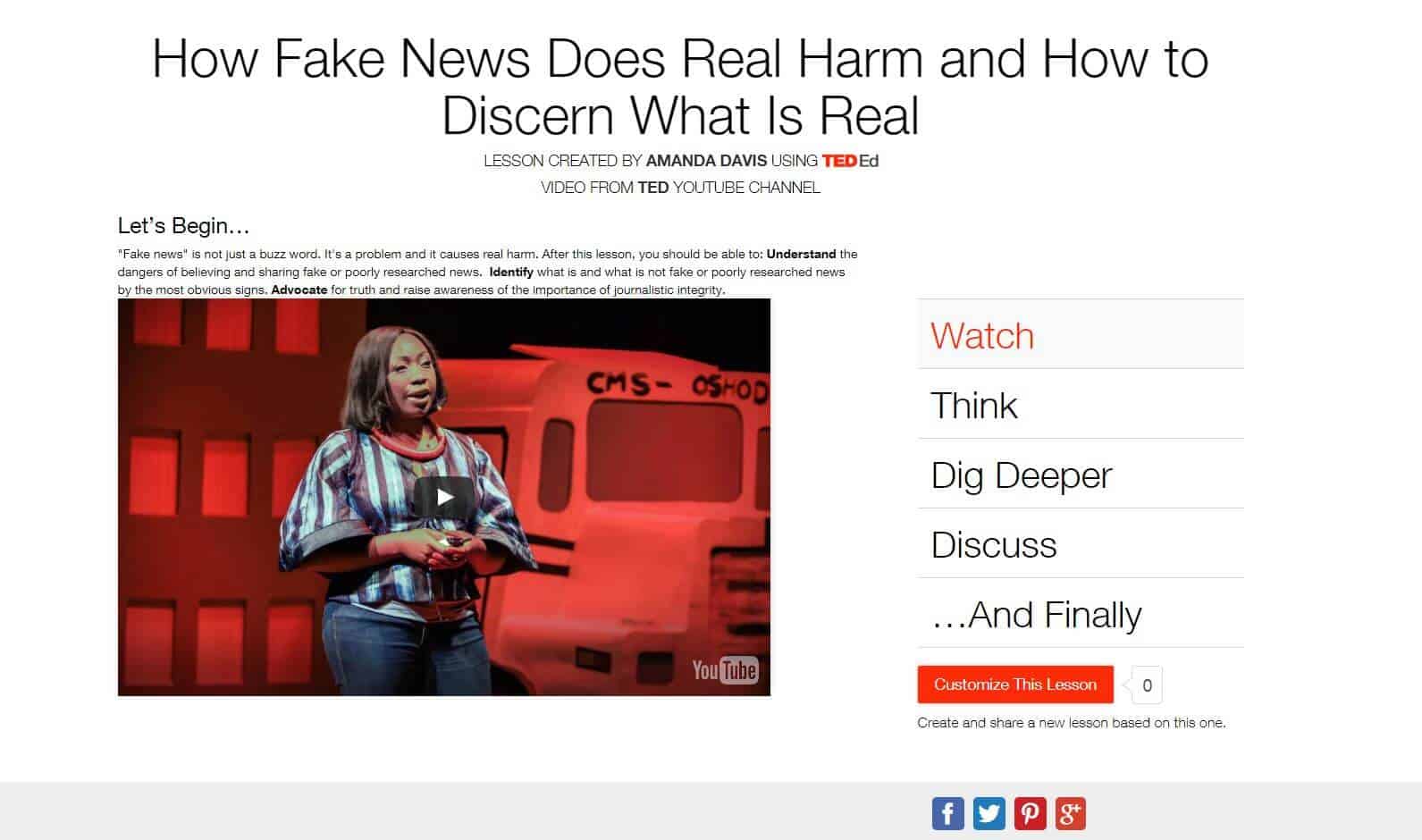 You are now ready to create your own lessons in TedEd Lessons! If you are interested in viewing or using the sample lesson I put together in this How To, feel free to access it below:
How Fake News Does Real Harm and How to Discern What Is Real
And speaking of fake news, this article about the true history of fake news in the media is worth reading.
That's a Wrap!
Now that you have been introduced to TEDEd Lessons and have walked through this How To, the sky is the limit for creating online learning content for your home student or home school group. There are over 90,000 TED Talks on YouTube which have been viewed over 500MM (million) times!
Beyond that, any YouTube video will work in the TEDEd Lessons platform. Over 300 hours of video are uploaded to YouTube every minute. That's right, minute. You don't have to be stuck in the lesson plan funk. Content is out there and waiting to be curated for your students. Now you have the tool to harness it! Go and teach!