The Best Books for 5th Graders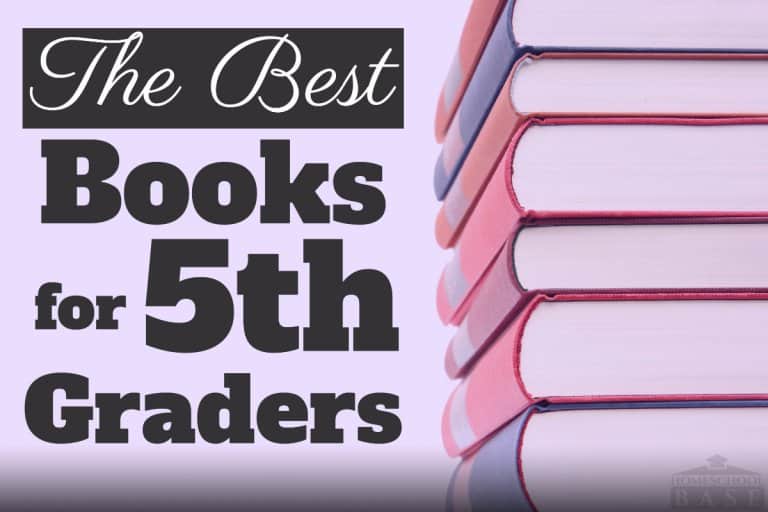 At the age of ten or eleven, a strong 5th-grade reader can quickly devour whatever children's literature you make available. Like the other lists, I'm starting off with my 5 favorite books for 5th graders. I'll continue adding additional unique books to this list as time goes on. My goal is not to list every book that a 5th-grade student could read, but to provide fun, unique, and meaningful books your 5th grader will genuinely enjoy.
Make sure to skim the 4th-grade reading list as well!
Where the Red Fern Grows
By: Wilson Rawls | Pages: 272
This is a must read, an all-time classic, about a boy and his dream; a boy who buys and trains two Redbone Coonhound hunting dogs, Old Dan and Little Ann. Set in the Ozarks, Billy and his dogs have the drive and the will to become be the finest hunting team in Cherokee country. Readers are drawn into a compelling tale of adventure and love, victory and sadness. It's definitely a book you'll never forget
Recommended for: Kids that love dogs and adventure
View on Amazon | Check your local library
---
Fig Pudding
By: Ralph Fletcher | Pages: 192
This book presents a humorous take on what it's like to grow up in a large family. No matter what size family you're from, you'll enjoy hearing about Cliff, the oldest of six kids, and his big, loud, loving, close-knit family. Eleven-year-old Cliff narrates the story as he recounts a year's worth of stories (from Christmas to Christmas) in short vignettes. Each chapter focuses on one of his siblings, with the chapters ultimately leading up the family's greatest crisis. Fletcher blends humor, grief, believability and hope throughout this fast-paced story. It's a book that your kids will want to read over and over. And who knows, maybe it will lead to the recounting of your own family stories.
Just like most of the books recommended in my lists, this book can be used as the perfect family read-aloud or individual read for your middle schooler.
Recommended for: Kids that love humor
View on Amazon | Check your local library
---
The Cay
By: Theodore Taylor | Pages: 160
This award-winning novel takes place in 1942, during wartime, and begins on the Dutch Island of Curacao. 11-year-old Phillip Enright lives there with his parents until his parents decide that the war is dangerously close to home. That's when he and his mother board a freighter to the United States. When the freighter is torpedoed, Phillip finds himself on a small raft, drifting on the sea, with his only companion being a West Indian black man named Timothy and a cat. His mother's words about black people run through his mind: They are different, and they live differently." When his head injury leaves him blind, he is left entirely dependent on Timothy. Taylor weaves a story of friendship, survival, and trust that leaves the reader with an accurate sense of what relationships look like when we are colorblind.
And yes, once again, a great read aloud that the whole family can enjoy or as a read alone.
Recommended for: Kids that adventure and survival stories
View on Amazon | Check your local library
---
The Single Shard
By: Linda Sue Park | Pages: 176
This 2002 Newbery Award-winning story unfolds in 12th century Korea. Tree-ear is a 13-year-old orphan lives in a village that is known for its beautiful pottery. He dreams of being a potter and ultimately lands under the tutelage of Min, a master potter, after accidently breaking one of his pots. Helping Min proves to be tough in more ways than one, but he is determined to do what it takes to prove himself and to create his own pottery. That broken piece of pottery sets in motion a journey that will ultimately change Tree-ear's life forever. Linda Sue Park brings to life a place and time that most of us know little about. If you want to travel to ancient Korea, pick up a copy of this book.
Recommended for: Kids that enjoy stories from other cultures.
View on Amazon | Check your local library
---
Tales of Shakespeare
By: Tina Packer | Pages: 192
If you want a way to introduce Shakespeare and 10 of his most popular works, look no further. Tina Packer retells these plays in an easy to understand style without sacrificing the essence of the original works. She includes introductory material that is useful for understanding the Elizabethan world. Also, before each play, 5 comedies and 5 tragedies, she provides an introduction covering the basic plot and characters. Beautiful, detailed illustrations accompany each play. This book really does serve as a precursor to your children reading these classic plays in their original form. My kids loved going to see Shakespeare productions once we had read the plays in this book.
An added benefit: Adults who never liked Shakespeare before may find themselves immersed in them as well.
Recommended for: Kids that don't know yet that they love Shakespeare
View on Amazon | Check your local library
---