A Day With Walt Whitman
Dressing with the same large, leisurely gestures as characterized him in everything, Walt Whitman was presently attired in his invariable suit of grey: and by the time the clock touched half-past seven, he was seated in the verandah, comfortably inhaling the sweet, fresh morning air, and quite ready for his simple breakfast.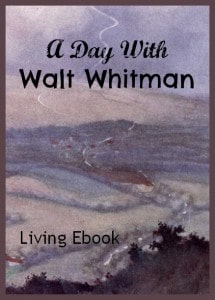 Read about the famous poet Walt Whitman!
This books contains a short "day" in the life of the poet, including excerpts from his work.
Download A Day With Walt Whitman from gutenberg.org.