How Does A Homeschool Family Change A Lightbulb? - Unit Study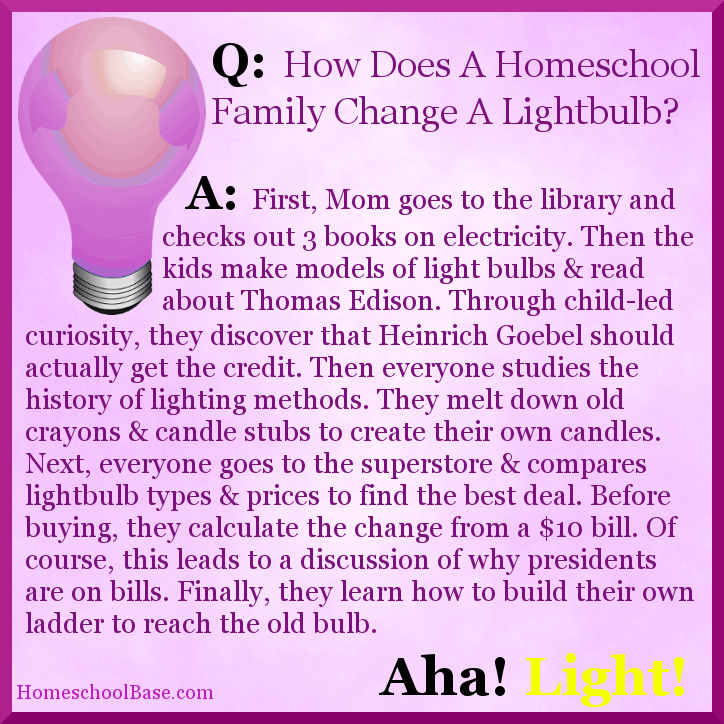 Question: How does a homeschool family change a light bulb?
Answer: First, Mom goes to the library and checks out 3 books on electricity. Then the kids make models of light bulbs & read about Thomas Edison. Through child-led curiosity, they discover that Heinrich Goebel should actually get the credit. Then everyone studies the history of lighting methods. They melt down old crayons & candle stubs to create their own candles. Next, everyone goes to the superstore & compares lightbulb types & prices to find the best deal. Before buying, they calculate the change from a $10 bill. Of course, this leads to a discussion of why presidents are on bills. Finally, they learn how to build their own ladder to reach the old bulb.
Aha! Light!
Make it into a unit study
Why not actually change a light bulb!?
Getting books from the library
You don't have to go to the library to find books, check out our massive list of free eBooks.
Here are a list of Homeschool Commons resources about

electricity

:
Making a light bulb
WikiHow wrote a great article / tutorial about how to make a light bulb.
And here is a great YouTube Video about how to make your own light bulb. Caution: video uses mild explicit language. I like this video because he goes through several different types of trial and errors to optimize the light bulb (instead of instant success). Please watch before giving to your kids.
Supplies you will need: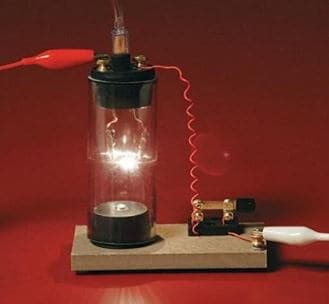 These are some of the supplies you will need to make your own light bulb, all links lead to Amazon.com.
If you don't want to use the YouTube tutorial (or the website tutorial) here is a complete kit to make a light bulb: Reinventing Edison: Build Your Own Light Bulb Kit.
Here is the 2mm lead and here is the 'normal' size. Most likely, you already have the normal size at home.
Add on a Mason jar with some copper wire.
Don't don't forget to get the C batteries, this is a 12 pack so you can measure different strengths.
The history of the light bulb
This is a great book about the history of the light bulb: The Light Bulb: And How It Changed the World (History & Invention).
But don't forget to discover who should really be getting the credit for the light bulb!
There are plenty of great YouTube videos about the light bulb.
Make your own candles
An excellent article on making your own candles.
And, another great WikiHow article.
I always find enough crayons and candle stubs (or candles we didn't like) to never need to buy any wax. But, if you need wax, Amazon has it too: All Natural Scentless Soy Wax.
Reader's theater on Thomas Edison
I would suggest making your own! Butttt, if you don't want to, I did some research and found a readers theater book that has an Edison story. You can view the book on Amazon or search for it in a local library (no eBook available).
Leaning how to make change and build a ladder
These don't really fit in too well, but here are some links to help you out.
Teaching and learning money counting change worksheets and lesson plans - Money Instructor.
How to Build a Wooden Ladder - How Stuff Works.